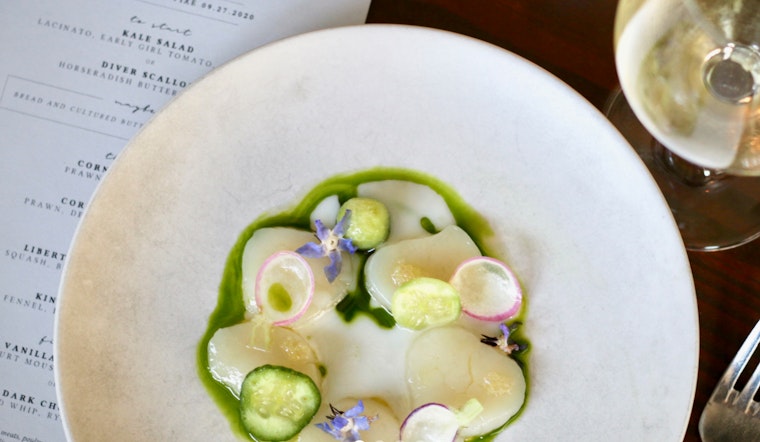 Published on August 04, 2021
The 2021 Michelin Guide for California, the company's first guide for the state in two years, is set to be released in late September. And ahead of the release, Michelin inspectors on Wednesday revealed 10 Bay Area honorees in the new category of "New Discoveries."
Among them, in San Francisco, is the new Divisadero/Pacific Heights French spot Routier, which opened for takeout in mid-2020 and recently started doing indoor dining. And two other "New Discoveries" in SF are both in Bernal Heights.
One is Marlena (300 Precita Ave.), which, like Routier, debuted during the pandemic, taking over the former Hillside Supper Club space. It's the collaboration of husband-and-wife chefs David Fisher and Serena Chow Fisher, who both worked in Michelin-starred kitchens in New York (him at Jean-Georges, her at Eleven Madison Park) before coming to Palo Alto to work at Bird Dog. The anonymous Michelin inspectors say, "Diners will appreciate the precise technique and subtle, yet imaginative use of ingredients found throughout the seasonal menu" at the restaurant.
But the third honoree in SF isn't so new at all, so perhaps it's just a "new discovery" to the inspectors who hadn't made it over to Bernal Heights in the past few years? 3rd Cousin (919 Cortland Ave.), the brick-and-mortar spot opened by chef Greg Lutes in late 2015 after the success of his Kinfolk pop-up, has been bringing fine-dining food with Bernal Heights vibes for almost six years now, so it seems odd that it's now being touted as a "new discovery." But we're sure Lutes doesn't mind the recognition.
In years past, Michelin has tried to address its restaurant guide's snooty reputation by adding recognition for high-quality restaurants that aren't necessarily star-worthy, but still worthy in their own right. This started a decade ago with the Bib Gourmand category — intended to recognize restaurants that maintain high levels of quality food at reasonable prices, though just below the level of one Michelin star. The price criterion for qualification, however, hasn't changed over the years, despite rising menu prices — theoretically you should be able to get two courses and a glass of wine for $40 at these places, which in much of San Francisco is a pretty tall order these days.
Now with this "New Discoveries" category, the guide will apparently have a new section — though the inclusion of 3rd Cousin makes this doubly odd. Is this like a precursor to a star?
Though the company didn't publish a California guide in 2020, in recognition of pandemic closures and chaos, they did honor seven Bay Area restaurants as "Delicious Discoveries," including Tacos Oscar in Oakland, and the recently reopened Aziza in SF.
Other "New Discoveries" for the new guide include Horn Barbecue in West Oakland, and Los Altos Indian spot Aurum, both of which opened in the past year.
Expect the announcement of the Bib Gourmand honorees for 2021 in the third week of September.