A new project that could drastically reduce the number of people living on the street in Palo Alto is now moving forward after a unanimous city council vote. The city will start now start to further explore a plan that would build a 180-room housing complex. It would include medical areas, classrooms, communal restrooms, and a cafeteria. According to the Mercury News, it could be built at 1237 San Antonio Road on the east side of the 101 freeway near the Baylands. The site used to be a water treatment plant.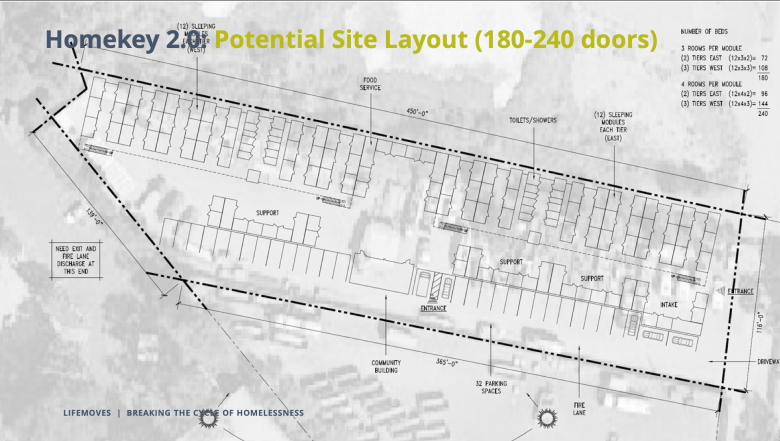 The homeless non-profit group LifeMoves is the developer of the project. The organization built a similar housing complex in Mountain View where the non-profit is based. That complex on Leghorn Street took half a year to build and was funded by the state's Project Homekey program which LifeMoves hopes to use on the Palo Alto project as well. According to Palo Alto Online, there were 313 homeless people living in Palo Alto in 2019. The new site would house people for 3 to 4 months at a time which gives it the ability to service all of Palo Alto's homeless population over a year span.
In order to qualify for the funds that could cover up to 100% of the cost, the application outlining the development must be submitted by the city before the end of the month. Some city officials aren't completely sold on the location saying it is too far away from shops and public transit. "I understand we need to move quickly but this location is not as convenient as Mountain View's. That's one of the concerns I have about this site," Councilmember Alison Cormack told the Mercury News.
Councilman Greg Tanaka was the only member to vote against the project. "I'm not convinced this is going to be the silver bullet. It'll help some people, but what about the others? I just don't think it's going to be the biggest bang for our buck," Tanaka told Mercury News.
Either way, officials with LifeMoves say they do not have time to waste. "Time is of the essence. We have a number of weeks before this application goes out and we probably won't ever find the perfect site. We need to hurry up and do the first phase of this so we can bring it up to the council in September to put the application in," Jo Price with LifeMoves told Mercury News.