This is going to make some Zeitgeist regulars and people who live near Safeway Heights and the edge of the Mission very sad, but Hoodline regrets to inform you that the KFC/Taco Bell at 200 Duboce Avenue (at Guerrero) has transitioned to being just a KFC, so no more tacos.
A tipster let us know that a sign went up on the door of the restaurant recently, saying that as of September 16, this hybrid restaurant no longer served Taco Bell food — and is now a full-time fried-chicken restaurant. The sign also, oddly, has a backwards-rendered image of a KFC chicken sandwich meal, with the Pepsi logo backwards.
"We apologize for any inconvenience this has caused you," the sign reads. "Come in and buy a bucket of KFC chicken today!"
And even though it can no longer be called new, having debuted two years ago, the sign says, "We also have our new KFC chicken sandwich and it is truly amazing!"
See for yourself, read it and weep: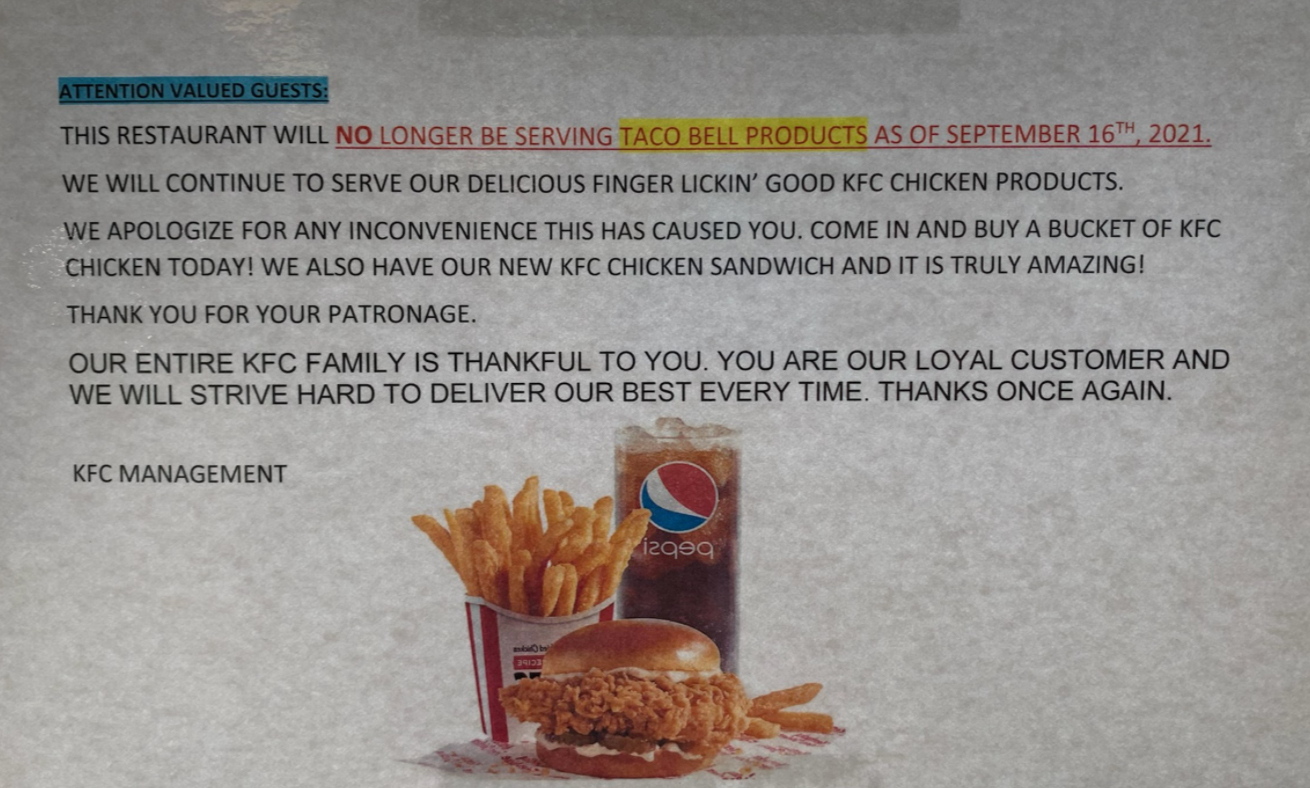 Photo via a Hoodline tipster.
KFC and Taco Bell are Pepsi loyalists because they are under the Yum! Brands umbrella, which is the fast food arm of PepsiCo. Taco Bell has been owned by PepsiCo since 1978, and in recent decades, the country has seen many of these hybrid KFC/Taco Bell (and Pizza Hut/Taco Bell) locations. Though maybe the company is transitioning away from these double-menu restaurants now. As Hoodline reported at the time, the KFC/Taco Bell at 2040 Ocean Avenue closed in February 2020, and that followed three other closures of KFC/Taco Bells at Geary and Steiner, Lombard and Fillmore, and Irving and 20th Avenue, which all shuttered in 2016.
This Duboce location was originally a standalone KFC back in the 90s and early aughts, and only added the Taco Bell side of things in 2005 (if Yelp is to be believed). And when Zeitgeist-goers discovered they could make you a fried-chicken burrito, minds were blown.
But where is a San Franciscan supposed to get two-piece and a biscuit with a Crunchwrap Supreme on the side now? Or a fried-chicken burrito?
The Excelsior location (4285 Mission Street) still appears to be a hybrid KFC/Taco Bell, and there's another one in South San Francisco at 199 Airport Boulevard. But these look to be a dying breed!
Yum! Brands has not made any official announcement that we're aware of when it comes to no longer doing dual-menu locations.
The company has 50,000 restaurants worldwide, and recently acquired The Habit Burger Grill as well.
Fun fact about Taco Bell: Among other facts in this Mashed piece from 2019, the pre-formed hard taco shell was actually invented at Taco Bell — it was a time-saving invention by founder Glen Bell in the early 1960s, so that workers to could produce more tacos faster without having to heat soft tortillas.