A new Silicon Valley restaurant is promising fine dining with an upscale, yet approachable vibe. Shepherd & Sims is now open in Los Gatos at 15970 Los Gatos Boulevard. It's serving up high-end menu items Wednesday through Sunday in the afternoon and evenings — with a happy hour starting at 2 p.m. As Eater SF tells us, Shepherd & Sims is the creation of Jim and Angelique Stump who also own two other notable Silicon Valley eateries; Table in San Jose and Forthright in Campbell. The names Shepherd and Sims are apparently the couple's former last names and the menu at the new restaurant is full of items that they often enjoy together like pickled fried green tomatoes.
"The menu of this restaurant is really an example of Angelique and me, how we like to eat and what we want. We want to enjoy life and we want people to enjoy life with us," Jim tells Eater.
Their goal is to feature upscale menu items like pate and caviar without the upscale atmosphere. "I don't want it to be a special occasion restaurant, I want to have caviar on a Tuesday afternoon," Jim adds.
The Stumps have hired renowned local chef Robert De La Mora to help create the menu. De La Flora is known for infusing the flavors of Mexico into fresh ingredients from California as he did with the menu's bone-in pork chop 'al pastor.' But the menu at Shepherd & Sims features favorites from all over the world as well, like a Japanese sweet potato Hasselback, a dish squid ink bigoli, or the ratatouille.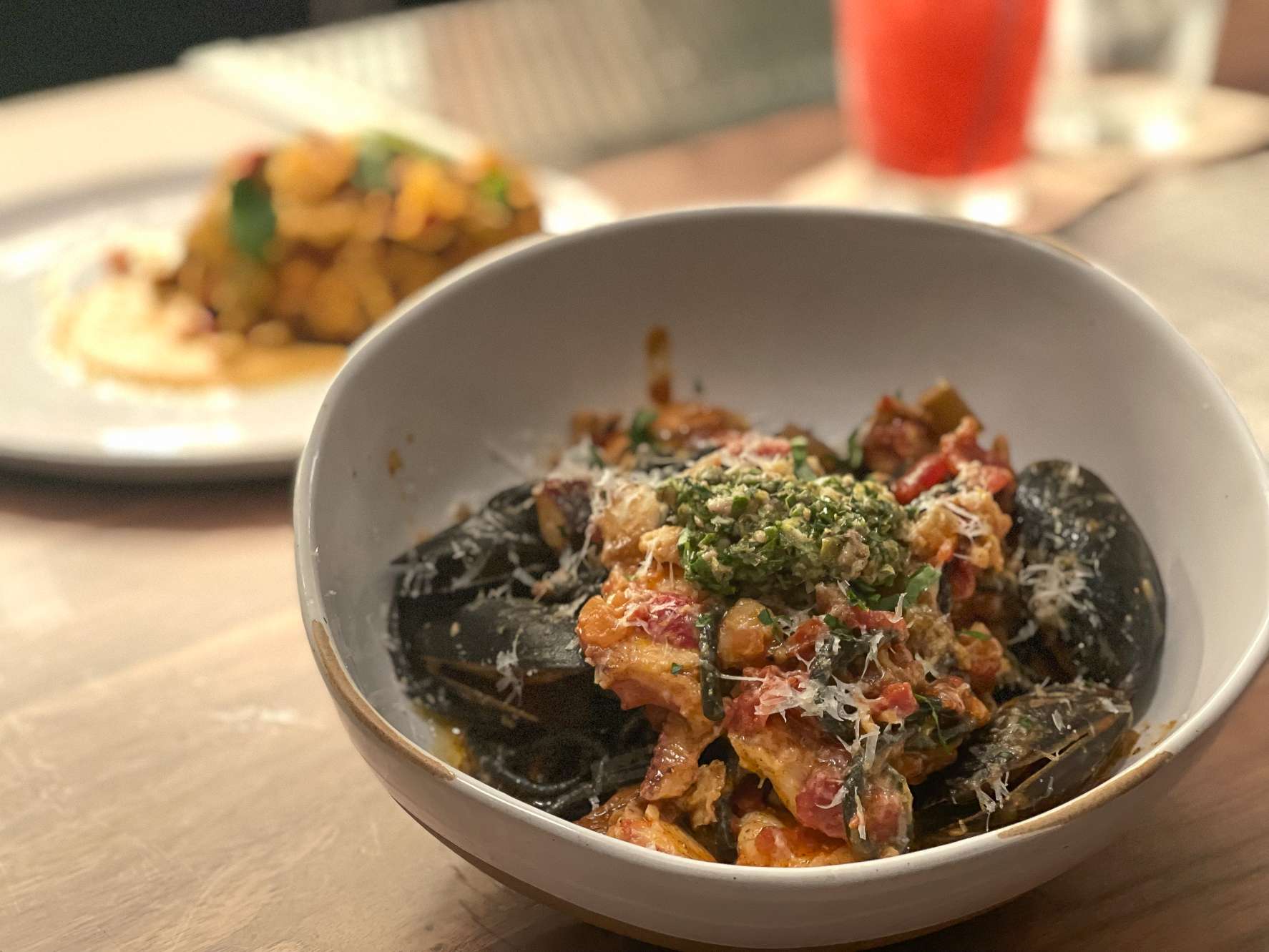 The squid ink bigoli at Shepherd & Sims.
The Stumps also have help from their kids in this latest restaurant venture. As Eater reports, the couple's son is in charge of the bar and cocktail operations at Shepherd & Sims. They're serving up both popular and top-shelf spirits along with select cocktails on draft, and of course, beer. Their daughter is the curator of the wine list at the restaurant which is trying to highlight selections from wine regions that are less well known and trendy.
Shepherd & Sims landed in Los Gatos because the Stumps believe the concept fits right in with the numerous other locally-owned restaurants nearby. The decor inside the restaurant reflects the image of a french bistro with a neighborhood-y feel, but with nods to the rugged Santa Cruz Mountains nearby.
Shepherd & Sims is open Wednesday through Sunday. Happy hour starts at 2:00 p.m. and the dining room opens at 5:00 p.m.