A proposal to bring new life to an old mall in West San Jose is now under public review. Developer Sand Property Co. wants to transform the El Paseo de Saratoga shopping center and the surrounding area at Saratoga Avenue and Lawrence Expressway into what it calls a 'lifestyle community.' There are two options being looked at by city officials right now, according to the Mercury News. One includes 1,100 units of housing, a 3.5-acre park, and 165,000 square feet of commercial space. According to city documents, the other plan includes a school and would cut down housing space to 741 units. Commercial space would drop to 67,500 square feet.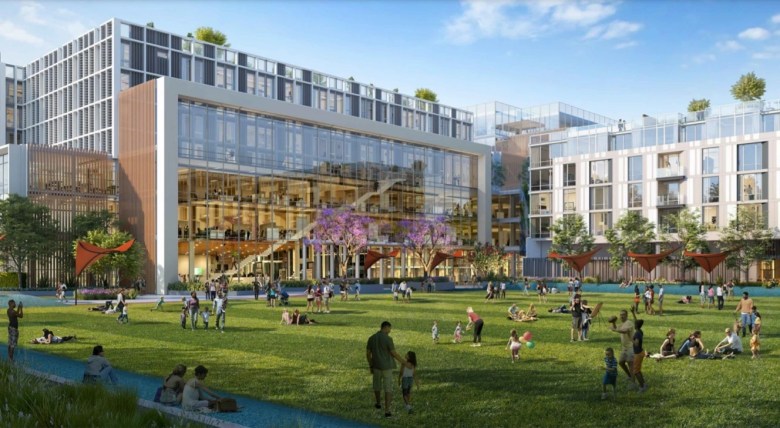 The project will use only about 11-acres of the El Paseo de Saratoga site along with a separate, smaller property that sits across the street. There will be new shops, bars, restaurants, and offices along with the residential units. AMC Saratoga 14, Pizza My Heart, REI, Ulta Beauty, Petco, European Wax Center, and Tillys will still operate during the first phases of construction. "It is a large site and we are trying to bring in new uses, new tenants, a new mix of uses that would help and support the existing center and drive more activity into the area," Allison Koo with Sand Hill Properties told Mercury News in March.
Local development experts are impressed by the ambitious plans from the head of Sand Hill Properties, Peter Pau. "He's trying to take an existing shopping center and turn it into a lifestyle center. He wants to turn El Paseo into Santana Row one section at a time," Bob Staedler with Silicon Valley Synergy told the Mercury News. "By having the housing attached to the development, that will help the daytime and nighttime activity," Staedler said.
Still, some believe it is a gamble to add brick-and-mortar shopping when online retail is growing so fast year by year. But Mark Ritchie with real estate firm Ritchie Commercial says there are still opportunities. "It does seem there is a place for highly specialized, high-end retail. The only kind of retail that is doing well now is the Santana Row-style high-end retail and restaurant," Ritchie tells the Mercury News.

It's unclear when the public review portion of the proposal will be complete, but once it is over, it will be up to city planners to decide whether it moves forward to the final stages.