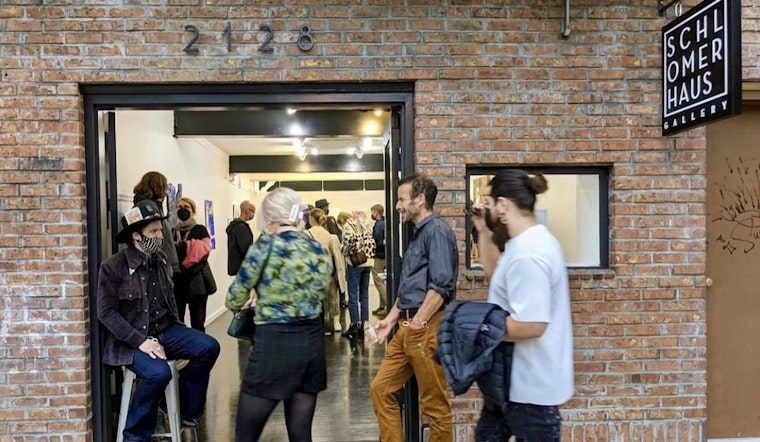 Published on November 23, 2021
Here's a brief roundup of recent changes to Castro-area businesses. In this edition: an art gallery opens, a new pizza spot is on the way, and a fitness studio is moving.
Opening
Schlomer Haus Gallery (2128 Market St.)
Schlomer Haus Gallery is now open at 2128 Market St. (at Church St.), formerly clothing store Maas & Stacks.
The new art gallery is owned by Castro residents and husbands, Steffan Schlarb and Brandon Romer. The gallery's name comes from a mashup of their last names.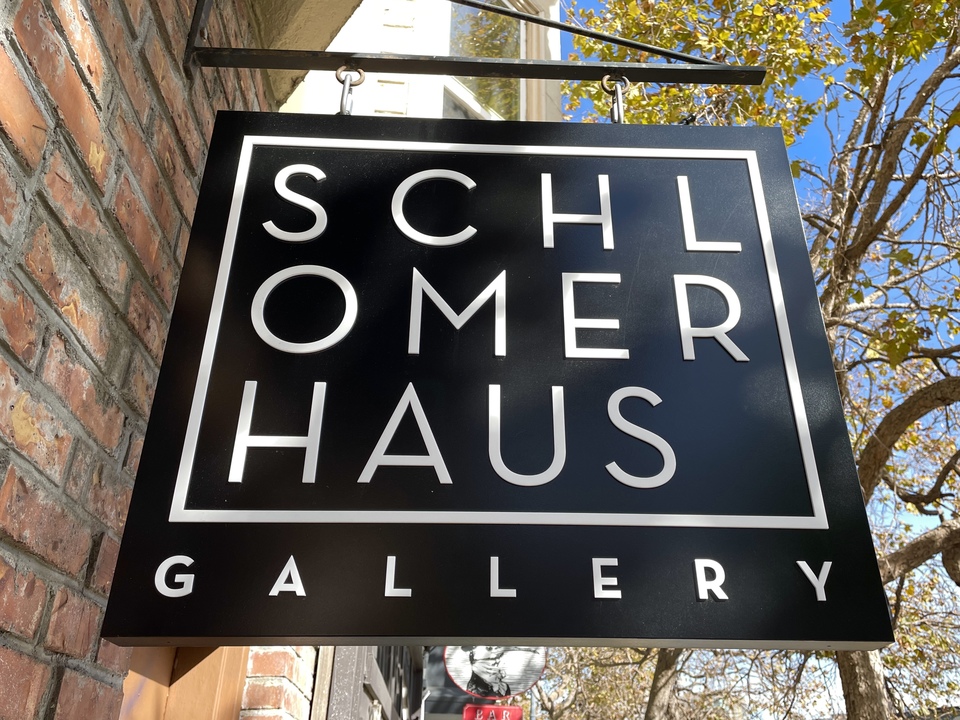 Schlomer Haus Gallery is now open at 2128 Market St. | Photo: Steven Bracco/Hoodline
The husband-and-husband team plan to emphasize queer, underrepresented, and emerging art and artists at Schlomer Haus.
"COVID really made us realize the importance of community. Opening Schlomer Haus Gallery is a way for us to foster community while expressing our love of art and our desire to help queer, underrepresented, and emerging artists thrive," said Schlarb.
"We could have opened the gallery in another neighborhood with an established art scene," added Schlarb. "But we wanted to create a space in the Castro for the unseen to be seen — and where we can help foster artistic creativity and culture in the Castro."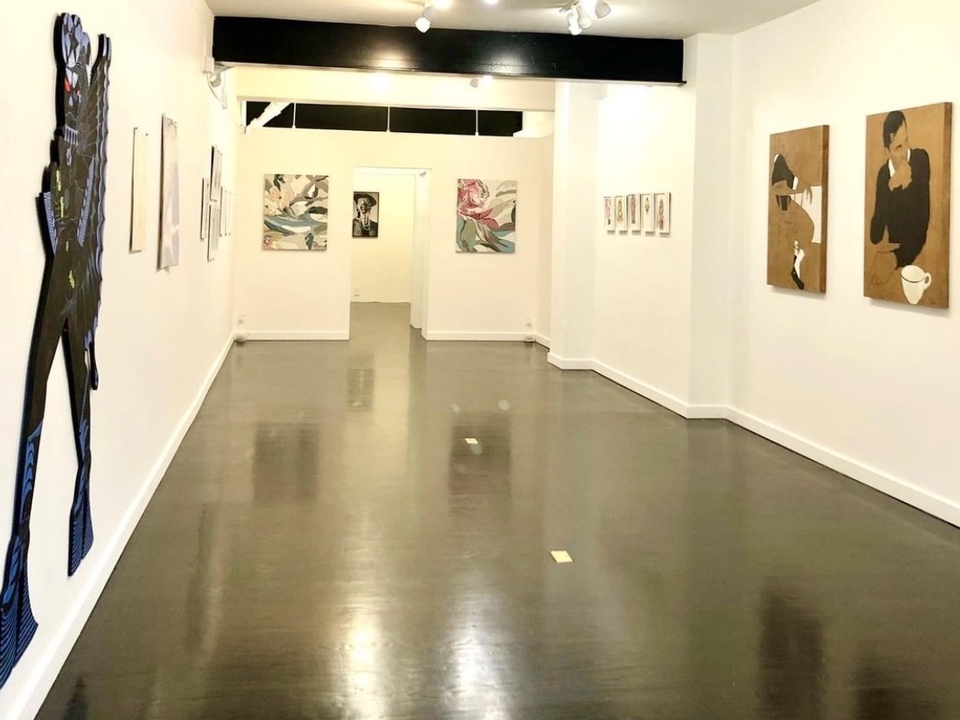 Inside Schlomer Haus Gallery. | Photo courtesy of Schlomer Haus Gallery
The gallery's first show 'Unseen Seen', is an exhibition featuring six international artists: Heather Benjamin, Lanee Bird, Evan Paul English, David King, Ryan McMenamy, and John Webster.
"The six artists in this group exhibition explore the dynamic ways queer artists subvert the heteronormative gaze," said Schlarb. "The queer gaze and queer visibility are conveyed in diverse mediums, through abstract and figurative subject matter, and shared subcultural signifiers, making the unseen seen."
Schlomer Haus Gallery is open Tuesday through Saturday from 12 p.m. to 6 p.m. and by appointment.
Pizzalicious (417 Castro St.)
Pizzalicious is set to open at 417 Castro St., formerly sandwich and hot dog shop Golden Grill.
While a sign went up recently on the awning, an official opening has not been announced.
Golden Grill closed in May after one year in the Castro.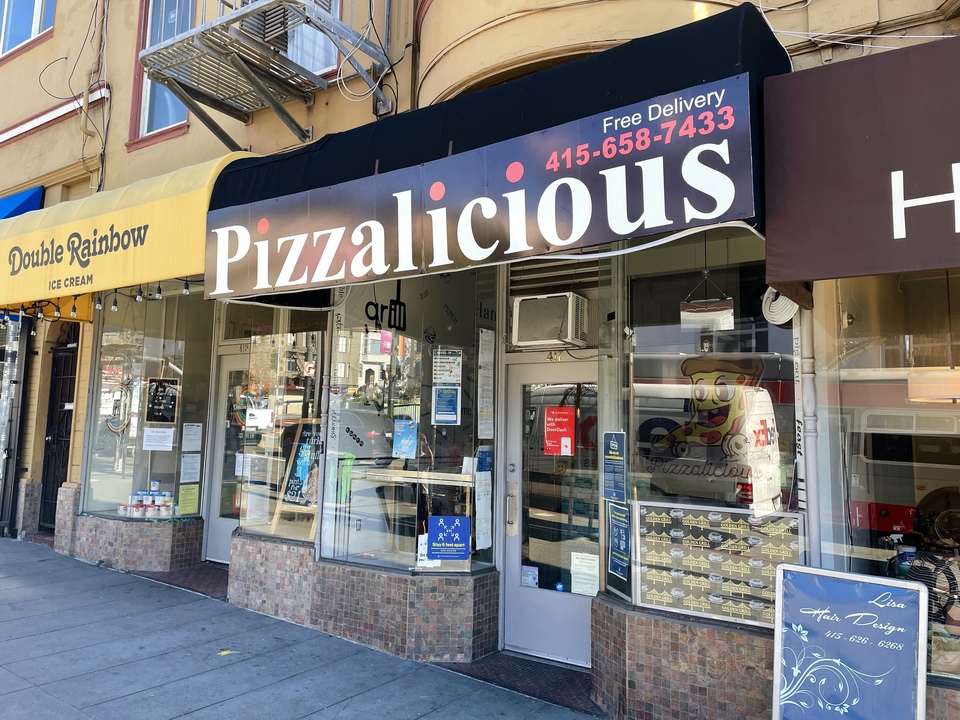 Pizzalicious will be opening at 417 Castro. St. | Photo: Steven Bracco/Hoodline
This will be Pizzalicious' second location in San Francisco. Pizzalicious' first location is at 1210 Polk St. in the Polk Gulch.
Hoodline reached out to Pizzalicious for comment but did not immediately receive a response.
Pizzalicius offers customers a variety of pizza, hot sandwiches, salads, and desserts.
For years Castro residents and visitors have had three pizza-by-the-slice options in the neighborhood including Marcello's (420 Castro), Oz Pizza (508 Castro), and Nizario's Pizza (4077 18th).
However, Nizario's closed last year after nearly 20 years in the Castro and is now occupied by Hot Johnnie's. Now with Pizzalicious' opening, the Castro again has three pizza slice spots.
The space at 2223 Market has seen a great deal of turnover since the Bead Store closed. Last year premium hot dog shop Dapper Dog closed after five years in the Castro.
Moving
The Boombox (2109 Market St.)
After three years in the Castro, the Boombox fitness studio at 2019 Market St. (at Church) will be moving to a new location.
Fitness enthusiasts won't have to go far, The Boombox will be moving in next door to share space with the Academy of Ballet at 2121 Market St.
The Boombox's last day at its current location is Friday, December 10 and classes will resume Monday, December 13 at the new location.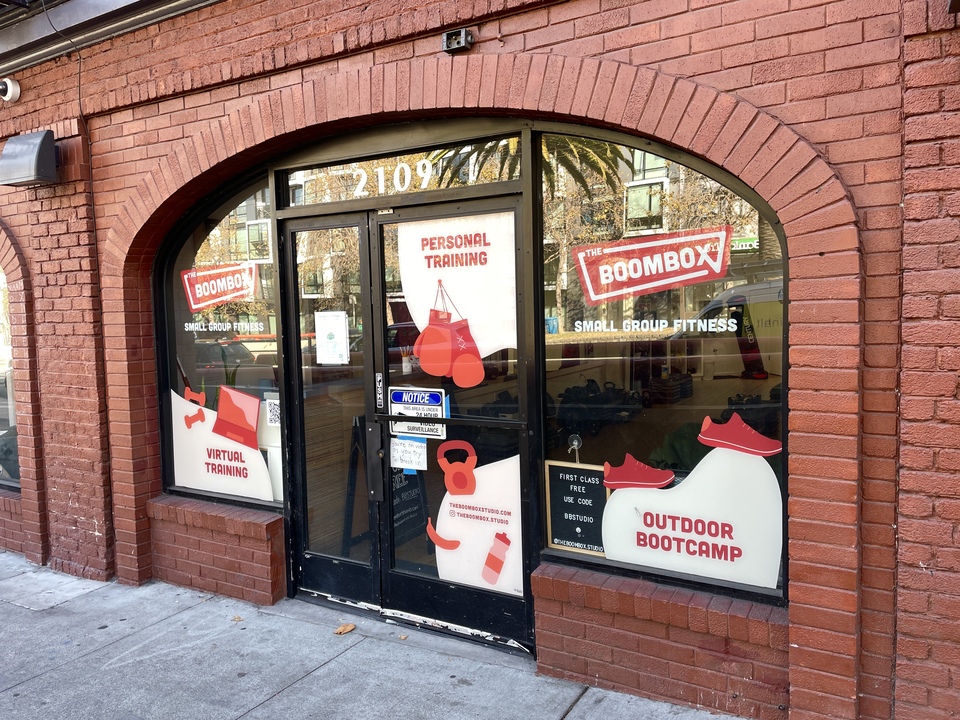 The Boombox's last day at 2109 Market St. is December 10. | Photo: Steven Bracco/Hoodline
"There are a lot of really complicated, heavy feelings around this," said owner Alexandra Mogannam in a newsletter. "I'd be lying if I told you we weren't heartbroken."
"This was not the plan," added Mogannam. "But if we learned anything from this pandemic it is that life is unpredictable, plans change, but good things can still come from tough times."
"We made the choice to stay open in the pandemic. We chose to retain our staff. We chose to pay for permits and invest in more equipment for outdoor bootcamps. We chose to build a parklet for the outdoor gym," said Mogannam.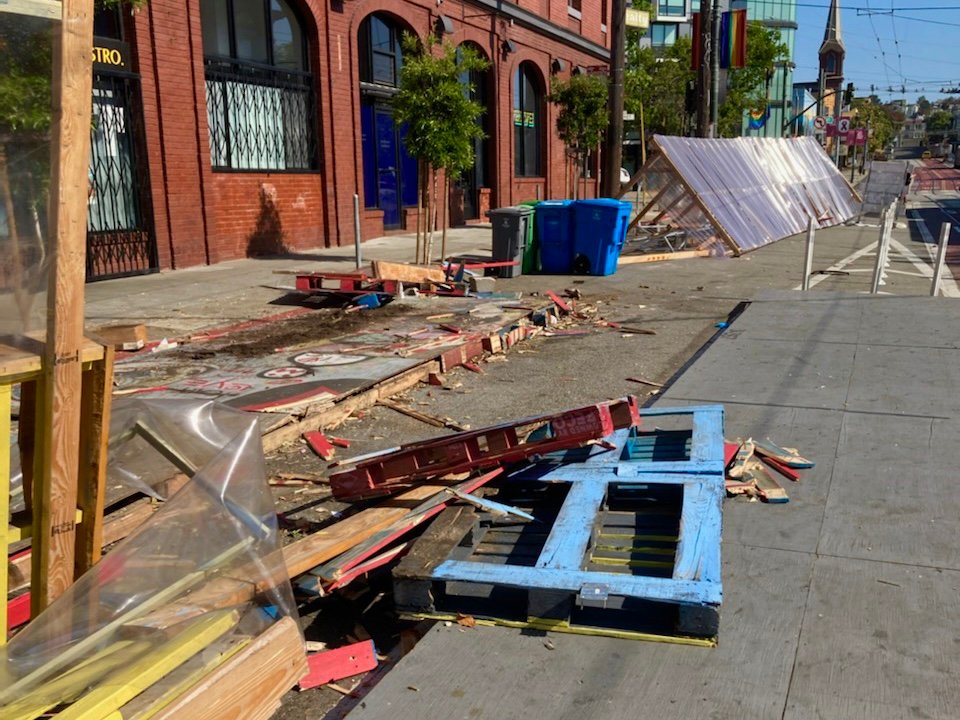 A driver destroyed two Shared Spaces platforms. | Photo: Alex/Hoodline
Hoodline readers will recall the driver of a vehicle crashed into and destroyed Shared Spaces platforms at The Boombox and French restaurant and wine bar Aquitaine (216 Church St.).
"At this point, we've faced flooding, fires, vandalism, and one whole pandemic," said Mogannam at the time. "This is just another moment that we will get through together and come out stronger."
Mogannam said The Boombox could have temporarily closed down and released staff to save money. "But we couldn't risk losing you and what we've created together," said Mogannam.
"While outdoor classes were not a part of the plan, they helped us all get through a very difficult time in our lives and I'm grateful for it," added Mogannam.
"I'm looking forward to this next chapter in our journey together," said Mogannam. "More than anything I'm thankful that we get to continue to make happy moments together."