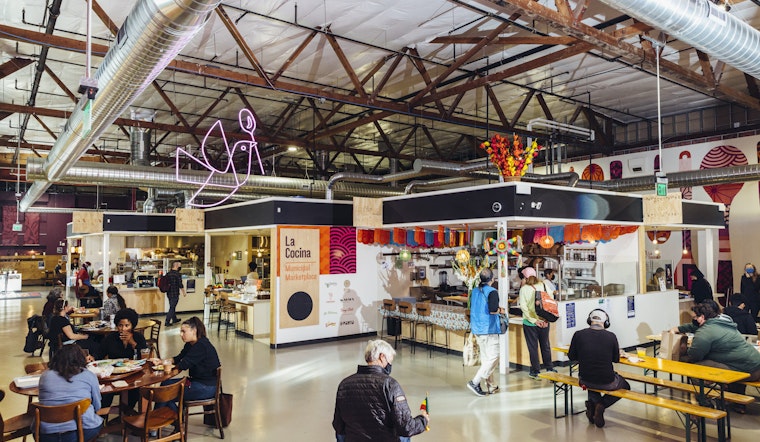 Published on November 29, 2021
La Cocina, the beloved and award-winning kitchen incubator, is set to host its first in-person event since the pandemic began: a holiday pop-up at the Tenderloin's La Cocina Municipal Marketplace, which will feature all sorts of festive eats and drinks.
La Cocina's charity work proved vital to keeping many local woman- and minority-owned businesses afloat over the past two years. The 16-year-old nonprofit — which has helped incubate some 130 businesses since 2005 — saw virtually all the companies it birthed lose 70% of their profits during the pandemic's infancy. But between community support and La Cocina's ability to offer things like free use of its commercial kitchen to program graduates, the nonprofit has kept a majority of those businesses afloat amid widespread furloughs and financial destitution.
Now, for the holiday season, La Cocina is wrapping up the year by hosting a "Holiday Market" that will be held at its Municipal Marketplace at 101 Hyde Street on Saturday, December 11.
The market, itself, will run from 11 a.m. to 6 p.m. and feature purchasable art and artisan gifts — as well as eats from various La Cocina chefs. Celebratory beverages from La Paloma and Fluid Cooperative Cafe are going to be included in the day's offerings; finger-friendly foods like mini pupusas, stuffed puff pastries, and mini tostadas will be supplied to the hungry patrons; live entertainment is expected to liven up the event, as well.
Crazy inspired by @lacocinasf launching the country's first all-women-of-color-led food hall. It's home to 7 incredible businesses, a full bar, a coffee cooperative and event venue. Hey, tech friends - eat and get your companies to cater from here. 😋 pic.twitter.com/owVVEJ69yC

— Caroline Barlerin (@CBarlerin) November 1, 2021
The Holiday Market will also kick-off La Cocina's year-end "Stock the Pot" drive: a fundraising campaign to upgrade the organization's well-loved kitchen. Those donated funds will go toward upgrading the Mission-based commissary kitchen's old equipment — in many cases, replacing the same tools used by all incubator program participants over the past sixteen years. The Holiday Market event's main sponsor, Whole Foods Market, is expected to match donations up to $25K toward the kitchen fund.
Though the event is free to attend, it's recommended that all who plan on attending register in advance to help La Cocina gauge the crowd size; pre-ordering food and drink packages, which range in price from $35 to $75, is highly encouraged since the event will have limited capacity. For more information on food vendors, registration, and available food and drink packages, visit lacocinasf.org/holidaymarket21.