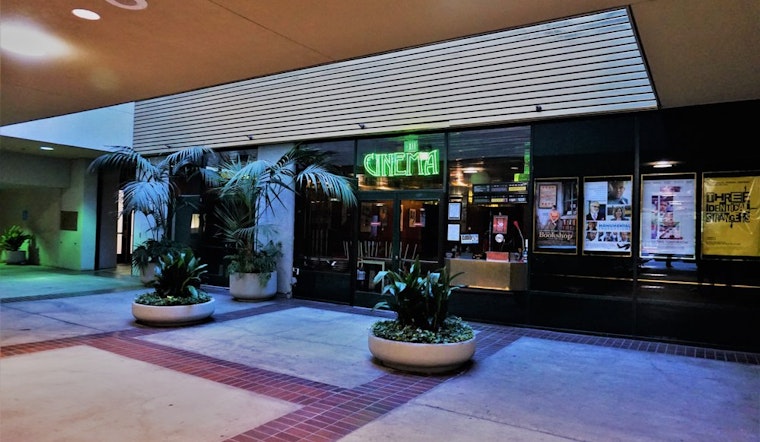 Published on November 15, 2021
If you were laying odds in a San Francisco movie theater death pool, and betting which local movie house would be the next to close permanently, I would not have blamed you for choosing the Landmark Opera Plaza at Van Ness Avenue and Turk Street. The building's owner announced their intention to close the theater way back in 2017, saying in conversion permit applications that the four-screen movie theater was "no longer economically viable." And of course once the pandemic halted indoor gatherings, there were no economically viable move theaters.
But the Opera Plaza cinema survived the pandemic, and seems likely to come out in better shape than before. The Chronicle reports that the Landmark Opera Plaza theater will reopen Friday, November 19, and spiffed up with a $1.2 million renovation at that.
"We are eager to welcome our audience back to the completely renovated Opera Plaza Cinema," Landmark Theatres president and COO Paul Serwitz said in a statement. "Regulars will enjoy a significantly enhanced movie-going experience."
There is not a ton of detail regarding what this "enhanced movie-going experience" entails. We do know the renovation was funded by Landmark and the San Francisco Neighborhood Theater Foundation (SFNTF), which was founded by several SF Giants executives. The foundation's website simply says of Opera Plaza that "SFNTF leased it in 2020 after facilitating the donation by several local business leaders of a substantial sum," and "Renovations will be carried out as Landmark Theatres continues operations."
As far as the actual films playing this weekend, there are not yet concrete times of films posted. The theater's upcoming features page shows screenings of SF classics Bullitt, and Dirty Harry, Paul Verhoeven's new nun thriller Bendetta, the Kosovan war drama Hive, and Crazy Rich Asians' Constance Wu's latest, I Was a Simple Man.