It appears that plans for another high-rise tower in downtown San Jose have passed through by the city's planning department. The 29-story building will sit at 605 South Second Street near the intersection of East Reed Avenue which lies in San Jose's SoFA neighborhood. The building stands to become a prominent piece of the San Jose skyline, especially to drivers who will pass right by on Interstate 280. It's also expected to be visible from Highway 101. "It will be very visible and will probably be at least twice as tall as any building in the area. The tower will bring about a tremendous change in the skyline," building designer Kurt Anderson tells the Mercury News.
Another notable aspect of the project is that all of the 345 units are labeled as affordable housing, which we are finally seeing more of in the new downtown San Jose housing plans. "The project will consist of 100% affordable units. The tower will have a nice mix of units. It should appeal to the middle-income market," Anderson told Mercury News. Earlier this week, Hoodline reported on another development proposed nearby that would feature 365-units of affordable housing.
The Mercury News reports that city planners approved the tower on the 0.3-acre site in November but renderings of the project were posted by SF Yimby in September of last year. Back then the building plans consisted of a 30-story structure "with 183 studios, 81 one-bedrooms, 27 two-bedrooms, and 54 three-bedrooms." It's unclear how much those plans may have changed since then, but the building is also expected to have a 1,600-square-foot roof deck, 6,400 square feet of amenity space on the second story, and below-ground parking for almost 100 cars.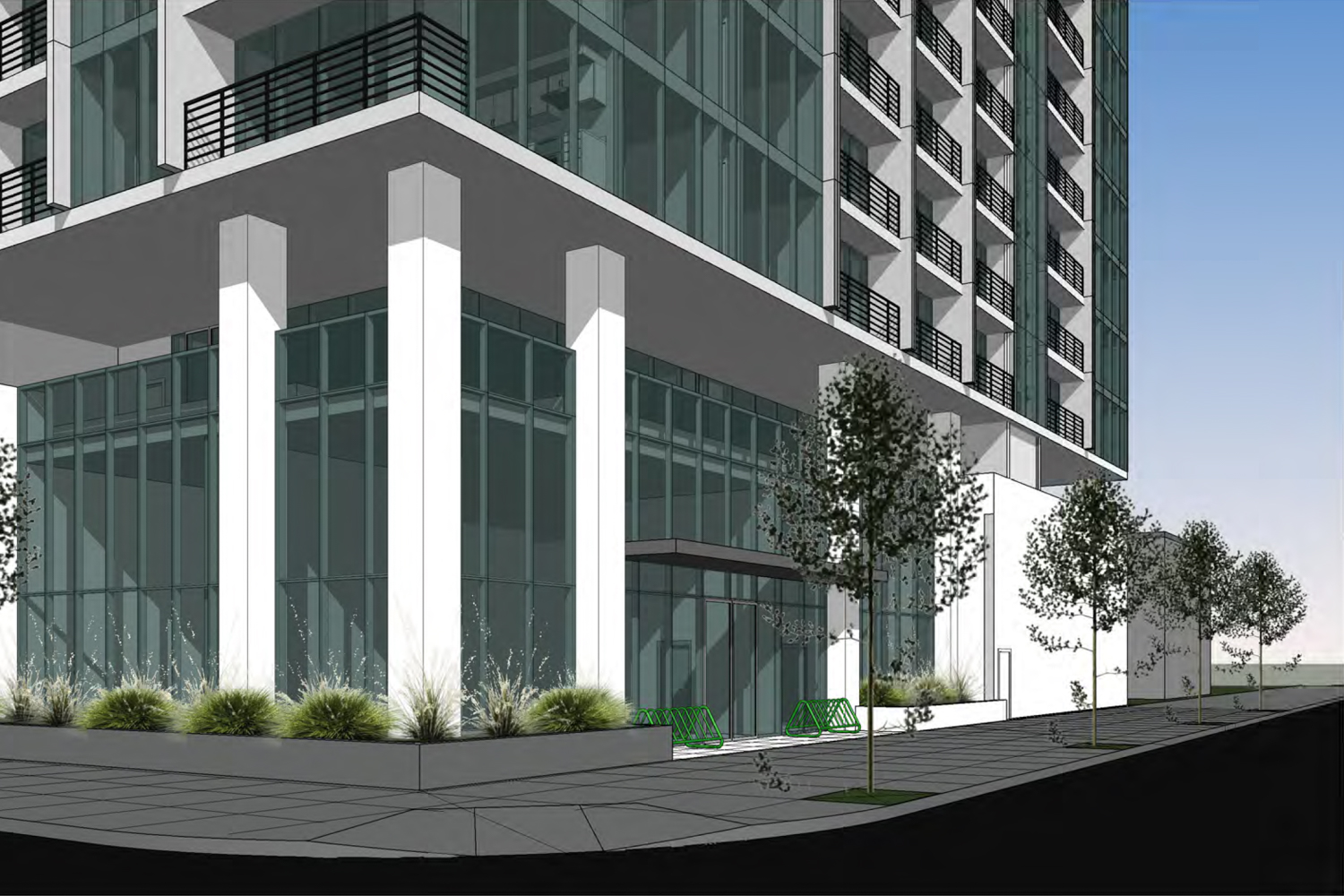 Rendering via Anderson Architects

One of the signatures of the building is the white balconies on the exterior. Back in September, Anderson told SF Yimby that the building "is meant to be a glass tower that is highly visible along the length of the 280 corridor through downtown San Jose. We will be providing architectural lighting that will contribute to the nighttime skyline of San Jose."
Construction on the tower should get underway in the summer of 2023.