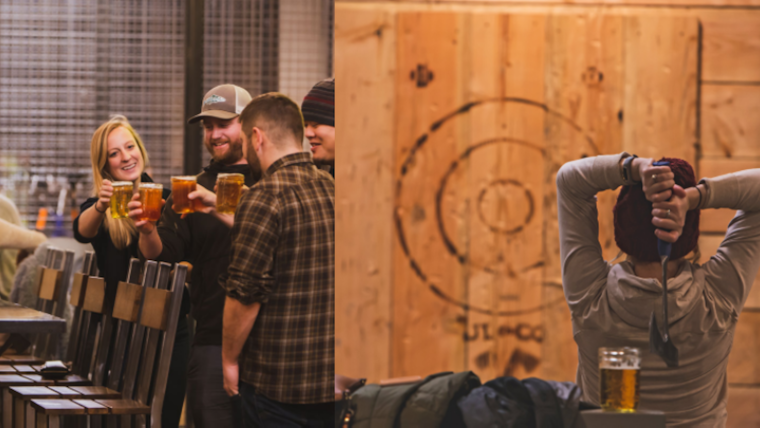 Published on December 30, 2021
A movie theater that is undergoing a complete renovation in downtown San Jose appears to have added another tenant. A restaurant and bar that centers around ax-throwing is set to move into a ground floor space inside the former Camera 12 theater at 201 South Second Street. As Hoodline reported in September, the theater is being transformed into a 100,000 square foot mixed-use space. 75,000 square feet for offices and the rest for retail space.
The company behind the ax-toss idea at Paseo is called Unofficial Logging Co., which operates a similar establishment in Bend, Oregon. They'll be occupying a 6,800-square-foot space, and the company thought Paseo was the perfect location. "Lots of ax-throwing places are in warehouses in industrial areas which are hard to find and don't always have the best atmosphere. We are specifically searching for downtown areas with lots of foot traffic and public transit," Unofficial Logging co-owner John Heylin told the Silicon Valley Business Journal.
The developer of Paseo, Urban Catalyst, has landed one other tenant so far. Hoodline previously reported that miniature golf company Urban Putt has signed a lease for a 13,300-square-foot spot inside the former theater. Urban Catalyst believes an ax-throwing venue fits right in with golf. "Unofficial Logging is precisely the type of business San Jose needs to draw more people downtown because it creates the fun and excitement that people seek in urban environments," Urban Catalyst CEO Erik Hayden told the Mercury News.
Urban Catalyst is promising more big announcements soon as it tries to make Paseo one of the premier nightlife destinations in San Jose. "With this and some soon-to-be-announced restaurants, The Paseo brings some excitement and amenity to the historic district. Downtown San Jose Is coming back from COVID extremely strong," Joshua Burroughs with Urban Catalyst told the Mercury News. "Nearly all the retail space has been spoken for, which underscores the confidence we're seeing in the future of downtown San Jose and the strength of the Paseo project in particular," Burroughs said. It's unclear when anything will open.
Unofficial Logging Co. isn't the only business betting on the ax-toss concept in San Jose, either. The Mercury News reports that an ax-throwing company based in Houston has started the process with city planners to start its own venue a couple of blocks away at the site of former bar Voodoo Lounge at 14 South Second Street.