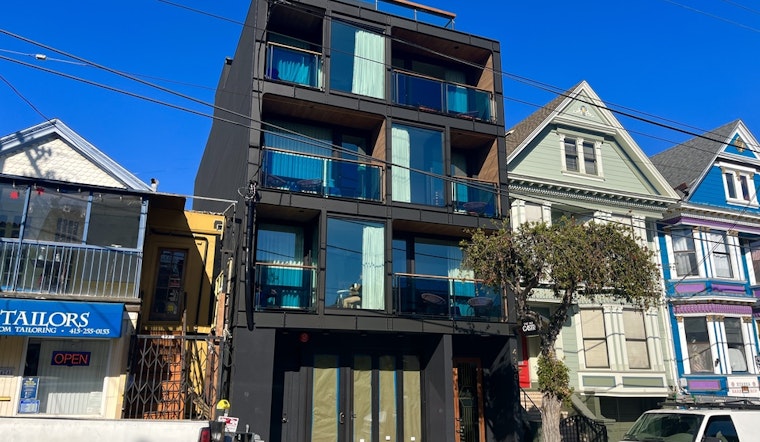 Published on February 08, 2022
Privacy concerns raised by hotel guests and Castro residents have resulted in policy changes at the newly open 12-room boutique lodge The Hotel Castro (4230 18th St.).
On Friday, The Bold Italic reported that Hotel Castro conducts criminal background checks on all its guests and also has sound-decibel readers inside all guest rooms.
The Hotel Castro, which opened in December, has partnered with San Francisco-based Kasa Living to manage the property.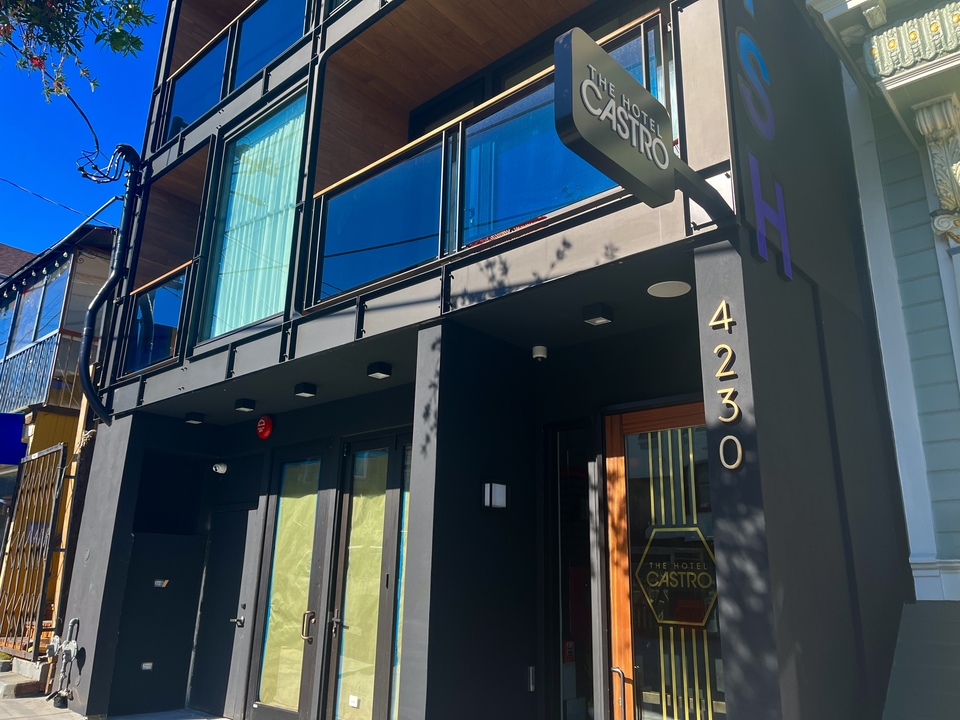 The Hotel Castro opened in December at 4230 18th St. | Photo: Steven Bracco/Hoodline
Hotel Castro offers no on-site full-time staff to its guests. Instead, the property offers digital services for amenities like contactless check-in and concierge services.
Freelance writer and drag queen Joe Wadlington (aka Jubilee) shared the policies in a Twitter thread last week.
"The new hotel in the Castro has noise monitoring," wrote Wadlington. "[A]nd they do a scan of your face to make a reservation. I'm so creeped out."
The background check policy is explained on Hotel Castro's frequently asked questions page. "Safety is fundamental to Kasa our invisible service partner," says Hotel Castro. "Guests are required to submit a valid government ID and a profile photo for identity verification and fraud prevention."
"Guests are also subject to a background screening which includes a criminal history check," adds Hotel Castro. "This protects against identity theft and fraud and is also for the safety of other guests and neighbors in the community."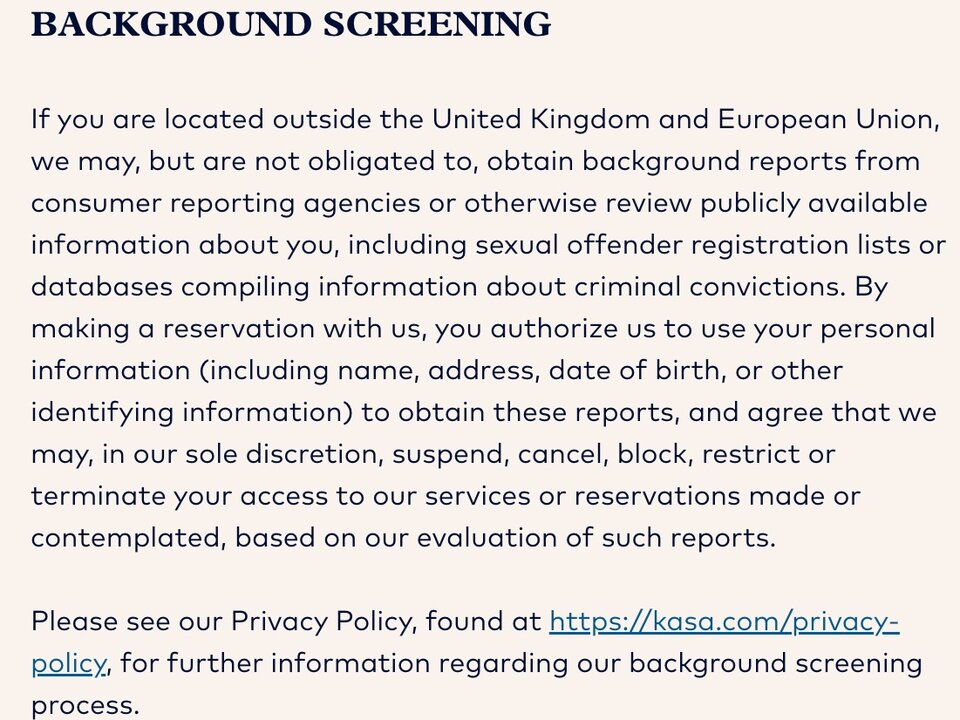 Background screening policy at Hotel Castro. | Image: Kasa Living
The noise policy is explained in Kasa's guest accommodation agreement. "The guest may not disturb the quiet enjoyment of any other guest of the Company, resident of the property, or surrounding neighbors," says Kasa. "At all times, the guest shall refrain from making loud noises and excessive television and/or radio volume that may disturb others."
In order to achieve this policy, guest rooms are monitored with decibel sensors. "Decibel sensors notify the company of sounds in the Kasa that exceed 75 decibels (dB)," explains Kasa.
The noise policy is not listed on Hotel Castro's website but guests who reserve a room consent to the sound level monitoring when they make a reservation.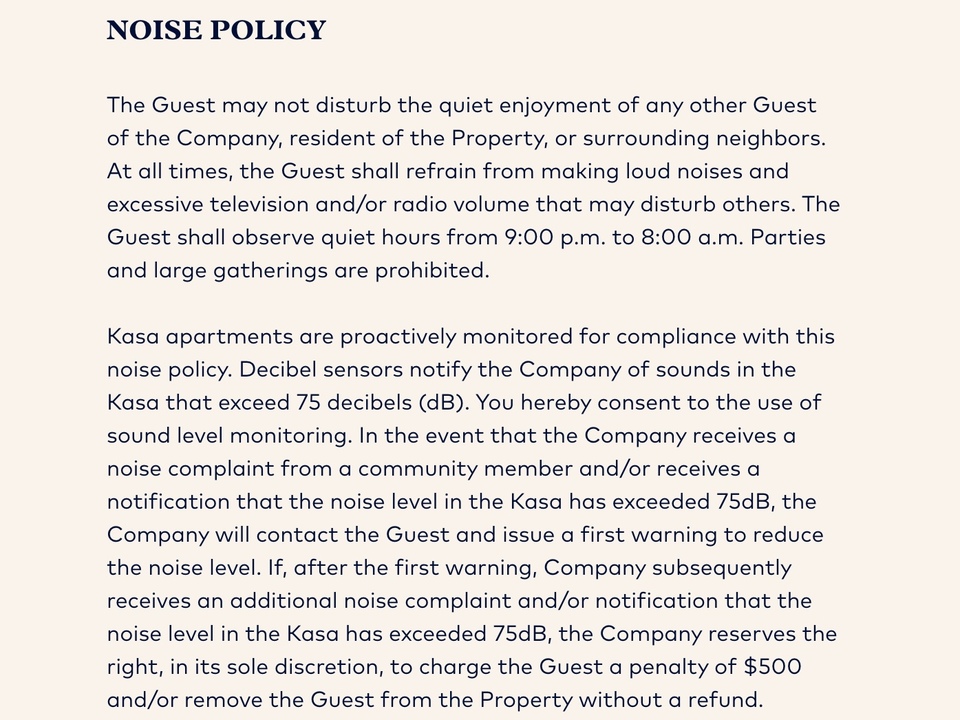 The Hotel Castro uses decibel readers to enforce its noise policy. | Image: Kasa Living
"In the event that the Company receives a noise complaint from a community member and/or receives a notification that the noise level in the Kasa has exceeded 75dB, the company will contact the Guest and issue a first warning to reduce the noise level," says Kasa.
"If, after the first warning, Company subsequently receives an additional noise complaint and/or notification that the noise level in the Kasa has exceeded 75dB, the Company reserves the right, in its sole discretion, to charge the Guest a penalty of $500 and/or remove the Guest from the Property without a refund."
Hotel Castro owner Gannon Tidwell declined an interview request and instead sent over a prepared statement in response to the policy concerns.
"All the trust measures we have in place at The Hotel Castro are to ensure the safety of our guests and the community in which we operate," said Tidwell. "This includes decibel meters to insure acceptable noise levels for our guests and the neighborhood."
"The meters can be adjusted based on guest feedback and learned best practices," added Tidwell.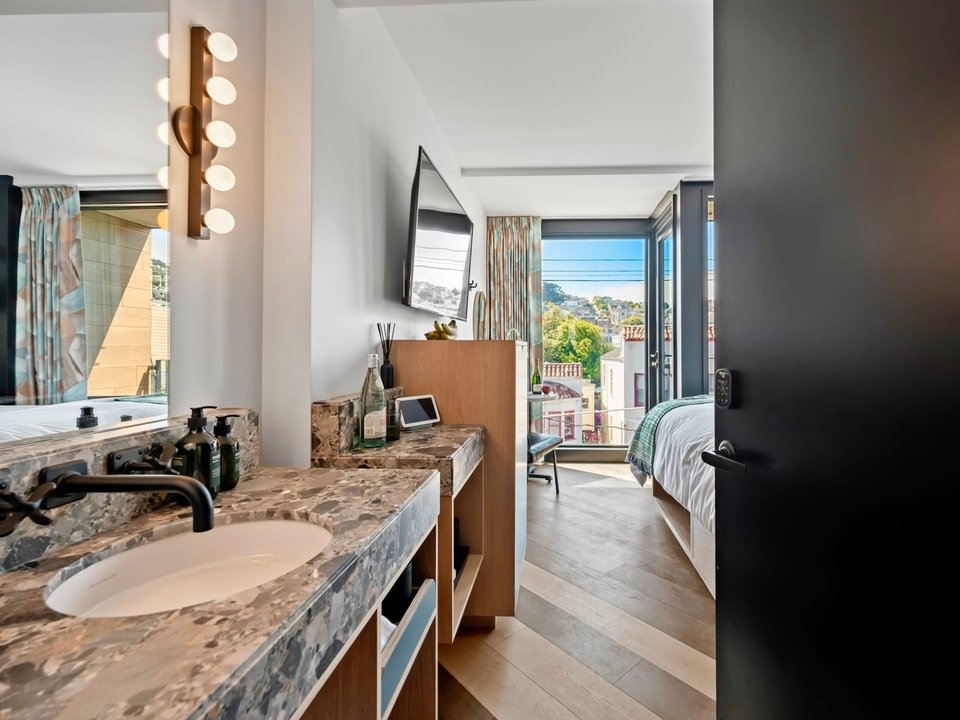 Inside one of Hotel Castro's guest rooms. | Photo: Hotel Castro
In regards to criminal background checks, Tidwell said, "everything we do is non-invasive and respects guest privacy." He added, "We also have a non-smoking policy inside our rooms."
Tidwell tells Hoodline that Hotel Castro has decided to end its practice of conducting criminal background checks. "[T]he hotel just opened in January and we are still refining our operational plan. While our initial booking process included background screenings, we plan to end this practice going forward."
Jen Court, spokesperson for the SF City Attorney's Office, tells Hoodline "there's nothing that expressly allows or prohibits criminal background checks on hotel guests."
In response to the policy change, District 8 Supervisor Rafael Mandelman said, "I am glad to hear the Hotel Castro is responding to the privacy concerns. Providing visitors with a safe and interesting place to stay in the neighborhood is a benefit for our beleaguered small businesses as we recover from the pandemic."
Tidwell also added in the statement, "We are strongly committed to inclusivity and everyone is welcome at The Hotel Castro."