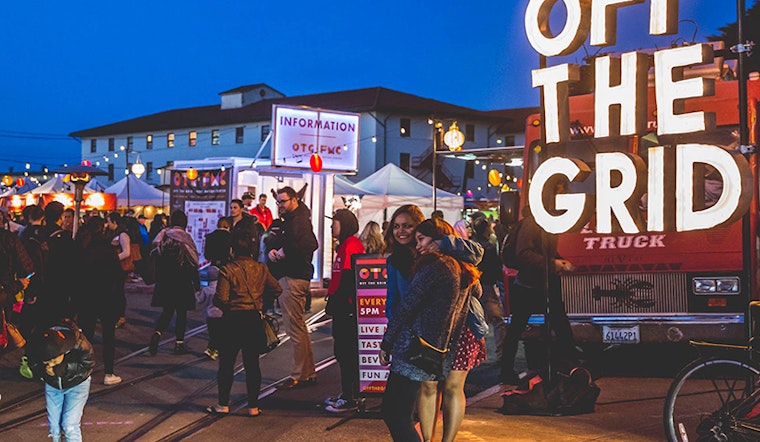 Published on February 16, 2022
This coming April Fool's Day, Friday April 1, 2022, will let San Francisco scratch some long-overdue itches. After years of construction toil and hassle, the Van Ness Rapid Transit Project will officially be completed and its new red lanes opened for bus traffic on April 1. And something even more appetizing will await at the northern end of Van Ness Avenue the night of April 1, as the Off the Grid Fort Mason event will return on April 1. This 12-year-old, weekly outdoor food-truck rally is finally coming back, at last, following the latest COVID-19 setbacks.
View this post on Instagram
"Off the Grid is proud to announce the return of California's largest weekly food truck event, OTG:Fort Mason Center," Off the Grid says in an online announcement. "Returning after a 2-year break, we're ready to add our spice back to the San Francisco food community in one of the most beautiful locations in the world."
View this post on Instagram
There have been some Off the Grid food truck events happening around the Bay since the latest round of Delta and Omicron variant restrictions hit, but mostly in the East Bay. The only San Francisco event has been a weekday lunch thing at Levi's Plaza on Battery Street — which certainly does not have the full bar or entertainment that attendees can enjoy at Fort Mason's Off the Grid.
There are no start and end times in Off the Grid's Fort Mason announcement, but the event traditionally went from 5 p.m.-10 p.m. on Friday night.
View this post on Instagram

While Off the Grid has thrown down the gauntlet and said they are definitely throwing a Fort Mason event the night of Friday, April 1, 2022, they have not yet posted a ticket link, nor have they posted the line-up of which food trucks will be there. But you can sign up for Off the Grid email updates, and they'll be happy to serve up that information once it's hot and ready.