The news first arrived on Facebook that Outer Sunset Chinese restaurant Yan Yan Seafood was soon to close. Eater SF reported the impending closure last Wednesday, saying they "confirmed that COVID took a toll on the owners." And after social media was flooded all weekend with reports of people experiencing long lines for their final meal there, Hoodline confirmed via phone with a co-owner that effective Tuesday, March 1, Yan Yan Seafood Restaurant is now permanently closed.
According to SFGate, "Yan Yan first opened its doors at 2241 Judah St. in 1998." So we have lost a 24-year San Francisco favorite.
There are reports on Yelp saying Yan Yan Seafood was "closing at the end of February 2022," and Hoodline can confirm the business is no longer open as of March 1. Numerous posts on multiple social media platforms contain similar comments along the lines of "double check with the owner that due to loss of business because of COVID-19 she has no choice but to close at end of the month."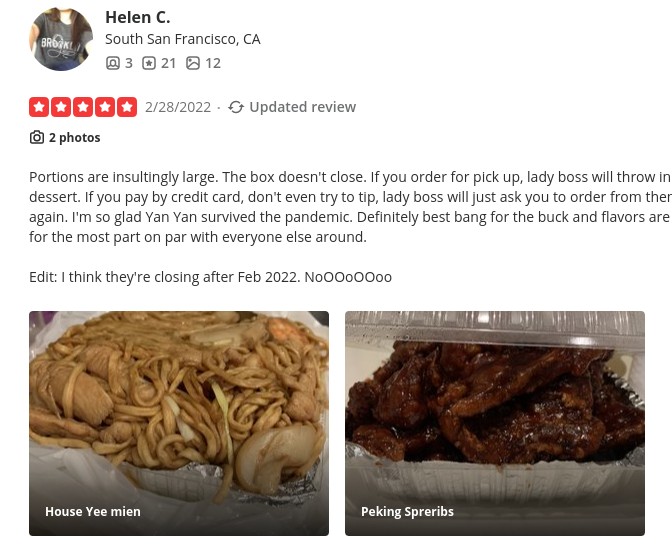 Screenshot: Yelp
Yan Yan's most enduring review may be its Yelp comment, "Portions are insultingly large. The box doesn't close. If you order for pick up, lady boss will throw in dessert. If you pay by credit card, don't even try to tip, lady boss will just ask you to order from them again."

The closure is certainly unfortunate, but just as with the recent closures of Luka's Taproom in Oakland and Giordano Bros. in SF's Mission District, huge crowds showed up to pay their respects and get a final meal. "They're super slammed," one commenter said on Facebook, two days before the closure.