It was back in 2015 when sports bar Giordano Bros. closed its North Beach location, which was hardly a cause for weeping. That tiny outpost, with seating merely at the bar and a couple tables, was far smaller than the flagship Giordano Bros that had opened in 2011 on 16th Street, in the former Ti Couz location.
But now the bigger Giordano Bros. is meeting the same fate as Ti Couz before it. As stated on the Giordano Bros. website and confirmed by Mission Local, Giordano Bros. will close permanently this Sunday, February 27.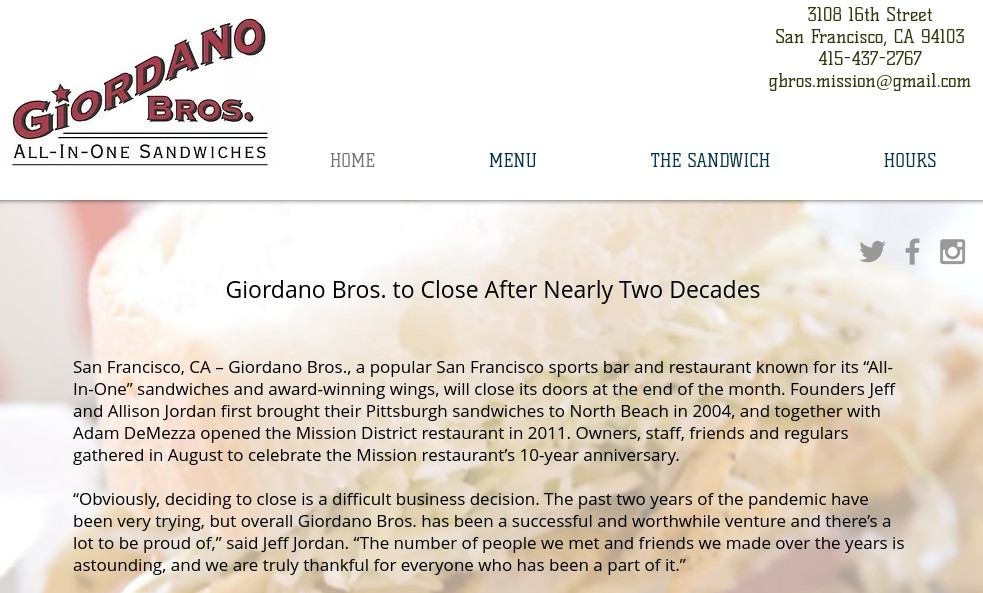 Image: GiordanoBros.com
"Giordano Bros. lifespan has been long in San Francisco restaurant years, and the end of the football season feels like a fitting time to close," co-owners Jeff and Allison Jordan said on the bar and restaurant's website. "We now look forward to being able to focus on other business ventures."
We wanted to let our loyal customers be the first to know that Giordano Bros. will close its doors after 18 years on Feb 27. We are grateful for your patronage & friendship over the years, and hope to see you these next 2 weeks… and that our paths continue to cross. pic.twitter.com/wEdZMFSp4B

— Giordano Brothers (@giordanobrother) February 16, 2022
This is another pandemic restaurant closure, but not a typical one. "We will miss our long-time staff and regular customers, but if there's one thing we learned from the Covid shutdowns, it's that we wanted to spend more time with family," Allison Jordan said in the farewell statement. "Our kids are now in high school and middle school, and there are important things we don't want to miss."
Since 2004, Giordano Bros, has reigned as the primary meeting place for Pittsburgh Steelers fans, and San Francisco's go-to spot for the famed regional dish, the All-In-One Sandwich, or Pittsburgh Sandwich. That is, of course, a sandwich with the french fries and coleslaw served inside the sandwich. And while all of the steel worker mythology around that sandwich's origins might not be exactly true, it cannot be disputed that Giordano Bros. stayed doggedly true to the recipe.
Fans of the old North Beach location will recall being warned on the in-house blackboard: "The sandwich has been made the same way for more than 70 years, so we recommend you don't try to change it."
If you want to plan a final visit to Giordano Bros., it will have to wait until later in the week. The shop will not reopen until Thursday February 24. Thursday and Friday hours are 4 p.m. - 10 p.m., the Saturday. February 26 schedule is 11 a.m.-10 p.m., and the final day's schedule on Sunday, February 27 is 11 a.m. - 9 p.m.