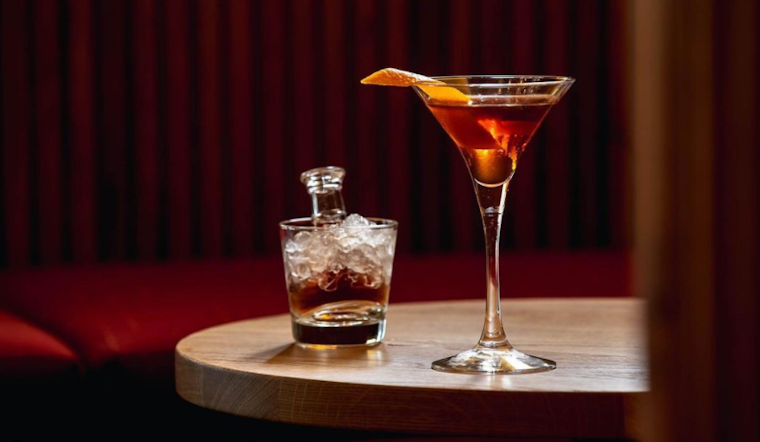 Published on March 14, 2022
It's been just over a year since a fire nearly took down the building that housed Pacific Cocktail Haven, and now the bar is opening back up a stone's throw away from its original location.
Owner Kevin Diedrich has been a bartender in San Francisco for many years, and he opened Pacific Cocktail Haven in 2016, only to have it suffer in the pandemic and then burst into flames, taking out all of his inventory and much of the building. Starting Wednesday, March 16, the bar will return to the Union Square neighborhood, just a few doors up from its old location.
Before, the bar had been at 570 Sutter Street; the new address is 550 Sutter, just a few doors down. There are a few other changes for the bar, too.
One of the bigger changes customers will see is a new layout inside. The seating area is intended to be more intimate than before, with rounded booths in warm wood colors. A front patio has room to house about 30 guests.
The menu will feature some new delights, in addition to old favorites. PCH has earned its fame by dabbling with interesting and unique flavor combinations, highlighting fresh ingredients from across Asia and the Pacific.
Take, for instance, the Silk Road cocktail, which includes Sapphire East gin, a Philippine coconut spirit called Infanta Lambanog, grilled pineapple, Japanese curry, citrus, and soda.
"Inspiration comes from just about anywhere," a post on the bar's Instagram page states. It explains one of its drinks, The Sunnyside was created around strawberry lychee flavors, combined with the Li-Hing Mui candy shipped straight from Hawaii. It also has Blanco tequila, an herbal liquor called Strega, citrus, and soda.
The Back in Black features Knob Creek bourbon, Hine Cognac, salted black sesame, an Italian bitter aperitif in the amaro family called Cynar, Licor 43, and bitters.
The Barley and Me has Bernheim wheat whiskey, with Avua Cachaca, a distilled spirit made from fermented sugarcane juice then aged in a rare hardwood from South America, called tapinhoã wood. It also has amaro, chocolate barley, cinnamon, orgeat, and bitters.
Once the bar opens back up on March 16, it'll be open from 5:00 p.m. to 12:00 a.m. daily.