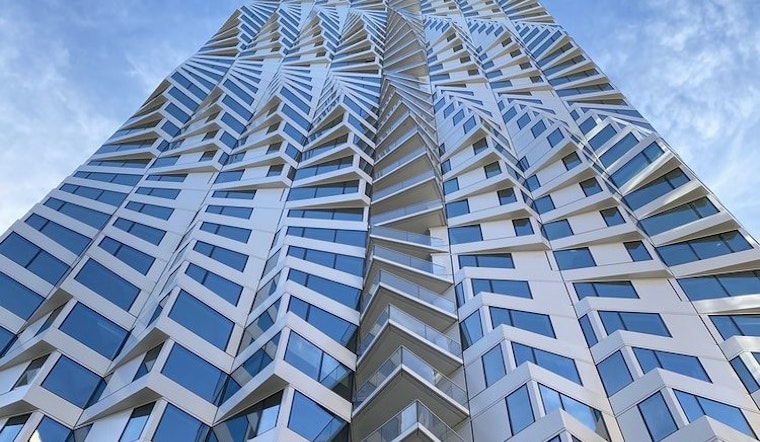 Published on March 29, 2022
Sustainably sourced coffee chain Saint Frank Coffee may be SF-based, but their biggest claim to fame is perhaps their cafe inside Facebook headquarters in Menlo Park. The problem? Half their locations are currently closed, including the location at Facebook HQ.
That's about to change, with the addition of their latest ritzy location. Eater SF reports Saint Frank Coffee is opening a new cafe in the Mira Tower at Folsom and Spear Streets, that luxury condo building recognizable for its twisty, curvy design.
And you don't have to be a luxury condo owner to pop in and enjoy Saint Frank's Honduran, Colombian, and Kenyan coffee varieties. They'll be in the ground floor lobby level. The Chronicle reports that the building just inked several new tenants, with Saint Frank signing on along with Looksie Optometry and Mili Wine Bar. The lobby has already added a Sweetgreen salad joint and a "wellness center" called StretchLab.
It's another confident bet on downtown bustling again soon, and Saint Frank could sure use that. In addition to their Facebook campus shop being closed (though they do have another open location in Menlo Park), their Mission and Sixth Street location, which opened in 2017, just closed in July. They've replaced that with a weekend pop-up at Polk and Pine Streets, though their Russian Hill location ten blocks north of there (2340 Polk Street) has been open consistently throughout the pandemic.
View this post on Instagram
When Saint Frank's closed the Mission and Sixth Street location, they said "we hope to see you later this summer at 1604 17th Street." That location seems to not have panned out. So the new Embarcadero/Rincon Hill location may be a replacement for that, and we're pleased to see another business confident that a downtown recovery is brewing.