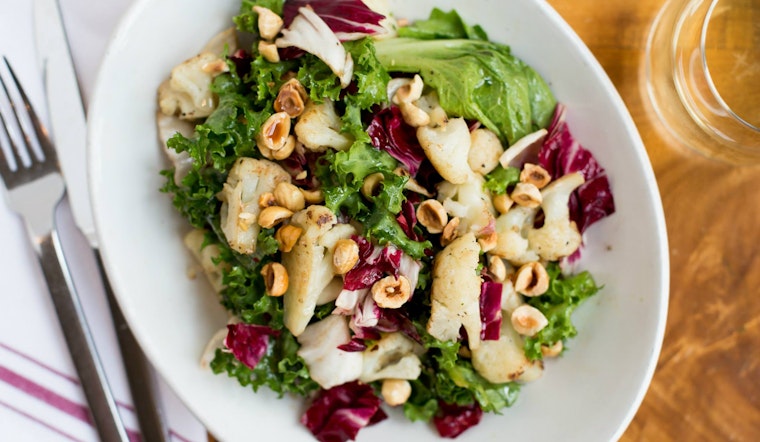 Published on April 25, 2022
A prolific SF restaurateur with restaurants all over the Bay has just announced his newest project: a vegan spot with a fast-casual atmosphere, coming soon to the former Grove space at Hayes and Franklin.
Adriano Paganini is a legend in San Francisco, claiming 33 restaurants in total. Not only does he have a massive portfolio of eateries, but he makes sure that list includes a variety of different cuisines.
Paganini founded the Back of the House Restaurant Group in 2009, not long after opening the successful Beretta in the Mission and sister spot Delarosa in the Marina. The group now lays claim to Bay Area favorites like Lolinda (serving Argentine steak), Flores (a Mexican spot), Starbelly (California-Mediterranean fusion), Super Duper Burgers, and more. In 2019, Hoodline reported on the new Cow Hollow vegan and vegetarian haven, Wildseed - a conversion from a restaurant that used to be a Belgian pub called Belga. In 2021, Back of the House brought The Tailor's Son to upper Fillmore and a Hayes Valley location of the Bird (the group's fried-chicken concept), which has the laid-back Afterwork Bar attached.
"We believe in the accessible, the affordable, the always authentic. We thrive in the spirit of all substance, no bulls***," the Group says of itself.
Paganini's success with its other plant-based restaurant, Wildseed, was swift and pronounced. That restaurant just opened a second location in Palo Alto in March of 2022, Mercury News reported.
Although the new restaurant will serve vegan food, just as Wildseed does, the Business Times reports this new venture will be completely original. This one will serve things like salads, bowls, sandwiches, and plant-based burgers.
"Sometimes you want something still very good but simpler in the sense of experience, a little bit faster," Paganini told the Business Times. "It will be a nice, fine casual restaurant."
Hayes Street is already lined with some of Paganini's other projects. The Bird and the Italian restaurant A Mano are both just down the road from where his new restaurant will sit at 301 Hayes Street. That particular 3,351-square-foot space has been empty since early 2020, when its former tenant, The Grove, shut down.
The new restaurant doesn't have a name just yet, nor a projected opening date.