Some good news for fans of the La Victoria taqueria chain: The Hayward location has just reopened in a brand new space just half a mile away from the old La Victoria location. The new address is 27915 Mission Boulevard. La Victoria is mainly based in the South Bay with five locations across San Jose. Its only other location is the one in Hayward.
The Hayward location took over the property where the Pepe Mexican Taqueria used to be. According to Bay Area News Group, Pepe's 1,444-square-foot building was demolished to make way for a newly constructed building that is 3,200 square feet and much more modern. It has windows that run from the ground to the ceiling and has room to serve nearly 100 customers. 76 on the inside and 20 outside.
When the project was first announced, Hayward Planning Commissioner Daniel Goldstein said he hoped the newly built restaurant would breathe new life into the Mission Boulevard corridor which has numerous outdated buildings. "A project like this, I think, makes it more attractive, not only for the people that already live and enjoy that area but also for potential developers," Goldstein told Bay Area News Group in August of 2019.
The restaurant has had a loyal following at all of its locations since the first La Victoria opened. "La Victoria, better known as 'LaVic's' started off as a small, hole-in-the-wall taqueria one block away from San Jose State University in 1998. Over the years, it has evolved into a very popular go-to spot in the Bay Area," its website says. It serves all the traditional Mexican favorites like burritos, enchiladas, chile rellenos, and many other dishes.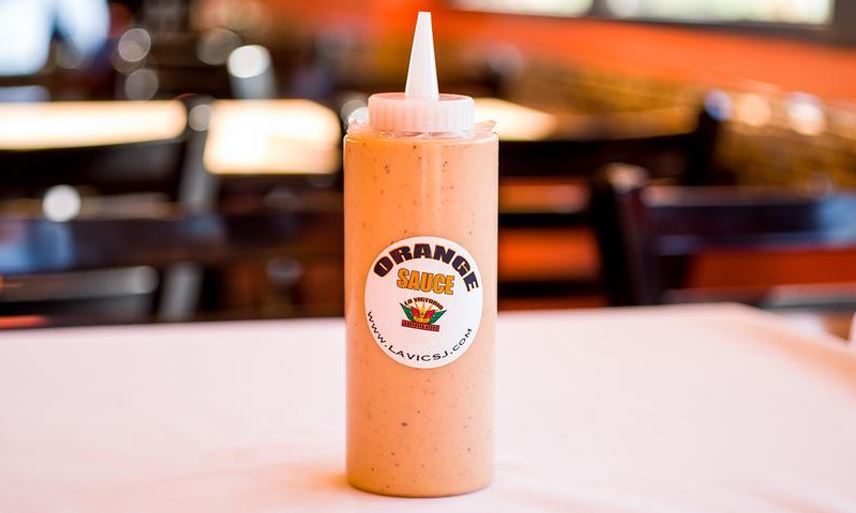 La Victoria Orange Sauce. Photo Credit: La Victoria
It might be best known for its popular Orange Sauce which is a secret family recipe that it claims is perfect for meat-eaters as well as vegetarians and vegans. You can check out the new digs in Hayward Monday through Friday from 9:00 a.m. to 11:00 p.m. or Saturday and Sunday from 10:00 a.m. to 11:00 p.m.