Residents who waste water this spring and summer in Santa Clara County could face fines from water police for the first time ever. The Santa Clara Valley Water District wants to hire water enforcement officers that would slap would slap a $500 dollar fine on residents who don't obey water conservation rules. They would look for people who are watering their laws so much that the water flows into the street, watering more times per week than allowed, or just openly wasting water in other ways. The water district is still working on the logistics but the plan is scheduled for a vote on May 24th.
"What we'll start with is letters, door hangers, those type of educational types of things, then we'll ramp up to per occurrence bases of fines," Aaron Baker with the Santa Clara Valley Water District told NBC Bay Area. Baker says the agency's water conservation strategy is not working which is proved by a recent report that shows water use in the county in March has increased by almost 30% compared to March 2019. That comes despite the fact that residents were asked to lower their water use by 15%.
According to the Mercury News, some of the wealthier cities in Santa Clara County showed much higher rates for the same period. Palo Alto saw a 58% increase and Los Altos saw a 119% jump. Another reason the Santa Clara Valley Water District is so concerned is Anderson Reservoir, the county's largest lake for water storage, has been drained so crews can rebuild the dam to make it safer in case of an earthquake. All the other reservoirs in the water district are struggling at around 24% of capacity.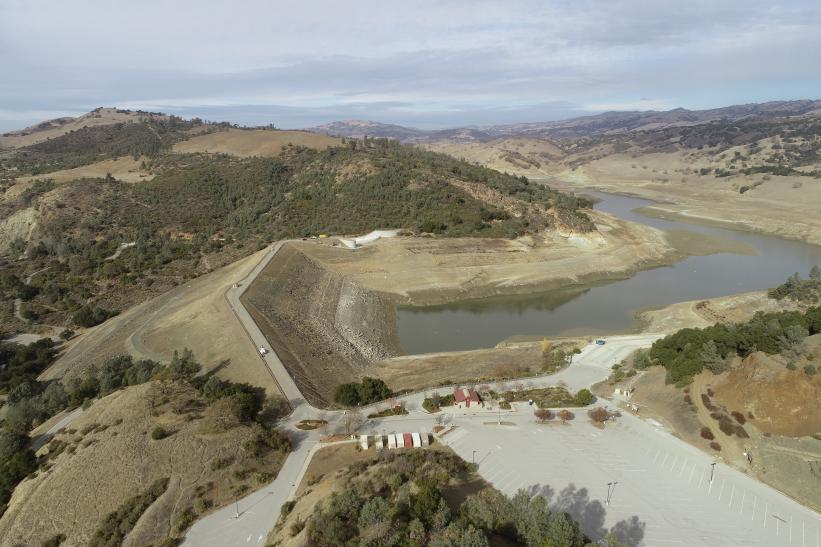 Anderson Reservoir in December of 2020. Photo Credit: ValleyWater.org

The low reservoir reserves are forcing the water district to depend on groundwater to make it through the drought. "We are looking to end the year at adequate groundwater levels. But if we are unable to meet the call for conservation, groundwater levels will be below our subsidence levels, and wells will go dry in South County," Baker told the Mercury News. If groundwater levels get too low subsidence could occur which causes the land to sink which could possibly damage roads, building foundations, and other infrastructure.
Right now, watering landscaping in many cities in Santa Clara County is limited to two days per week. Sunnyvale and Milpitas allow it three days a week. A few others like Mountain View and Palo Alto don't have any restrictions at all. Some believe that restrictions without fines don't work. "There are individuals who may not respond to conservation requests, and if people are allowed to waste water, that makes other people feel like 'I'm not going to save because that person isn't.' It creates a culture of ignoring the requests," Heather Cooley with Pacific Institute told the Mercury News.