The Arena Hotel in downtown San Jose will be converted into housing for homeless people in the near future thanks to Governor Gavin Newsom's Project Homekey program. The state awarded San Jose with $25.2 million in new funds this week which will allow the city to purchase the 90-room hotel at 817 The Alameda just west of the SAP Center. The rooms at the hotel will be used to permanently house homeless individuals and couples.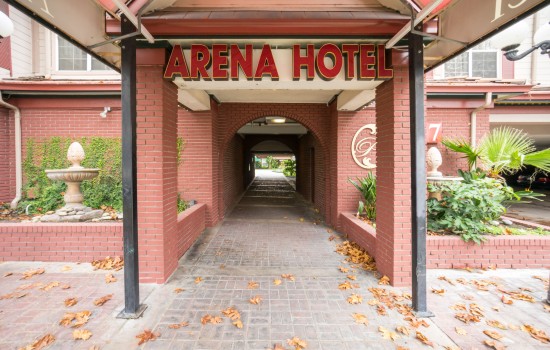 Photo Credit: Arena Hotel
San Jose Mayor Sam Liccardo praised the move. "In 2016, San José pioneered a new approach to housing our unhoused neighbors by buying and converting hotels and motels into dignified living accommodations for our most vulnerable residents. That model successfully moved thousands of San Joséans off the street. Governor Newsom's commitment to invest in motel conversions statewide through Homekey gives us an opportunity to scale this solution," Liccardo said in a news release.
So far, most hotels and motels used for homeless housing have been on a short-term basis while the city struggles to make them suitable for permanent housing. In 2020, the city used an estimated $14.5 million in Project Homekey funds to acquire the SureStay Hotel near Mineta San Jose International Airport. It was used primarily as temporary housing during the pandemic.
According to the Mercury News, the goal was to turn it into permanent homeless housing until the state caught wind that the city started asking residents who had been staying during the pandemic to pay $627 per month for rent. The Department of Housing and Community Development stepped in and shut down the project to convert it into permanent housing while letting the residents stay rent-free.
Now, San Jose Spotlight reports that "The city is now looking to sell the SureStay hotel. The city is looking for a developer to operate the hotel in the near term, with plans to eventually redevelop the site as an affordable housing community. Tenants who have lived there for two years said they continue to deal with holes under staircases, rattling railings, bursting pipes, broken appliances, mold, and roaches."
Despite the struggles, more state money could be funneled to the South Bay to help convert other hotels into permanent homes for the homeless. The Mercury News said in a separate report that $1.5 billion in Project Homekey grants will be available across the state next year with about $200 million earmarked for the Bay Area.
San Francisco already has multiple projects underway to convert hotels into supportive housing for the homeless, via Homekey funds.