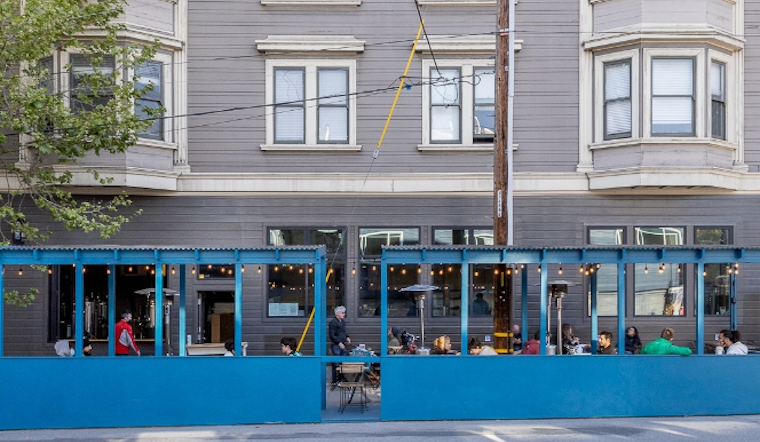 Published on June 29, 2022
Business for Fort Point Beer Co. doesn't appear to be slowing down, making their latest company announcement somewhat hard to swallow. The popular Bay Area brewer has decided to close its taproom in the Lower Haight permanently. The company made the shocking announcement on Instagram earlier this week after the final rounds had already been poured. "After thousands of beers and hotdogs consumed, countless neighborhood friends made, hundreds of fuzzy dog visits, 2.5 years, and one tiny parklet constructed, we are saying 'so long' to our Lower Haight location. Sunday, June 26th was our last day of service."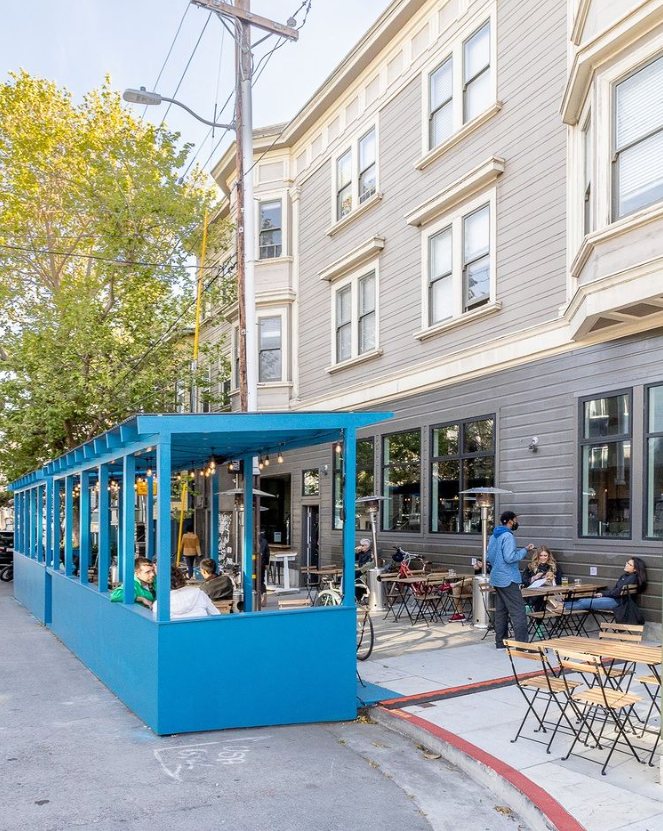 Parklet at Fort Point's Lower Haight Location. | Photo Credit: @fortpointbeer/Instagram
Fort Point's first location, Mill Valley Beerworks, closed a year ago during the late stages of the pandemic. The pandemic is also partly to blame for the closure of the location on Haight Street, which Fort Point bought from Black Sands Brewery in 2018. The plan was to renovate the space as one of a network of taprooms, but coronavirus setbacks stalled the idea. The only major change that was made was the addition of a parklet. Since then, the beer brand has decided to focus on bolstering its two other locations, the Valencia Street beerhall and Fort Point Ferry Building, which are much more established.
"While it's bittersweet to say goodbye, this means we can devote more time, effort, and resources into our Ferry Building Beer Garden and Valencia Beer Hall (just a mile away) — and we're excited to make these spaces even better experiences for all of you," the Instagram post reads. Speaking to the SF Chronicle, Fort Point CEO Justin Catalana said about the closure, "In the short term, it's sad. We loved that location. That neighborhood's really special. But overall it's a smart business decision, and it will help us move forward."
It remains unclear how Fort Point plans to invest in the two remaining locations to improve them. And as of now, there are no plans to downsize the company's wholesale sector, which accounts for 80% of Fort Point's beer sales, according to Catalana's interview with the Chronicle. He believes Fort Point is "one of the fastest-growing craft breweries in California."
Fort Point Beer Co. started in 2014 and has become one of the Bay Area's most popular brews, with options like its tropical IPA known as Animal and its Kolsch-style ale called KSA. Cans of Fort Point beer are available at countless Bay Area retail locations and hundreds of bars and restaurants. Fort Point makes its beer at the company's main brewery in the Presidio, and since it sits on federal land, it cannot host customers.