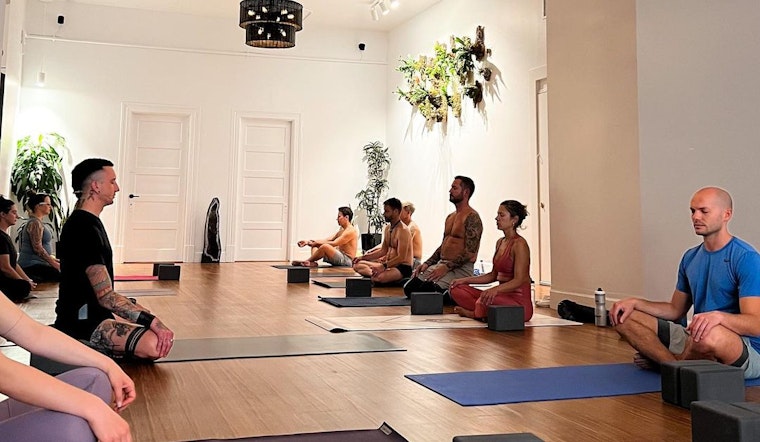 Published on June 17, 2022
After months of construction and planning, HAUM — the queer-owned, community-driven yoga studio, which opened its first location in the Mission District last year — debuted its new Haight-Ashbury studio this week, complete with a plethora of plants and fresh indoor murals.
Hoodline was first to report in May of the rumblings that HAUM was opening its second studio inside the former Yoga Tree Stanyan space (780 Stanyan Street). This past Monday, the once vacant but still beloved studio was given a new lease on life after HAUM welcomed in "HAUMies" and other interested yogis for the location's first classes.
Per Collin Love, an operations assistant with HAUM, it was an emotional day when community members finally got to see the studio in person for the first time. And the outpouring of appreciation and support for HAUM's Haight-Ashbury location has been "overwhelming" ever since.
View this post on Instagram
"The community response has been overwhelming since our soft opening on Monday," Love tells Hoodline over the phone. "It's also a natural addition to the neighborhood. People passing by the studio have been saying how 'nice it is' to see a new small business come into the Haight-Ashbury. And one that is queer- and Mexican-American-owned, no less."
The soft opening of HAUM's new studio is a full-circle moment for its founder, Danni Pomplun — who began his own yoga teaching journey at this very location seven years ago.
Both HAUM's Mission District and Haight-Ashbury locations are similar in the sense that they exist as extensions of the communities they serve; HAUM has previously hosted fundraisers in support of Mission Neighborhood Resource Center (MNRC) to help connect in-need residents with learning opportunities, jobs, and more. Aesthetically too, each of HAUM's two studios exudes a strong sense of inclusivity that people have grown to think of synonymously with the company.
However, because of the physical limitations of the space itself, HAUM's Golden Gate Park-shouldering studio is more "intimate and earthy" than its Mission District sister space at 2973 16th Street
"We took an emphasis on making sure our new location felt even more grounded and communal," Love continues. "One of the first things you'll notice when walking into the studio is the massive amounts of plants we've added, as well as our focus on making sure the space is warmly lit."
View this post on Instagram
Once your gaze shifts away from the present flora, you'll notice a collection of sprawling murals from SF-based queer artists Simón Malvaez and J Manuel Carmona. As to not beat patrons over the head with heady symbolism and mundane metaphors — "we didn't want the murals to be people in yoga positions… because that just comes off as cliche and redundant" — Carmona and Malvaez, who also had roles in painting the newly-debuted Showtime mural at Oasis, designed the paintings to evoke the inner strength, will-power, and stamina of the human spirit. And how all of us, in some capacity, have access to those characteristics on a daily basis.
While classes will continue to be hosted at the 780 Stanyan Street address throughout the month, HAUM's Haigh-Ashbury studio isn't expected to host a full-time schedule until the end of July, which will coincide with its official grand opening on July 22nd. At that time, new teachers are expected to join the studio to host a variety of yoga classes, meditations, and workshops; HAUM's Haight-Ashbury location will also host 200-hour and 300-hour yoga training workshops in the months to come for yogis interested in deepening their practice.
HAUM's expansion exists as a natural step in the company's response to both expanding and fostering the community it's created — one that's been elevated by the Yoga Tree Stanyan's previous members who've welcomed HAUM with open arms.
"This community already existed with Yoga Tree Stanyan, and we have a lot of teachers who have gotten their start here," Love adds in closing. "We wanted to breathe life into this space that is so important to so many people in San Francisco."
HAUM Haight-Ashbury is set to hold its grand opening on July 22 and will then host a full schedule of classes and other on-site events; for more information on HAUM — including its Mission District's class schedule, educational programs, and current job openings that have yet to be filled for the Haight-Ashbury studio — visit haumsf.com.