It was an otherwise quiet Thursday morning in a residential section of North Beach. But beyond the balloon-festooned entrance to Telegraph Hill Neighborhood Center (TEL HI), the chatter of excited community members and children's laughter filled the air, along with the tantalizing smells of hot dogs and burgers sizzling on a grill. They'd gathered for a dedication ceremony to mark the completion of the center's recently renovated playground. ABC 7 news anchor and reporter Dion Lim emceed the event, which included a barbecue lunch.
Founded in 1890, TEL HI offers San Francisco children and families a variety of programs to enhance their quality of life. The nonprofit organization provides childcare and early education to over 200 kids, ranging in age from three months to 10 years old.
The center's had an adjoining playground since 1955. But it hadn't received a facelift in a decade. Years of wear and tear had left the area run-down and in need of repairs. Under the leadership of TEL HI CEO Nestor L. Fernandez II, the board of directors and members of the community worked together to raise more than $200,000 to cover the costs of renovating the 4,600-square-foot space.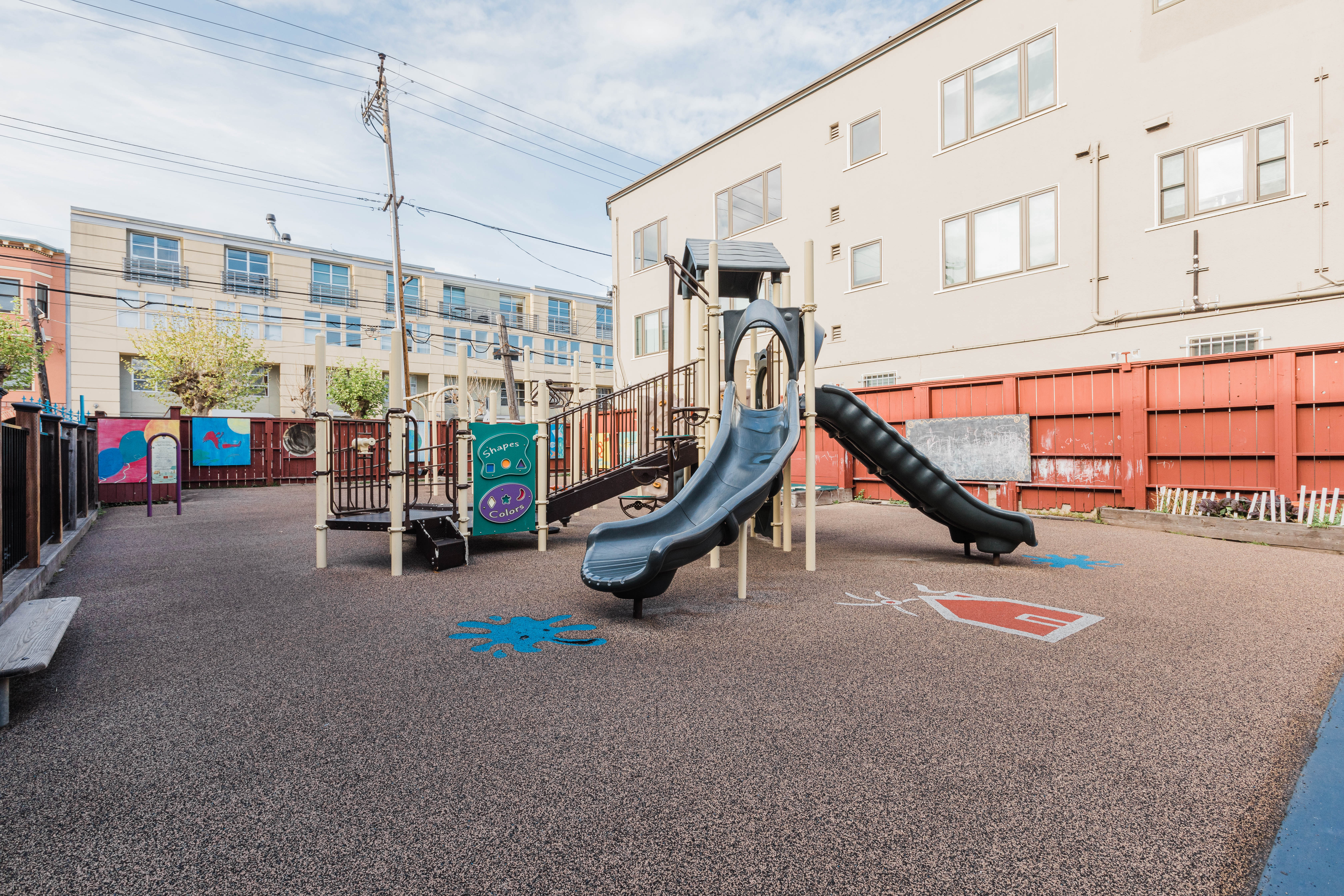 The old TEL HI playground, pre-renovation. | Photo credit: TEL HI
"We saw that the playground was just not serving our kids and that we had to do something," said Judy Giampaoli, vice president of the TEL HI board and former principal of nearby Francisco Middle School. "The playground has been a real community effort all around. Having been a school principal, I know the importance of kids getting outside in a place where they can have fun and feel safe."
Instead of the drab, damaged rubber flooring that once covered the ground in the main play area, a new protective surface now stretches across it in a vibrant rainbow of swirling blue, yellow, orange, and green stripes. The existing play structure was repaired, as was the playground's retaining wall. Cracked asphalt in the former basketball court was replaced with fresh concrete and a swath of Astroturf.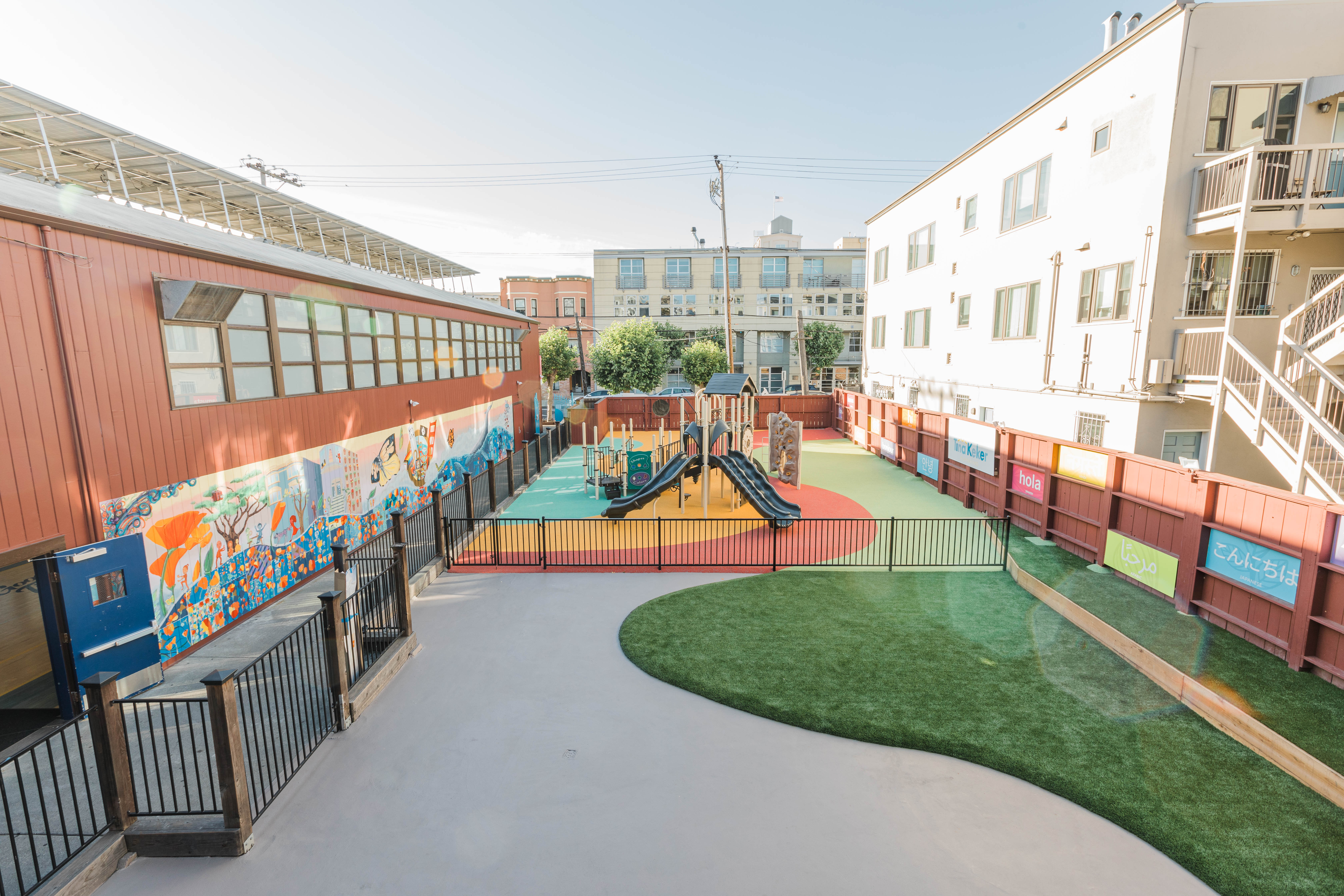 The spruced-up Tina Keker Playground post-renovation. Photo Credit: TEL Hi
Through a partnership with San Francisco Art Institute, a group of artists, including local teens, painted a colorful new mural on the exterior of the main TEL HI building that faces the playground. And a fence that runs the length of the playground sports thirteen signs that greet children and others with the word "hello" written in different languages, fitting symbols of the inclusivity TEL HI prides itself on.
In addition to a new look, the playground also got a new name: the Tina Keker Playground. Keker became involved in the organization in 1971 as a North Beach resident—both her sons attended TEL HI's preschool. For 50-plus years, she volunteered her time and talents as a board member, graphic designer, event planner, and more. She also helped expand TEL HI's programs and services.
Keker passed away in 2021, but you could feel her presence at the ceremony. Several speakers praised her generous contributions to TEL HI and the community, including Mayor London Breed.
Breed noted Keker's dedication to fundraising and other projects that helped TEL HI thrive. She wrapped up her comments by bestowing a proclamation from the City to Keker's husband, John—also a big TEL HI supporter who attended the ceremony with family members—and Fernandez.
"It's really my honor to ask Nestor and John to accept this proclamation that is in Tina's spirit," she said. "Today, we're going to officially declare it Tina Keker Playground Dedication Day in the City and County of San Francisco. She would be so proud to see these kids out here, to see the joy and smiles on their faces as they play."
TEL HI and the Tina Keker Playground are located at 555 Chestnut Street.