Plans for a large mixed-use development in San Jose, about a mile west of Westfield Valley Fair and Santana Row, have undergone several major changes as it works toward the final steps of the city approval process. The proposed Stevens Creek Promenade, at 4300 Stevens Creek Boulevard between Palace Road and Kiely Boulevard, now includes no office space at all. Original plans called for up to 300,000 square feet of office space along with residences, retail spaces, and restaurants. According to the Mercury News, "the project was initially approved by the city in 2019, prior to the outbreak of the coronavirus and the brutal worsening of the housing shortage."
The next major change is the number of affordable housing units. 173 of the 582 total residences will be earmarked as affordable. Original plans called for 87, almost exactly half the original amount. A 250-room hotel has also been added to the plans for the property, which was bought in 2020 by Miramar Capital Group and Machine Investment for $54.5 million. A hotel was not part of the original plans. The new changes were detailed in a revised environmental impact report obtained by the Mercury News and could be approved by the city of San Jose by the end of the month.
There have also been significant adjustments to the retail and restaurant portion of the proposal. The Stevens Creek Promenade site will now feature just over 10,000 square feet of space for shops and eateries. Initially, between 15,000 and 22,000 square feet were attached to the proposal. The final alteration to the plans includes what will end up being demolished on the 9-acre site to make way for the new buildings. Instead of five buildings being torn down, only three are slated for demolition. The revised plans now appear to keep a single-story office building and a retail building that have the addresses 4360 and 4400 Stevens Creek.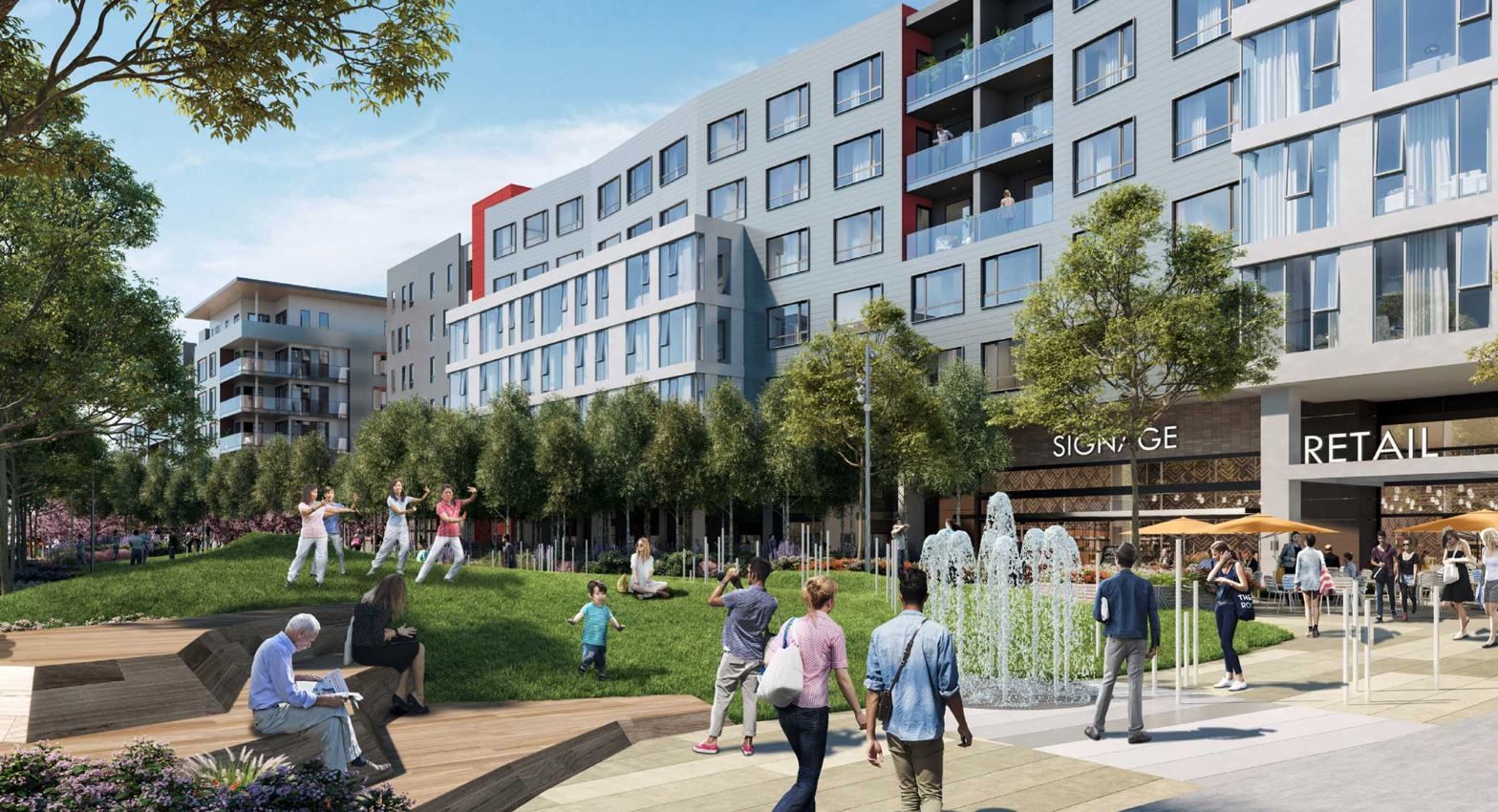 Former Rendering of Stevens Creek Promenade. | Rendering Credit: HMH
A website from planning and engineering firm HMH shows that 1.4 acres of open space will be included in the project. Developers haven't given a clear-cut reason for the drastic changes, and it's unclear when exactly city planners will take action on the revised EIR. "The project has dramatically changed from what was first proposed. I look forward to understanding the consequences from the city planning staff," San Jose Planning Commission chair Pierluigi Oliverio told the Mercury News.