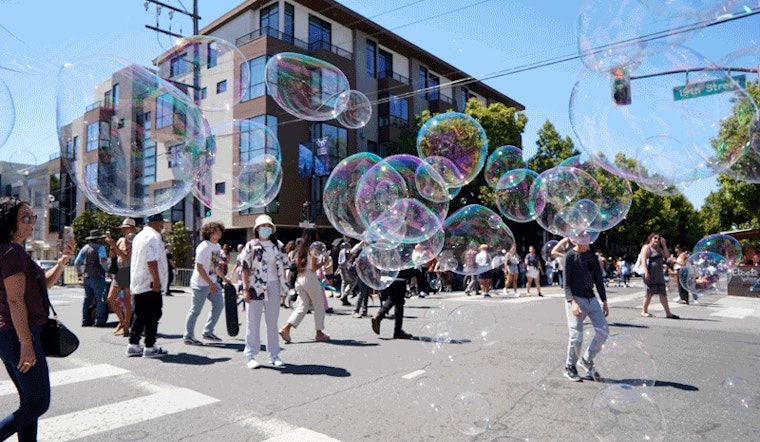 Published on August 18, 2022
Music in the mountains, Italian food galore, fireworks, San Francisco Sunday Streets and a movie sing-along... There's plenty going on all around the San Francisco Bay Area this week. Hoodline rounds up five awesome things to do during the weekend. Where will you go?
Remember, event details can change. Always check with organizers for the latest information and safety guidelines, and look up weather and traffic conditions before attending any events.
Santa Cruz Mountain Jam
The Mountain Jam is a free family music festival and picnic in the Summit area of the Santa Cruz Mountains, with live entertainment, food, local vendors, activities and a silent auction. Started in 2013, the annual event benefits local school music programs and aims to build opportunities for music appreciation and music participation, with 100% of proceeds from auction items, concessions and cash donations going to area school programs.
There will be plenty of free parking at the ball field next to venue and across the street at Loma Prieta Elementary; follow the signs.
When: Saturday, Aug. 20, 11 a.m.-5 p.m.
Where: 23845 Summit Rd., Los Gatos
Information: santacruzmountainjam.org
San Francisco Sunday Streets: SoMa
Once upon a time, it was only in Golden Gate Park that San Franciscans could luxuriate in car-free streets of a Sunday, with the exception of various once-a-year street fairs. These days, appreciation for pedestrian zones and events is growing, and the pandemic gave the trend a boost. If you're a fan (like us) of strolling down the middle of the street, Sunday Streets is for you.
The seasonal program transforms a different busy neighborhood each month into a car-free zone for the day, with fun, free activities provided by local nonprofits, community groups, and small businesses. This weekend, Sunday Streets SF is opening up the streets of SoMa for an afternoon of all-ages, family-friendly fun along more than one and a half miles.
When: Sunday, Aug. 21, 11 a.m.-4 p.m.
Where: Folsom Street from 9th to Main St.
Information: www.sundaystreetssf.com/soma/
Oakland A's Game & Fireworks Show
This weekend is one of just a couple of Oakland A's fireworks games this summer. Watch the A's take on the Seattle Mariners, then head down to the outfield grass to watch a Queen-themed show, with the pyrotechnics set to the tune of the band's greatest hits. (Don't dawdle; on-field seating is limited.) The forecast looks to be warm at game start, but it can get chilly by the end of the show, so bring layers!
Note that parking is $30 and you cannot pay with cash; the lot opens 2.5 hours before the game. You can also take BART right to the Coliseum, and there should be extra trains to carry fans away through midnight.
When: Friday, Aug. 19, 6:40 p.m. (fireworks after the game)
Where: Oakland Coliseum, 7000 Coliseum Way, Oakland
Information: www.mlb.com/athletics/tickets/promotions/themes/fireworks
San Francisco Sundown Cinema in the Park: Encanto Sing-Along
Sundown Cinema Film Night in the Park is a series of free outdoor movie showings rotating through various San Francisco parks, now in its fourth season. This Friday's film is Encanto, and it's advertised as a sing-along, so warm up your vocal cords and get ready to sing about Bruno. Bring a blanket and don't forget your cozy layers. Note there's no alcohol allowed. Arrive early to get a seat! (You can also join the SF Parks Alliance to get reserved seats and support the city's parks into the bargain.)
Be sure to check upcoming shows too... Indiana Jones & The Raiders of the Lost Ark is playing at Alamo Square Sept. 9!
When: Friday, Aug. 19. Event starts at 6 p.m. Film screening begins after sunset (around 8 p.m.).
Where: India Basin Shoreline Park, Hunters Point Blvd. & Hawes St., San Francisco
Information: dothebay.com/events/2022/8/19/sundown-cinema-encanto-sing-along-tickets
Italian Family Festa in San Jose
The Italian Family Festa, now in its 39th year, is put on by the Italian American Heritage Foundation in San Jose's History Park. Expect plenty of authentic Italian foods, wine tasting, live entertainment, a "cultural village," grape stomping, bocce ball, activities for the kids, and more. Admission is free. Organizers recommend bringing a lawn chair or picnic blanket and spending the day.
When: Saturday, Aug. 20, 11 a.m.-8 p.m.; Sunday, Aug. 21, 11 a.m.-6 p.m.
Where: History Park San Jose, 1650 Senter Road, San Jose
Information: www.italianfamilyfestasj.org