September has been a rough month for 100-year-old businesses on 24th Street in the Mission District. At the beginning of the month, we learned that the 104-year-old ice cream shop St. Francis Fountain was up for sale, and can only hope any prospective new owner keeps it a similar business. And on Tuesday, Mission Local reported that the 100-year-old Roosevelt Tamale Parlor had closed permanently, shuttering the location that's just a few doors down from St. Francis Fountain.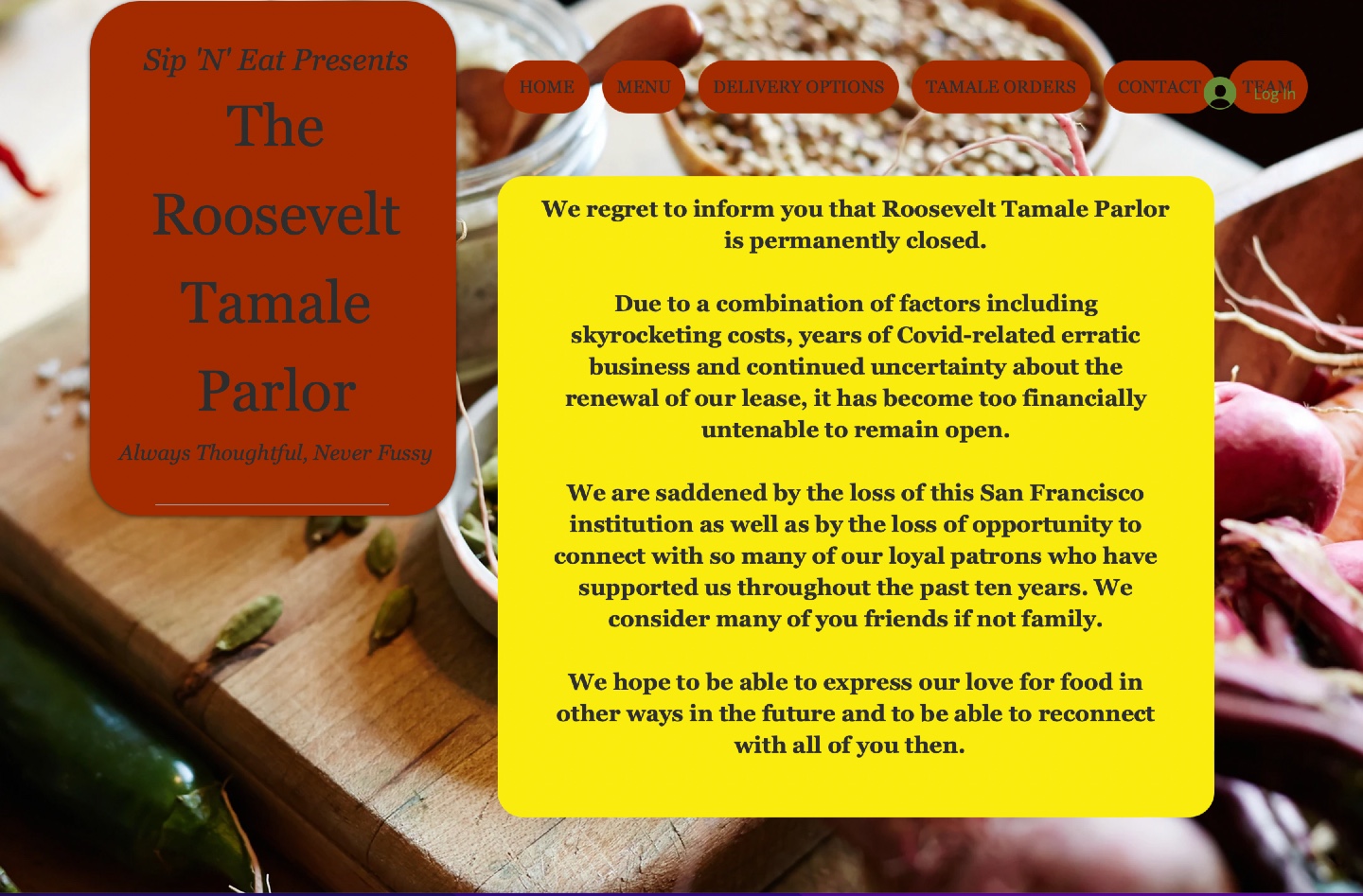 Screenshot: Roosevelt Tamale Parlor
The news is since confirmed on the Roosevelt Tamale Parlor website. "We regret to inform you that Roosevelt Tamale Parlor is permanently closed," says fresh new text on the website. "Due to a combination of factors including skyrocketing costs, years of Covid-related erratic business and continued uncertainty about the renewal of our lease, it has become too financially untenable to remain open."
"It's very difficult to run this without raising prices to an extreme level to make up for those increases in expenses," current co-owner Aaron Presbrey told the Chronicle. Presbrey and partner Barry Moore have run the place since 2012, though it's had a ton of different owners over the last century, including the original owner, who was in fact named Roosevelt.
There is some debate about the actual age of Roosevelt Tamale Parlor. Mission Local points out that "While a painted logo in the window says 'EST. 1919,' the restaurant's vintage calendars on its walls stated it had been around since 1922. The owners celebrated the 100-year anniversary of the restaurant in November, 2021."
And yet this may not be the end of the line for Roosevelt Tamale Parlor. Presbrey and Moore closed the place down in 2015, only to reopen it in 2017 after a few pop-ups there did not pan out. And Mission Local's report notes that "a new Mexican eatery that has already signed a 10-year lease: La Carreta Rotisserie is listed in city records as the new business on the block." And who knows, they may keep the name.
Or they may take a new name and keep the beloved old front sign, as we've seen done on 24th Street with the former Casa Sanchez and the former Discolandia.