The notion of a "guaranteed basic income" was first employed locally in the modern age in Stockton, where then-mayor Michael Tubbs chose to give randomly selected individuals $500 a month with no strings attached in 2019. The idea has since spread in similar forms to Oakland, San Diego, and Los Angeles, and even Governor Gavin Newsom put $35 million into the state budget to encourage more cities to try out giving free money to low-income families to improve livelihoods and health.
Now add another California city to the guaranteed income bandwagon, a city known more for its wealth than for its low-income residents. The Bay Area News Group reports that Mountain View will give some low-income families an extra $500 a month, under a new guaranteed basic income program called Elevate MV.
We did it @mountainviewgov

Today, we launched the Elevate MV pilot program, which gives direct cash payments of $500 per month to randomly selected eligible extremely low income MV residents that will elevate their basic income to provide more financial security. #GBI #UBI pic.twitter.com/vKaWY5M5n7

— Ellen Kamei (@mtnviewellen) September 15, 2022
"With inflation exacerbating financial hardship, our Elevate MV guaranteed basic income pilot program will provide desperately needed relief for many extremely low-income families in our community," Mountain View Mayor Lucas Ramirez told the Bay Area News Group. "Through the two-year-long pilot, we aim to empower these families by improving their financial security through monthly direct cash payments of $500. Breaking the cycle of poverty isn't simple, and that's why Mountain View is on the forefront of trying innovative approaches to solve difficult issues."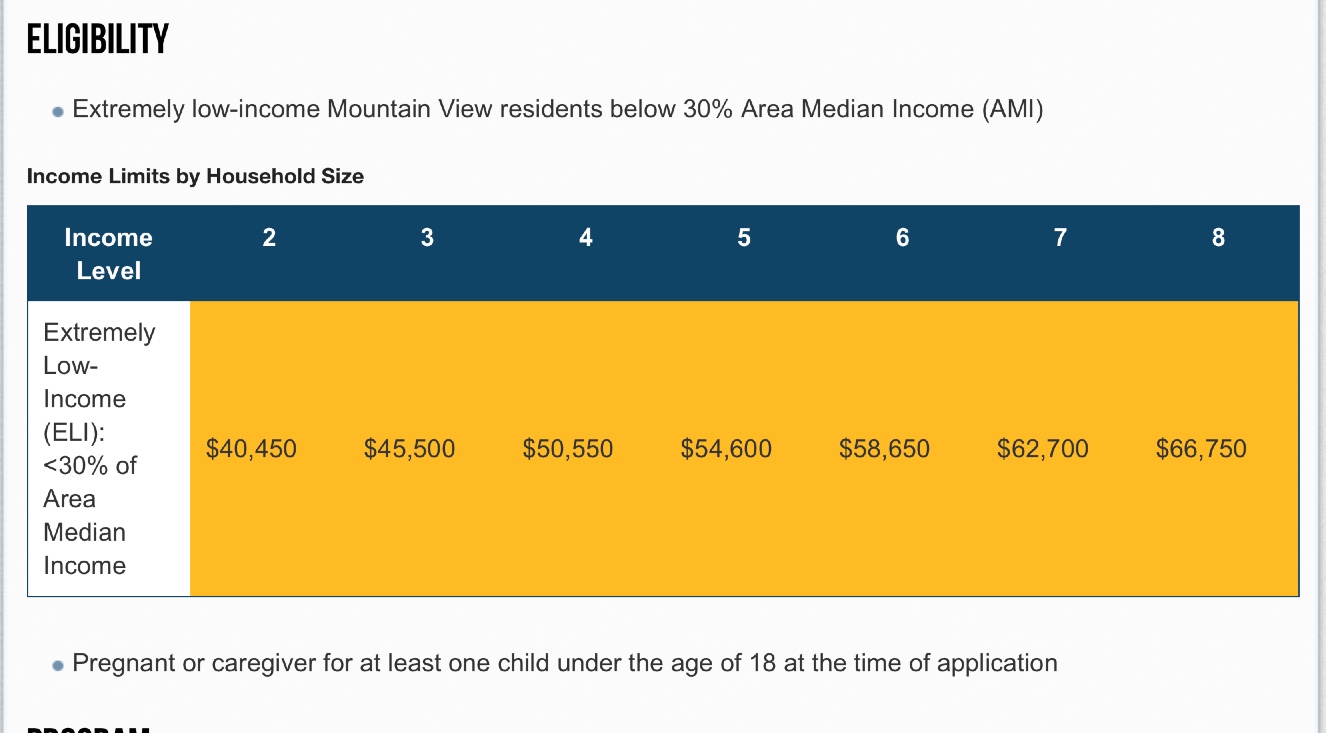 Screenshot: Elevate MV
Not every low-income family in Mountain View is eligible for the program. As seen above, eligibility depends on household income and number of children in the household. A family of two must make less than $40,450 a year to be eligible, while a family of eight must make less than $66,750 to be eligible.
The application portal for Elevate MV opens Friday, September 16, and applications will be accepted up until midnight on Sunday, September 25. And by December, 166 randomly selected Mountain View families will begin receiving the $500 a month for two full years.