You might not realize that the towering statue atop Union Square depicts an actual historic San Franciscan, "Big Alma" Spreckels, who was the co-founder of the Legion of Honor. Now Big Alma has another landmark to her in Union Square, in the form of a dazzling new pop-up Big Alma Bar Américain, which opened in late July inside Union Square's Villa Florence Hotel,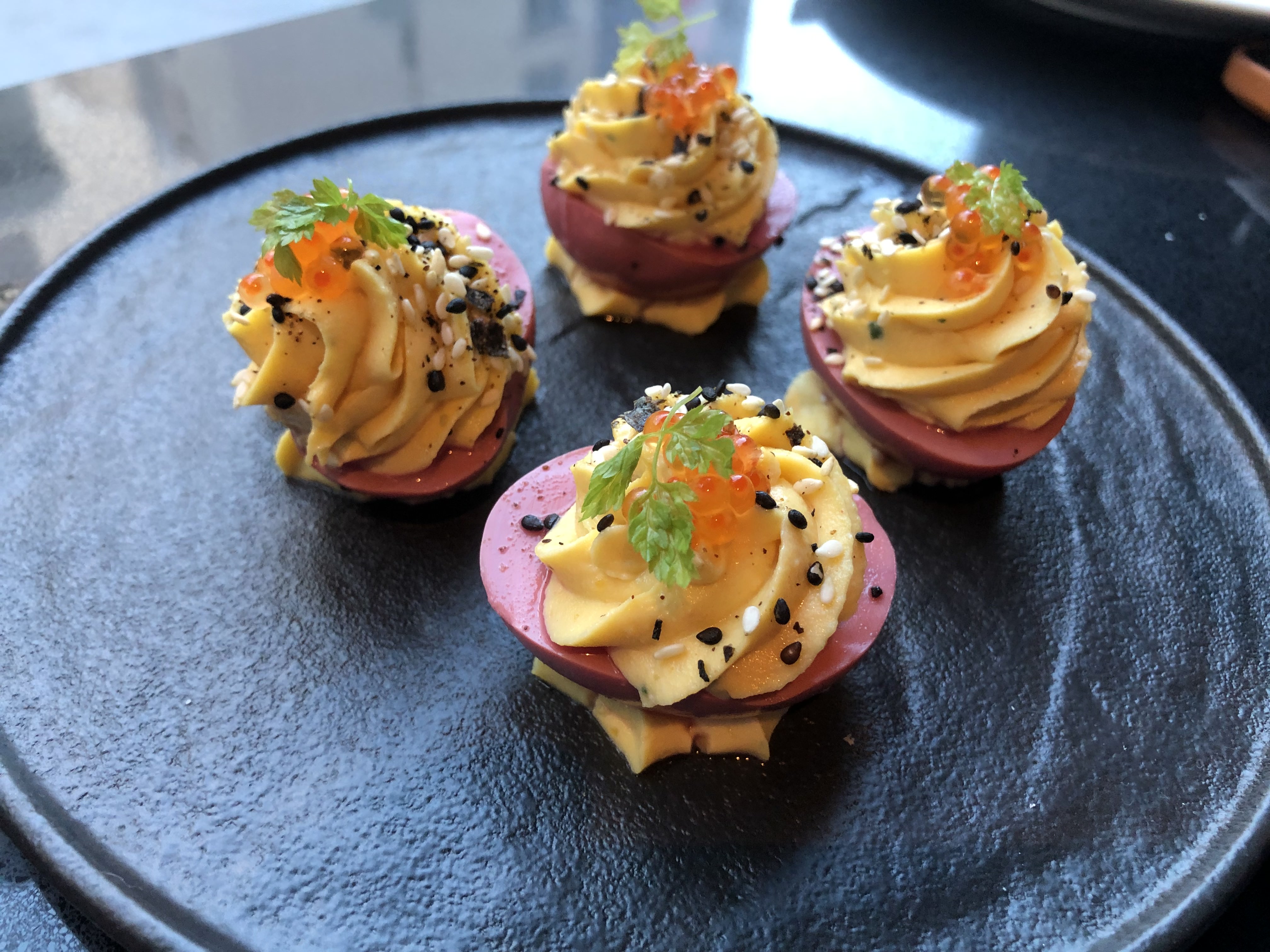 Image: Joe Kukura, Hoodline
And today, September 1, Big Alma is launching its everyday happy hour from 4-6 p.m. with $7 craft cocktails, craft beer, and wine, and all small plates at half-price, like the pickled deviled eggs seen above (yes, they're purple, thanks to the addition of beet juice.)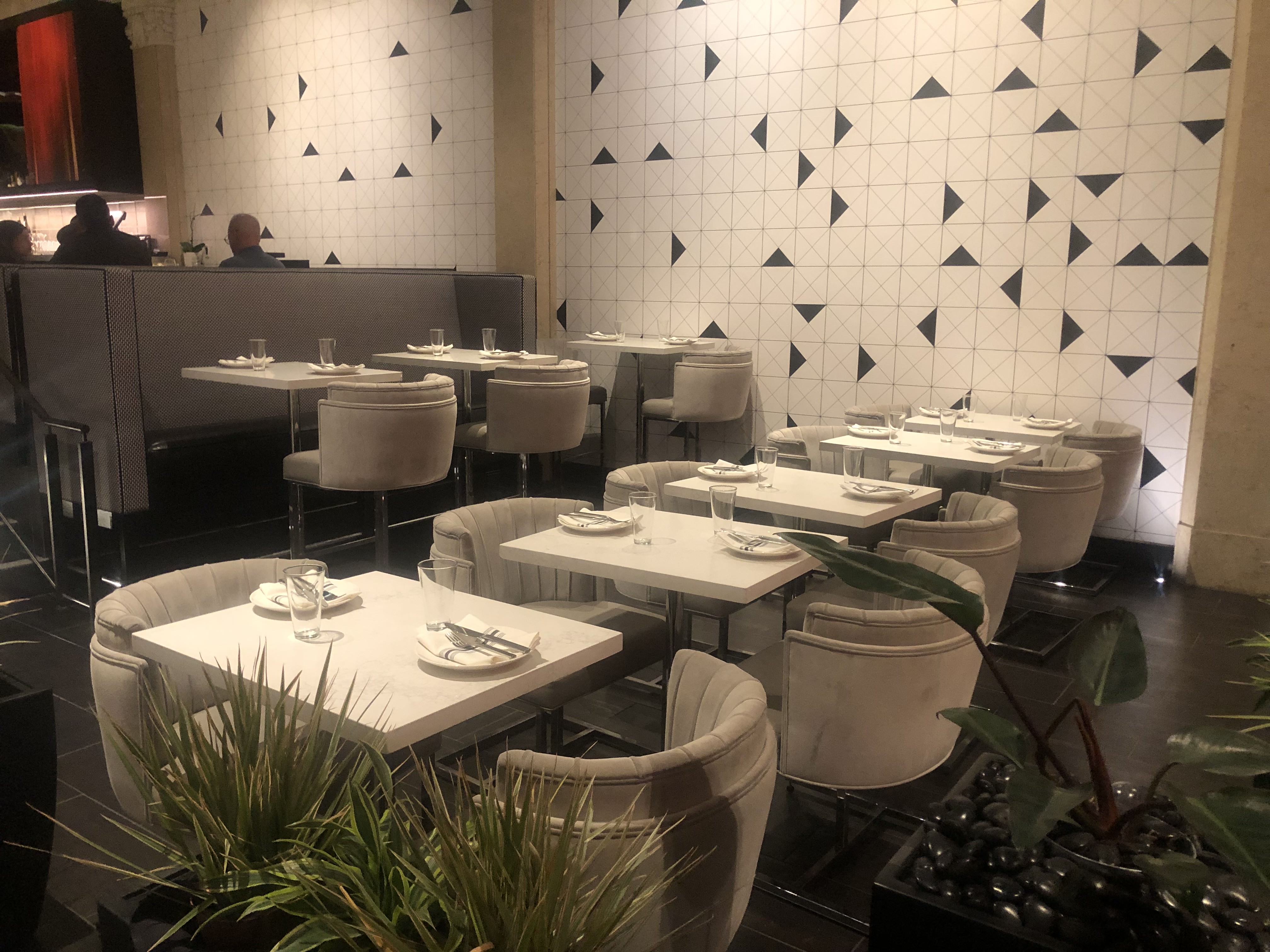 Image: Joe Kukura, Hoodline
The Villa Florence was recently acquired by Spire Hospitality, and they're determined to spruce things up. "They wanted to open a restaurant that was not just wings and chips and salsa," Big Alma general manager David Garza tells Hoodline. "They wanted elevated food here as well."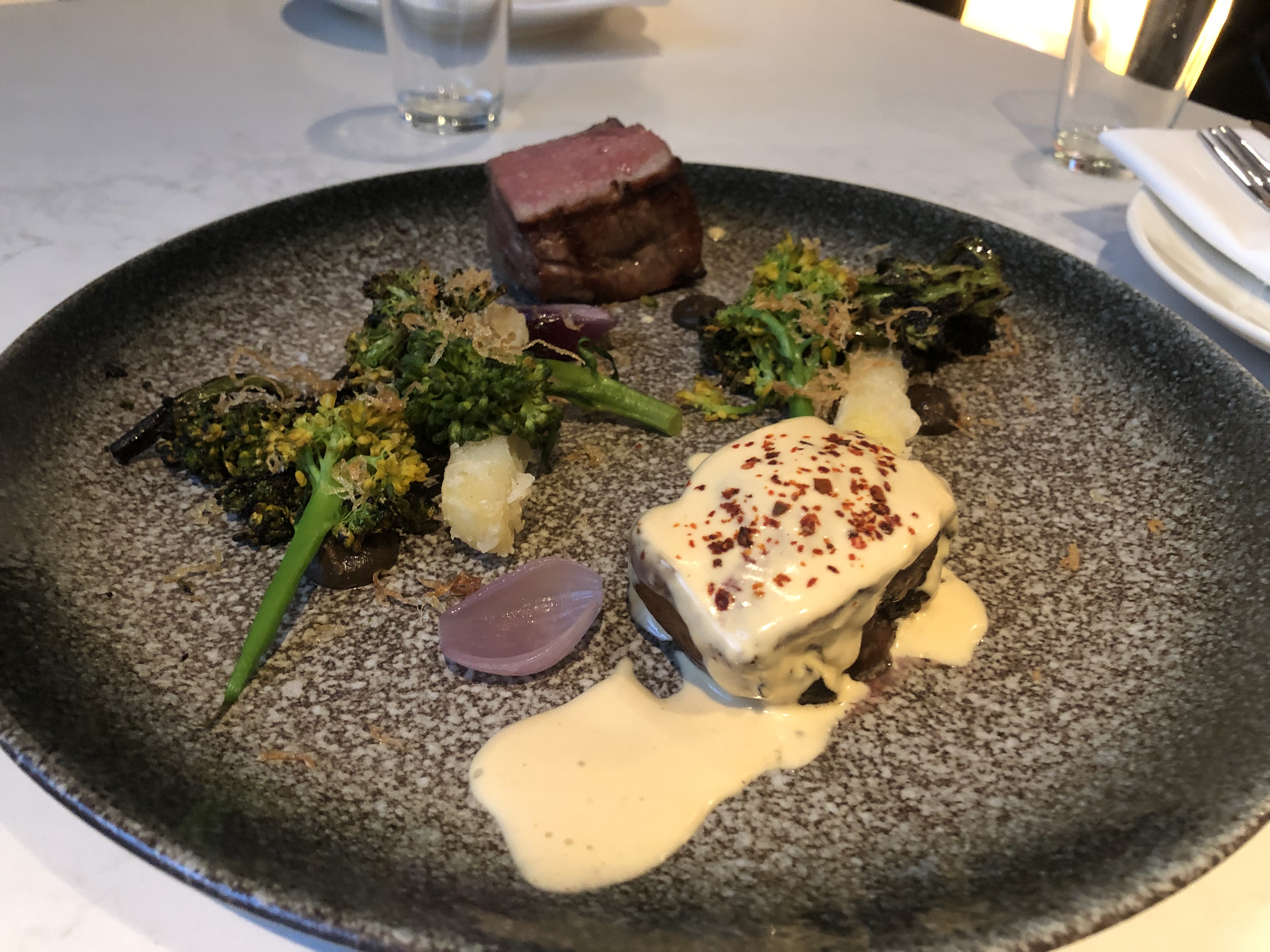 Image: Joe Kukura, Hoodline
And that's just what they got, with the crispy striploin seen above with steak sourced from Sonoma County, and the Mary's chicken topped with plum BBQ sauce seen below.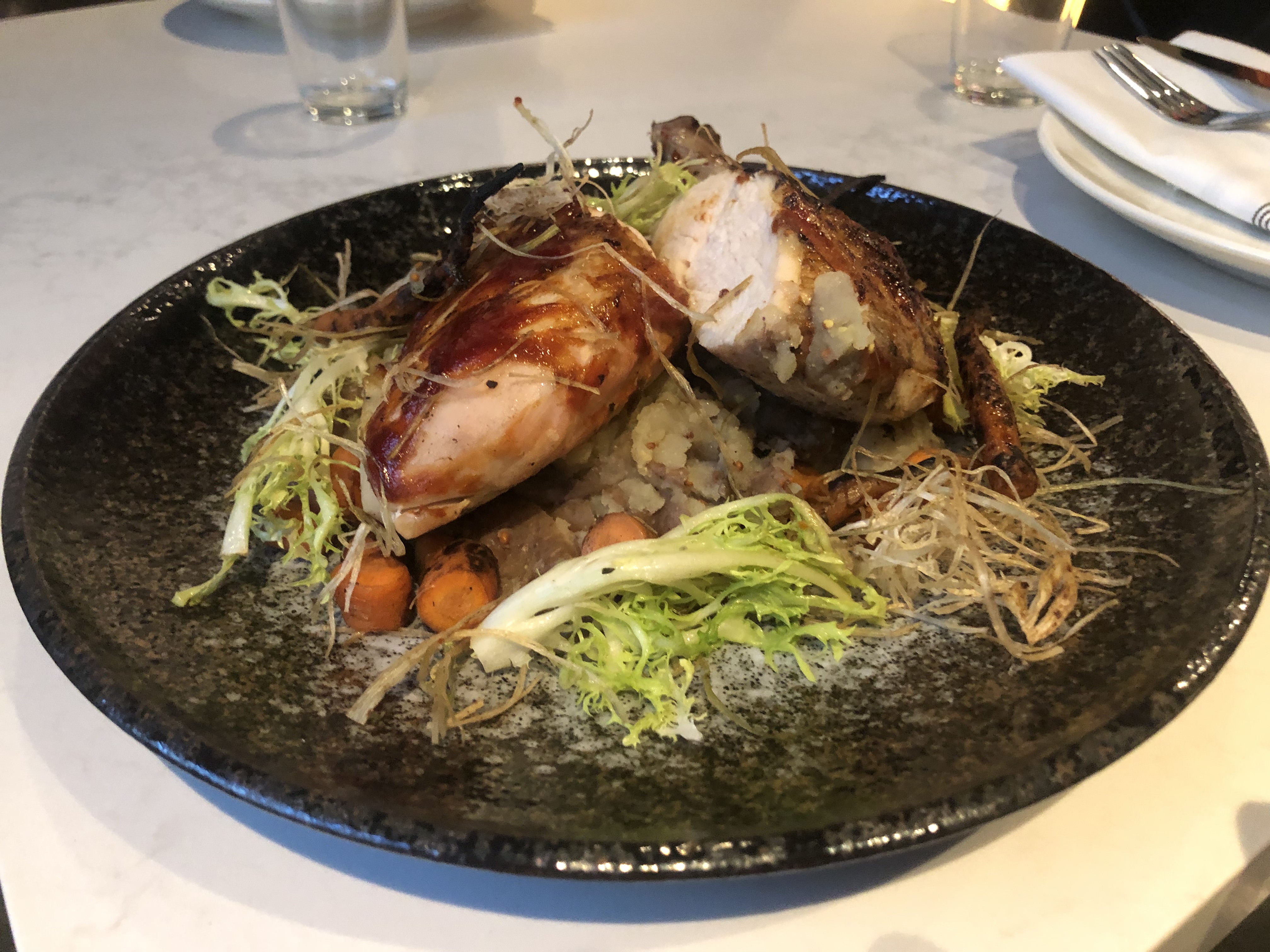 Image: Joe Kukura, Hoodline
The head chef Sebe Abad is a veteran of the two-Michelin Star Lazy Bear, with other kitchen staff who are alumni of French Laundry, Healburg's SingleThread, and New York's Daniel.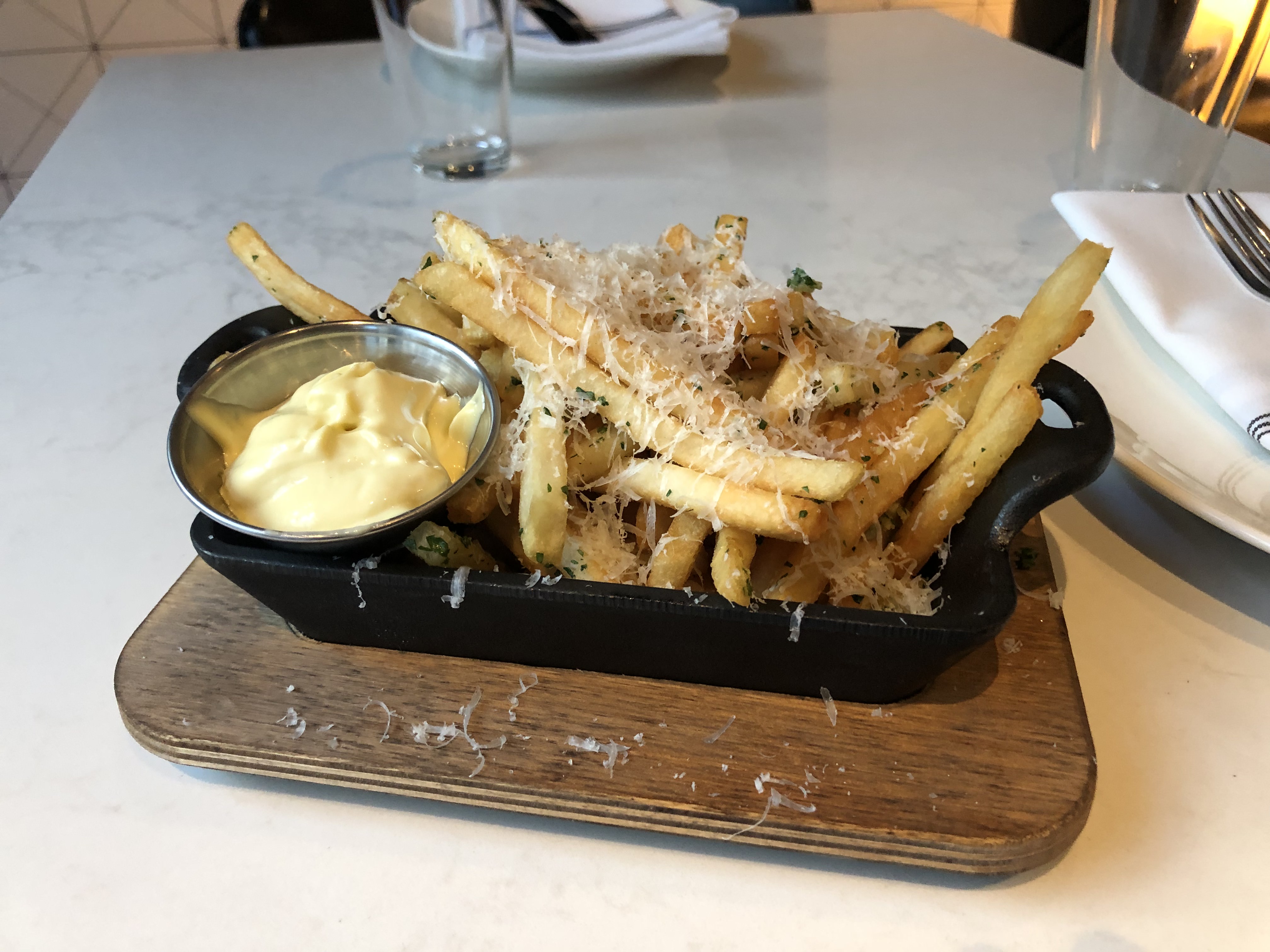 Image: Joe Kukura, Hoodline
The parmesan garlic fries come at a time when there's some negative local discourse about Giants ballpark garlic fries, but these were crisp and warm right to the bottom of the bowl, and the generous topping of parmesan cheese made them memorable.

"Garlic fries are popular. I'm not sure if the ballpark made them popular," Garza says. "Growing up here in California and living here in San Francisco, it seems like a California, Bay Area phenomenon. We wanted to stay close to California cuisine."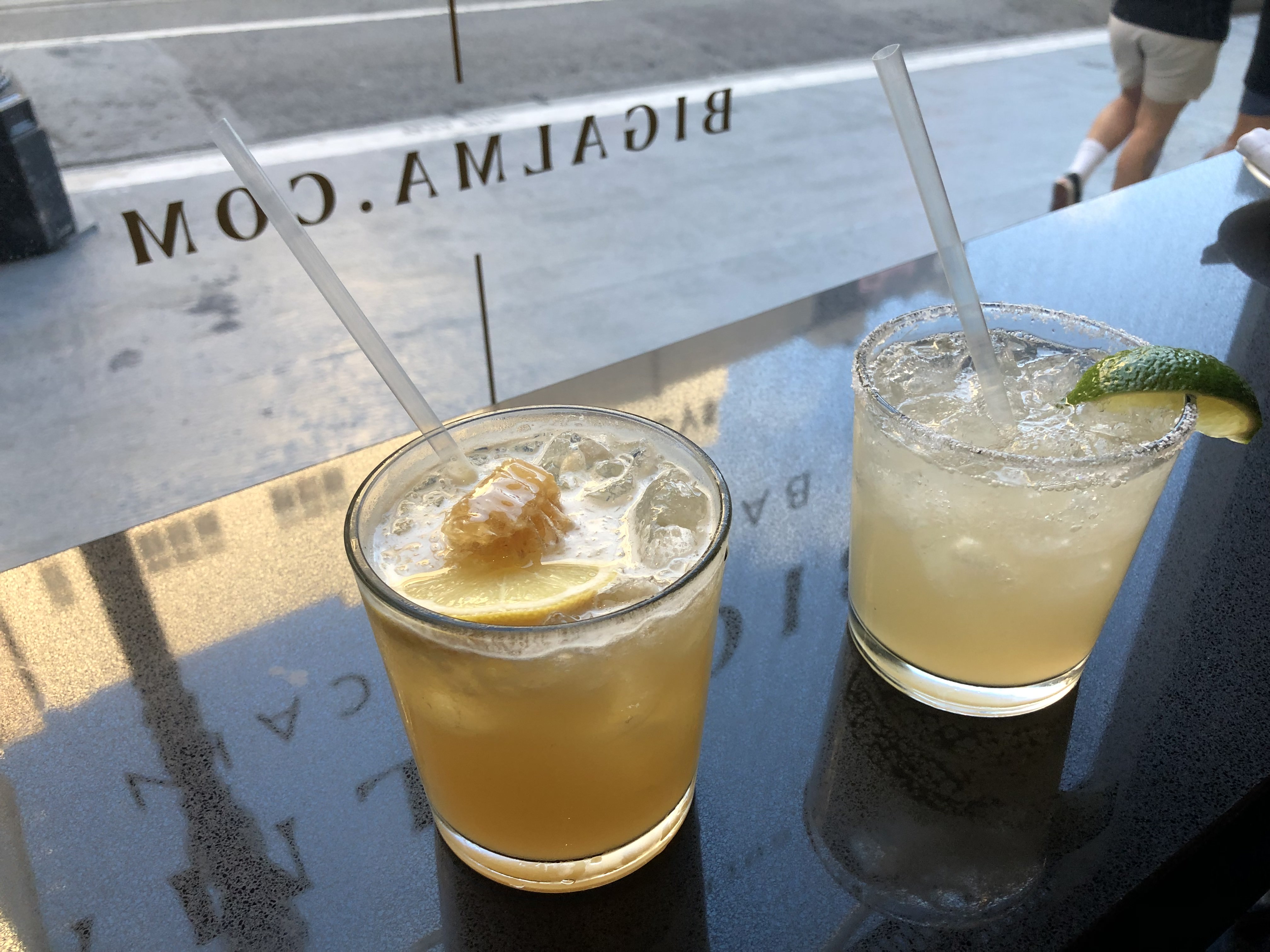 Image: Joe Kukura, Hoodline
The new happy hour, launching today, may be the big draw. "We're going to have the the three Ms — margaritas, Manhattan, and martinis — for $7 from 4-6 p.m.," Garza tells us, noting that craft beers and wine by the glass will also be $7. "And we're offering everything that's on the Small Bites menu at half price."

"With inflation absolutely insane, it's nice to offer a place where people can get good drinks and some good food for a discount price," he adds.

Image: Joe Kukura, Hoodline
Because Big Alma may be in tourist-friendly Union Square, but feels more geared toward locals. "It's going to be a nice, local neighborhood place. We're trying to build up the local clientele. We want them to see what we're doing."