The San Pablo Avenue corridor connecting the East Bay's bayside towns is a motley scene. Pockets of popular eateries and retail stores alternate with car lots, liquor stores, and a surprising number of vacant lots and shuttered storefronts. In El Cerrito, a 2014 city plan aims to transform its stretch of the avenue from just "a thoroughfare" into "a place that provides opportunities for living, working and community life." It's a goal that feels closer on some blocks than others.
Large and smaller businesses that have closed down in the recent past stayed empty for a long time, accumulating trash and sometimes tents in their locked doorways. Car traffic is continuous; foot traffic, not so much. Elsewhere, notably the blocks around Rialto Cinemas and El Cerrito Plaza, diners and shoppers flock to the street.
The intersection of Stockton Avenue and San Pablo exemplifies this transitional spirit. On the west side, the Natural Grocery store and its trendy dining hall draw crowds. On the east, a smattering of open and closed storefronts sit along a rather neglected-looking stretch of sidewalk. But that side is set to get a boost soon, with a local couple working to create a new gathering space modeled on classic French wine bars: Banter Wine.
Bay Area natives Claire Sullivan and Devin Hohler are renovating the building at 10368 San Pablo Avenue for the project. They plan to serve domestic and European wines from smaller, greener producers, along with lighter food inspired in part by Sullivan's half-French heritage and history in the Bay's wine and dining industry. Sullivan grew up inside the local industry – her parents own Beaune Imports, importing European wines to the Bay – and has worked at Chez Panisse, as Alice Waters' assistant and with the Edible Schoolyard Project.
It's been a bumpy road, but Sullivan and Hohler are close to clearing another hurdle this week toward opening the much-anticipated wine bar.
The couple signed a lease on the building, formerly an art school, in September 2021. Since then, the permitting process, infamously delayed during the pandemic, plus extensive construction to retool the studio and a freak car accident, have set back opening again and again. In June, just a week before they got approval to start construction, a car crashed into the building and smashed a hole through the wall.
The building's landlord has applied for approval to repair the hole, and the city is evaluating the application this week, Sullivan said.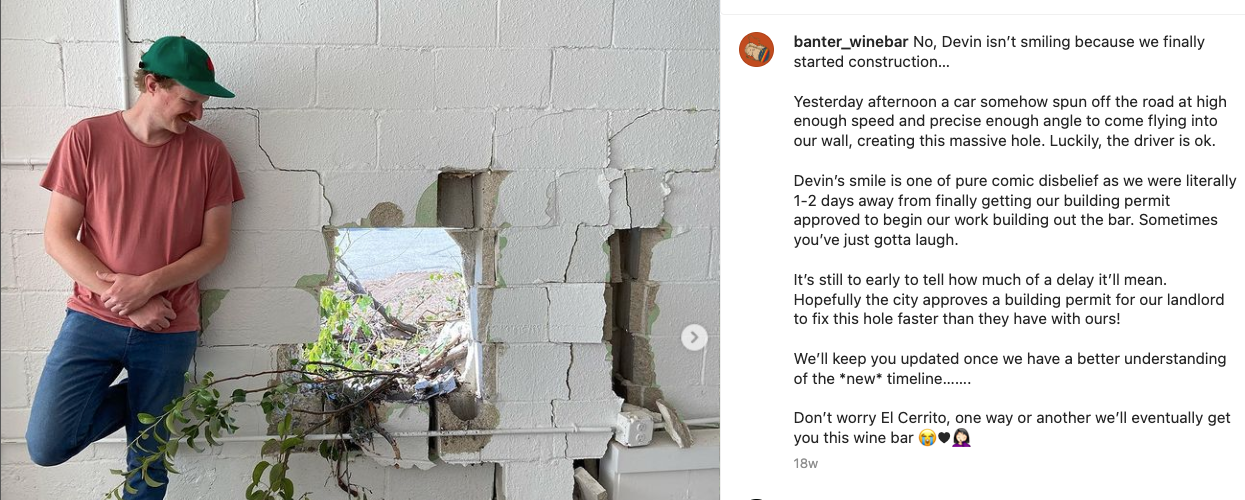 via Instagram
In the time since the accident, though, they've been able to begin work inside and lay the groundwork for the bar itself. They're getting closer, but the couple hesitates to give an estimated opening date at this stage. "It's still too early to tell when we might be able to open," Sullivan told Hoodline. For now, Banter is signing interested locals up to a Banter Wine email list in hopes of opening a wine club in the meantime.
The couple dreamed up the vision for the wine bar during the early days of COVID-19. "The inspiration for Banter came due to us spending a lot of time in our backyard drinking wine during pandemic evenings and imagining how cool it would be if we had a fun wine bar to go to that was a bit closer to us than all the amazing ones located in Oakland," Sullivan said.
"On a whim I started looking at commercial spaces available for rent, and we stumbled across our cute building," Sullivan shared with Hoodline. "It took a while for me to actually take the leap to reach out to the agent about a visit. From there I asked them if they'd be open to us turning it into a bar and I also asked the city planning department. I expected someone to tell me 'no' along the way but kept on getting 'yes's.'"
Meanwhile, they've built up a following online among local wine fans and area residents who've expressing eagerness to see a new hotspot in town.
"We know we've given many different rough timelines for potential openings over the last year and we're so grateful to you all for sticking with us and being patient!" Sullivan and Hohler posted on Instagram. "We're SO looking forward to getting past all these road bumps and *~bantering~* with you at our bar while you enjoy some wine and tasty bites!"