As you might guess from the name, the Drunken Film Fest takes place in bars. But it's not just about the drinks. As the organizers put it on the festival website: "We might have some drinks, but we're more about getting drunk on film."
And the rest of us can join them in that endeavor, starting this Sunday, Oct. 9 through Friday, Oct. 14, during the fifth annual incarnation of this Oakland festival. The Drunken Film Fest will show no less than 74 independent short movies over its six nights, with showings taking place at a different Oakland bar or beer hall each night.
It's free to get in to see the films, but, hey – we figure it is partly about the drinks. So designate a driver and plan to buy a couple.
The showings start at 7 p.m. every night, in a different venue each day of the festival, a return to a fully in-person festival after a couple of pandemic-induced years of partly virtual hybrid fests. Sunday's showings are at The Double Standard, Monday's at the Stay Gold Deli, Tuesday's at Temescal Brewing, Wednesday's at Telegraph Beer Garden, Thursday's at Eli's Mile High Club and Friday's grand finale is at the Starline Social Club.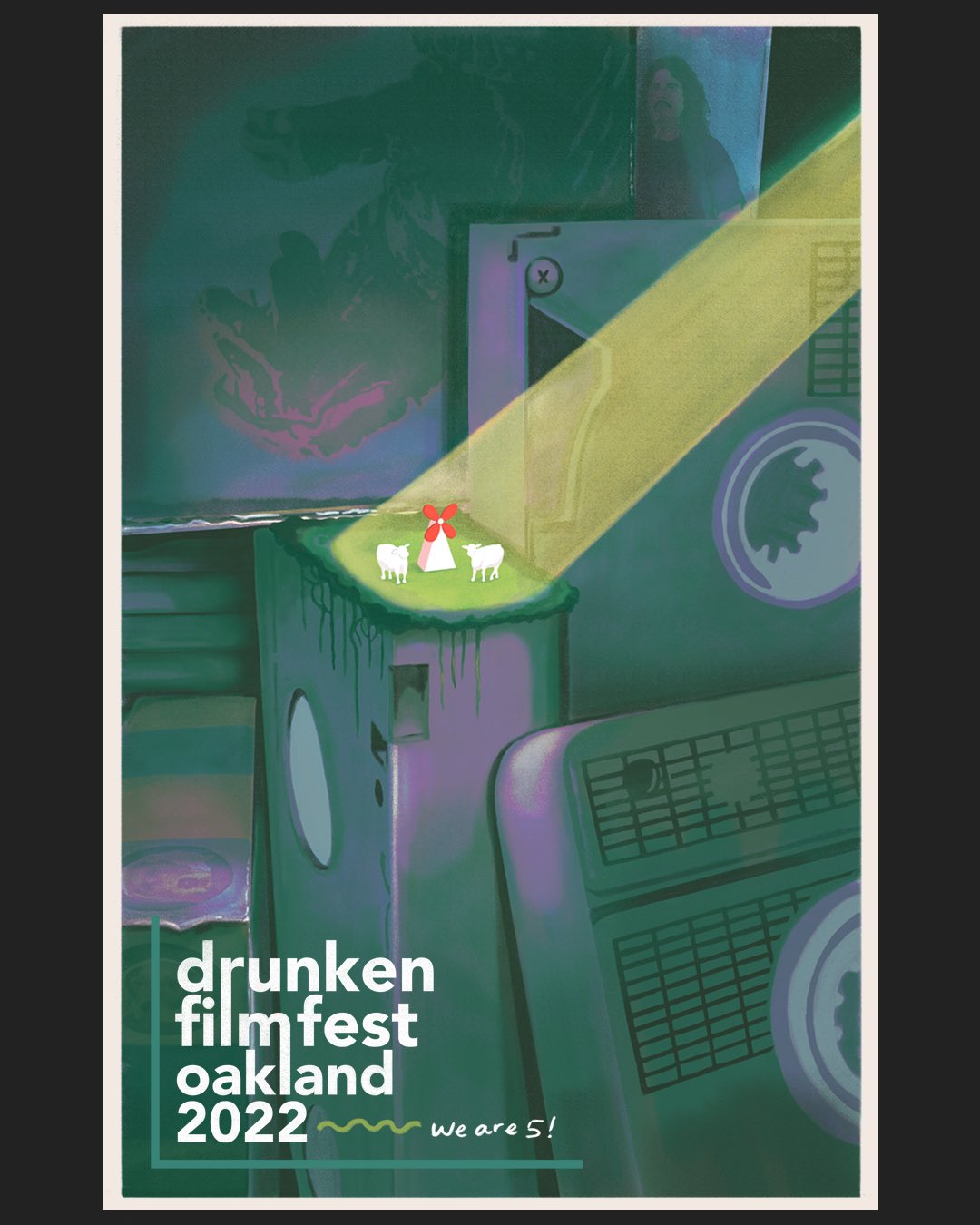 The festival's official poster Source: The Drunken Film Fest/Twitter
"Bars are meeting spaces for community and coming together," said an organizer who was quoted in an article in The San Francisco Chronicle. "People are really looking for that right now, especially after having spent a lot of time isolated for the past couple of years. If we can do that around something as cool as celebrating film, then that's even better to have everyone in the bar together, watching these movies."
So, what will you see? The diverse rotation of movies includes a wide variety of short films – a "veritable smorgasbord of cinema," as organizers put it on Instagram – including documentaries, narratives, animation, avant-garde flicks, and music videos. The selection also ranges from locally made films to films from around the world. Hit up the Drunken Film Fest site for the full night-by-night schedule.
"Drunken Film Fest partners with safe and unconventional venues to present pop-up film screenings and discussions," write the organizers. "We're here to create a unique film festival experience for everyone without sacrificing any of the quality of major festival programming."
Cheers to that!
Get more information, the full schedule of films, and location details at www.drunkenfilmfest.com/oakland.