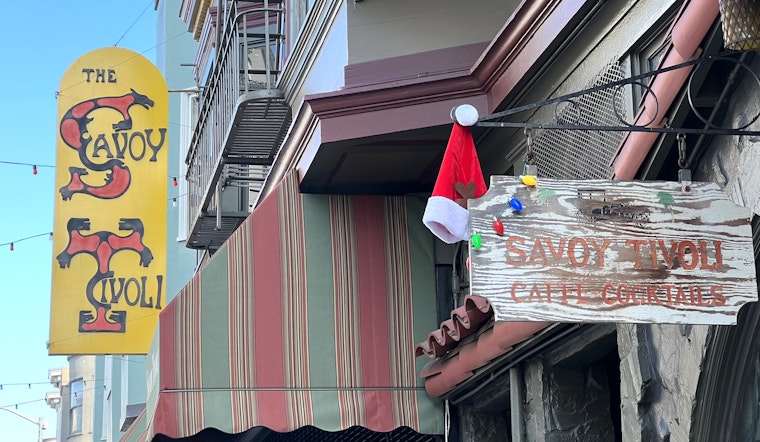 Published on December 15, 2022
After being shuttered for the last four years due to city-mandated seismic retrofits and the pandemic, The Savoy Tivoli — the iconic North Beach bar — will celebrate its grand re-opening this week, beginning on Thursday, December 15. Though it's been open for limited hours since the end of November, co-owners Tito Avila and Paul Kozel are excited to officially welcome guests back to the 117-year-old Savoy with drink specials created by general manager David Sabo and live entertainment. The festivities will include two stand-up comedy shows on Saturday, December 17.

David Sabo, Savoy Tivoli general manager, and owner Tito Avila, are pumped for the bar's big re-opening celebration. | Photo credit: Dorothy O'Donnell
Kozel, who lives in Miami, is the son of Claire Kozel, owner of the Savoy from 1987 until 2018 (she passed away in 2021). Refurbishing the bar from the Sunshine State wasn't practical. So, Kozel reached out to his Bay Area friend Avila — the two have collaborated on other business projects — to see if he'd help bring the Savoy back to life.
"I was a bit reticent since I don't have a huge hospitality background," Avila admits. "The Savoy's history is what really won me over. Beach Blanket Babylon started here. The Ramones and Jefferson Airplane played here. You had Mal Sharpe and his jazz band playing on the back patio."
Avila moved into an apartment above the bar during the renovation, which included replacing rotted flooring, fortifying old walls, and restoring the stage and bar. From the get-go, his team was committed to preserving as much of the Savoy's original artwork and decor as possible. You can still sip a cocktail under the exotic peacock murals that have graced the walls since the 60s, for example, and bask in the colorful glow of jewel-like Art Deco lights. (The lights originally sat on a shelf above the bar but now dangle from the ceiling.)
Tour guide and long-time North Beach resident Blandina Farley strikes a pose by one of the Savoy's stunning peacock murals. | Photo credit: Dorothy O'Donnell
"It would have been really easy to come in and paint everything, buy some new equipment, and just turn this into some fancy place, but I think that would have been an act of hubris and an insult to the legacy of the Savoy," Avila tells Hoodline. "Our focus was to highlight the history, not mute it."
Craige Walters of C Walters Design was instrumental in helping to preserve the Savoy's bohemian charm. In addition to his impressive track record designing stylish bars and restaurants such as August 1 Five, Black Cat and Romper Room, Walters also has a personal connection to the Savoy. His office is above it. And he met his wife at the bar.
"Everyone has a story about this place," says Avila. "One of the most common ones we hear is 'this is where I met my spouse.'"
Along with protecting the Savoy's quirky interior, Avila and Kozel also want to carry on its tradition of offering eclectic entertainment. They're still ironing out final licensing issues and figuring out what kinds of acts to bring to their stage. But they definitely don't want the Savoy to be a one-trick pony.
"We don't want to be known as 'a jazz place' or 'a blues place,' because the Savoy has never done that," explains Avila. "They used to do theater here and poetry slams. In the Beat years, all kinds of intellectuals, poets, and creatives performed here. And in the 70s, there were a lot of punk bands. So there's always been an amalgamation of different kinds of talent at the Savoy, and for me, it's important to keep that. At the end of the day, we want to provide really fun, engaging entertainment and great cocktails to go with it."
Savoy Tivoli is located at 1434 Grant Avenue. Hours are 8 p.m.-12 a.m. Thursday through Friday; 8 p.m.- 2 a.m. on Saturday.