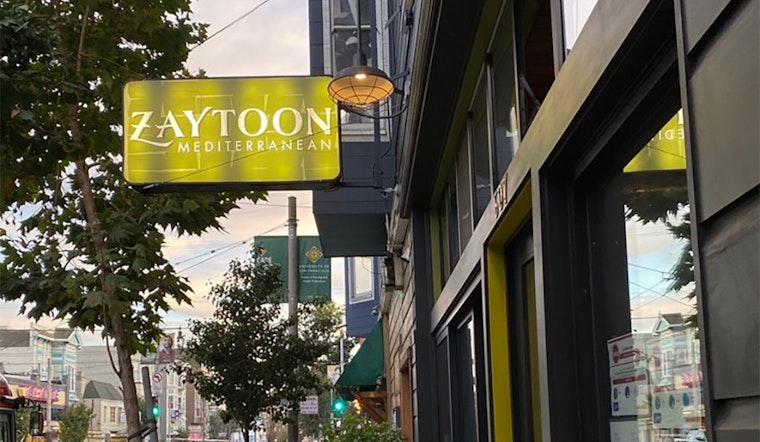 Published on January 03, 2023
Divisadero Mediterranean restaurant Zaytoon (607 Divisadero) has closed up shop after five years on the corridor — and three years after the closure of Zaytoon's original Mission District location.
Owner Chris Totah tells the SF Business Times that it was just time for him to move on to his "next chapter," and that the decision wasn't related to any landlord or rent issue.
Moving into the space will be a new concept called La Sarrasine combining northern French-style buckwheat crepes (sarrasine means buckwheat) as well as kebabs and other Mediterranean fare. The owner, as the Business Times tells us, is experienced FiDi restaurateur Kamel Bouzidi, who for years ran Cafe Med at 215 Pine Street before pivoting to a Tunisian concept earlier this year called Dar Fatma, which has already closed.
Bouzidi tells the Business Times that trying to run a restaurant downtown isn't tenable given the current ghost-town conditions. "It's just not worth it when I ask how many people are in the office and it's 5%," Bouzidi tells the paper. "I don't know how people do it," he adds, referring to other downtown restaurant owners.
It's been discussed multiple times in the last year how SF's neighborhood restaurants are mostly thriving again, while those in the Financial District and adjacent parts of SoMa aren't faring as well, due to the ongoing remote-work policies of many SF companies with downtown offices. And Bouzidi is betting that the 30-seat Zaytoon location on Divisadero will be more lucrative than his Pine Street location, where he says business at lunchtime has been "at best okay" pm some days.
Cafe Med was known for its kebabs, shawarma, salads, hummus, and burgers — including a lamb burger with feta cheese. It's not clear how much of that menu will carry over to La Sarrasine, which will be adding Normandy-style savory crepes like the long-gone Ti Couz used to serve — and like Le Marais Bakery is now starting to do with their Castro crepe window and Grande Creperie at the Ferry Building.