To the delight of vintage fashion lovers, several thoughtfully curated used clothing stores opened in North Beach in 2022: Vacation (@vacationSF), Via Margutta Vintage (@viamarguttavintage), and Missing Audrey (@shopmissingaudrey). And now there's one more reason for them to swoon. Last month, Vacation owner Kristin Klein opened a sister shop, Work, with her friend and business partner Sam Poole. You'll find Work just four doors down from Vacation at 1445 Grant Avenue.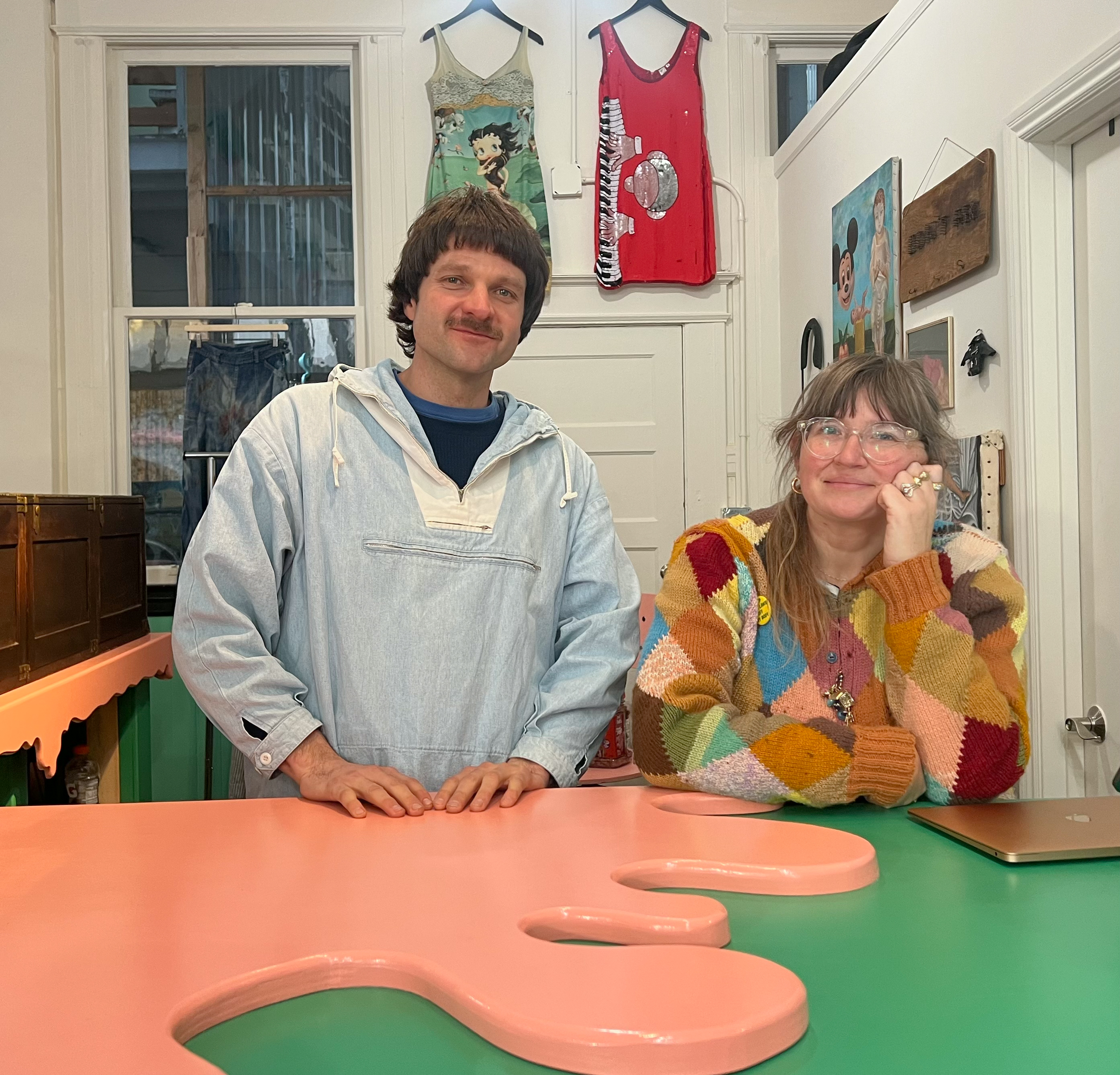 Co-owners Sam Poole and Kristin Klein at Work, their new vintage shop in North Beach. | Photo credit: Dorothy O'Donnell
"Sam's been selling like a hotshot on Instagram(@knownbadboy) and online, so when I found out this space was available, I asked him if he wanted to do a store together and bring in other vendors," explains Klein.
Poole was game but admits that making the leap from managing an online business to running a physical store has been a bit challenging. "It's kind of like having a child," he tells Hoodline. "I'm tired but also very excited and hopeful that it will work out. "
The name Work may not instantly conjure up the same happy vibes as Vacation. But like its sibling, Work's interior sports playful design elements. Take the mint green check-out counter dripping with pink blobs that look like melted ice cream, for instance. The show-stopper of a piece was created by carpenter and Pyramid Records owner Bobby McCole. And shopping at Work is definitely fun. Along with merchandise from Klein and Poole, you can score one-of-a-kind vintage fashions and other treasures from these vendors:
Collecting Dust (@collecting_dust_vtg)
Miles to Go Vintage (@milestogovintage)
Nates Dry Goods (@natesdrygoods)
Thief Island (@thiefislandvintage)
Goodbye Heart (@goodbyeheartvintage)
Wardrobe Vomit (@wardrobevomit)
Neutral Ground (@shopneutralground)
Soaky Robinson (@soakyrobinson)
Mod Lit Books (@modlitbooks)
"These are all people who have been selling online for a while and have a good reputation," says Klein. "We're providing them with a real-life outlet for selling. And it's cool for customers because they can choose from things that reflect the tastes of all these different people. At Vacation, it's just me buying."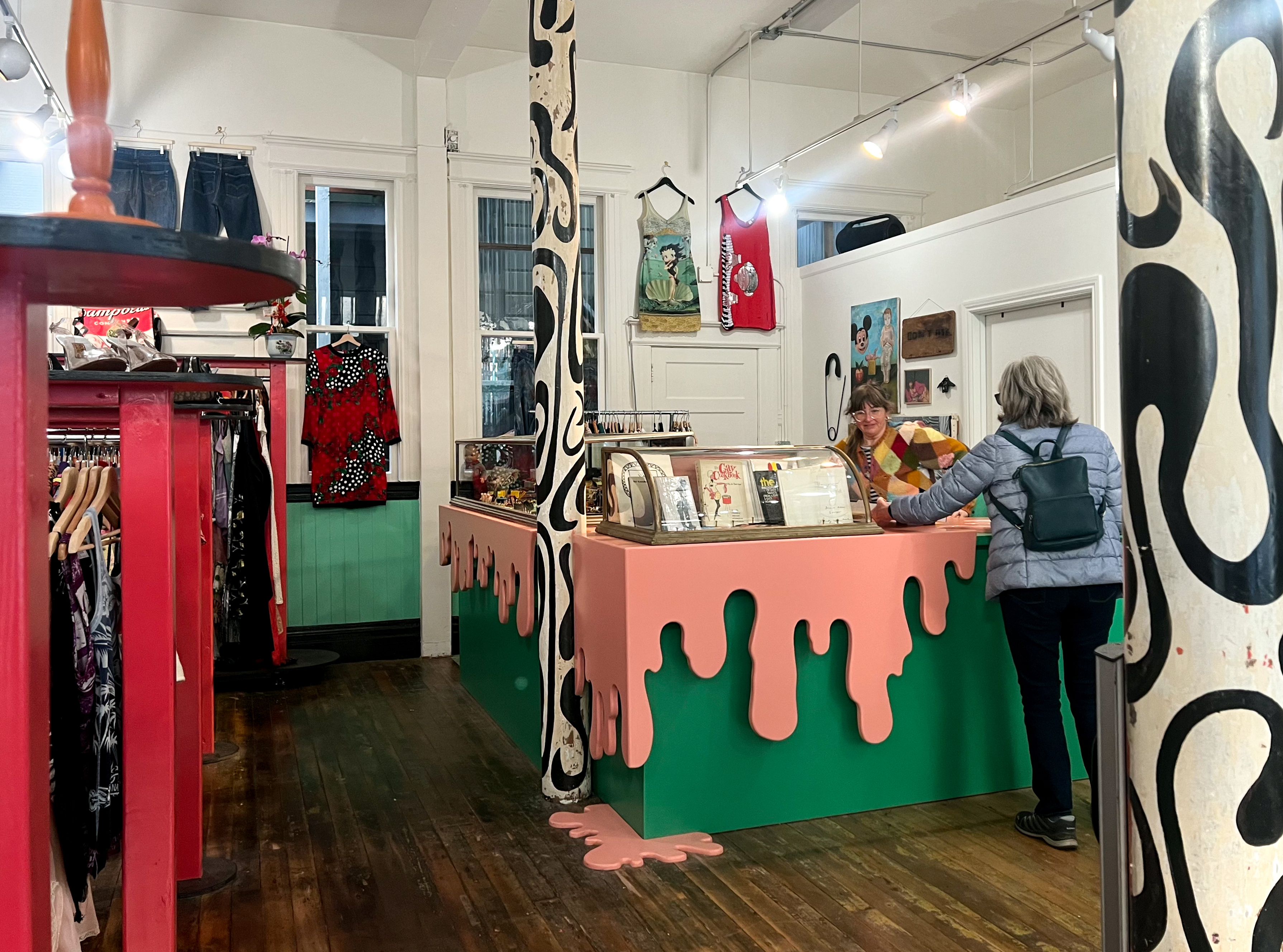 Whimsical decor enhances the shopping experience at Work. | Photo Credit: Dorothy O'Donnell
Each vendor will be at Work for at least three months. Eventually, Klein and Poole want to add more sellers, or rotate different ones in and out. Vendors set the prices for their merchandise. But according to Klein, most clothing at Work ranges between $32 and $200. Certain things, like true antique pieces from the 1920s-40s, tend to have a set market price. Translation: you'll probably pay more for them. Authentic concert tees and designer fashions also come with higher price tags.
"All of the vendors here are doing all killer, no filler," notes Klein. "In theory, since they don't have to rely on the internet to sell stuff, maybe more people will get back to shopping in stores".
Having a second location also means Klein can offer a more balanced mix of high-end and affordable items at each store. She says she's now carrying more coveted vintage t-shirts and sweatshirts, which customers are snapping up at both spots. And while Vacation focuses mainly on women's fashions, Work boasts a more extensive selection of men's clothing.
Ultimately, Klein hopes opening another vintage store on Grant Avenue will help the street reclaim its status as a true shopping destination.

Work (@work.vintage) is open Tuesday through Sunday from 12 to 6 p.m.