A group of comedians is bringing the laughs with small, affordable, and (our personal favorite) sometimes BYOB comedy shows in eclectic venues around the Bay. These include a bicycle cafe, board game shop, and fun and funky bars in Oakland and Richmond — plus one quirky event in a "hackerspace" in Mountain View.
The Comedy2Nite collaboration has set up monthly, weekly, and even semi-weekly stand-up comedy nights that have been pulling in some buzzy word of mouth around the East Bay. The shows feature local and visiting comedians who've performed at Cobb's Comedy Club or the Punch Line in San Francisco, or who've appeared on anything from Comedy Central and Netflix or HBO specials to late-night TV favorites and Saturday Night Live.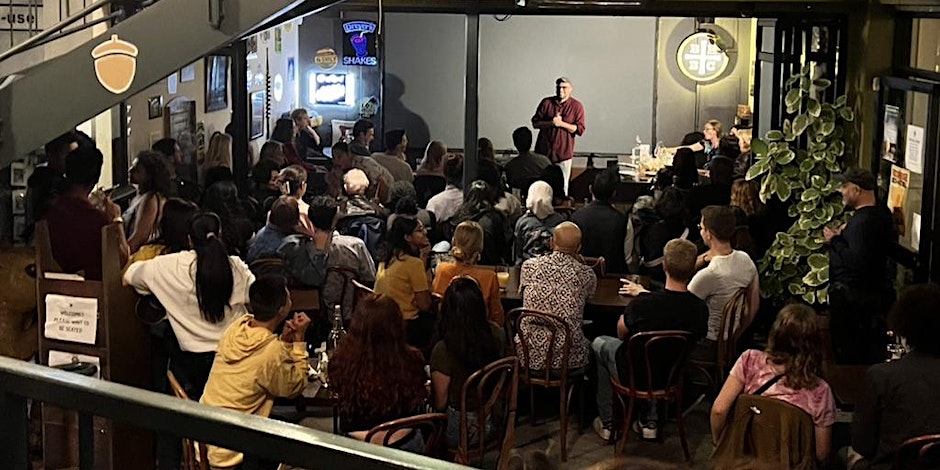 Show at The Golden Squirrel (Photo: Comedy2Nite)
Recent shows have been selling out in at least some locations since they started up in 2022, so consider reserving ahead if your heart is set on a particular show or date. Here's a run-down of the Comedy2Nite residencies:
Critical Hit!
Weekly BYOB show at It's Your Move Games board game store in the Temescal. Every Saturday, 8-10 p.m.; $10. 4920 Telegraph Ave., Suite B, Oakland
Comedy Soup at NIDO's Backyard
Comedy, cocktails, margaritas, Mexican food and outdoor dining at NIDO's Backyard at Jack London Square. Twice a week on Tuesdays and Sundays; doors open 6:30 p.m., show 7-8:45 p.m.; $15 ($10 ahead of time). 104 Oak Street, Oakland
The Lowdown
Comedy at the Low Bar, a cocktail spot with tacos and churros in downtown Oakland. Weekly on Wednesdays, 8-10 p.m.; $10. 2300 Webster Street, Oakland
Nuthouse at The Golden Squirrel
Free show (tips welcomed) at a Rockridge pub The Golden Squirrel every week on Saturdays at 8:30 p.m. and Wednesdays at 8 p.m. 5940 College Avenue, Oakland
Oh Deer! Buck Wild Comedy Nights
Free show every other Friday at Buck Wild Brewing at Jack London Square, 8-10 p.m. 401 Jackson Street, Oakland
Ducks in a Row
Free monthly show at downtown Oakland's Luckyduck Bicycle Cafe, a combined bike shop-repair-space and cafe. Every third Saturday, 8 p.m. (RSVP for a chance to win two free drinks.) 302 12th Street, Oakland
Comedy Night At The Factory
Monthly event at the popular newish watering hole along San Pablo Avenue in Richmond, The Factory bar, every first Tuesday of the month, 8-9:45 p.m.; $15 ($10 ahead of time). 12517 San Pablo Ave., Richmond
Hack Comedy in Mountain View
This oh-so-Silicon Valley show pits standup comedians against artificial intelligence in a 6,000-square-foot community center and "hackerspace" called Hacker Dojo. Monthly Saturday show, 8-9:30 p.m.; $20; BYOB and free hard kombucha. 855 Maude Avenue, Mountain View
More details and tickets available at www.comedy2nite.com.