Fiddle Fig Café (790 Lombard Street) in North Beach is a bit off the beaten path. But since opening late last summer in a quiet residential neighborhood, the bright, plant-filled eatery serving coffee and casual fare has blossomed into a popular hangout for locals and others lucky enough to stumble upon it.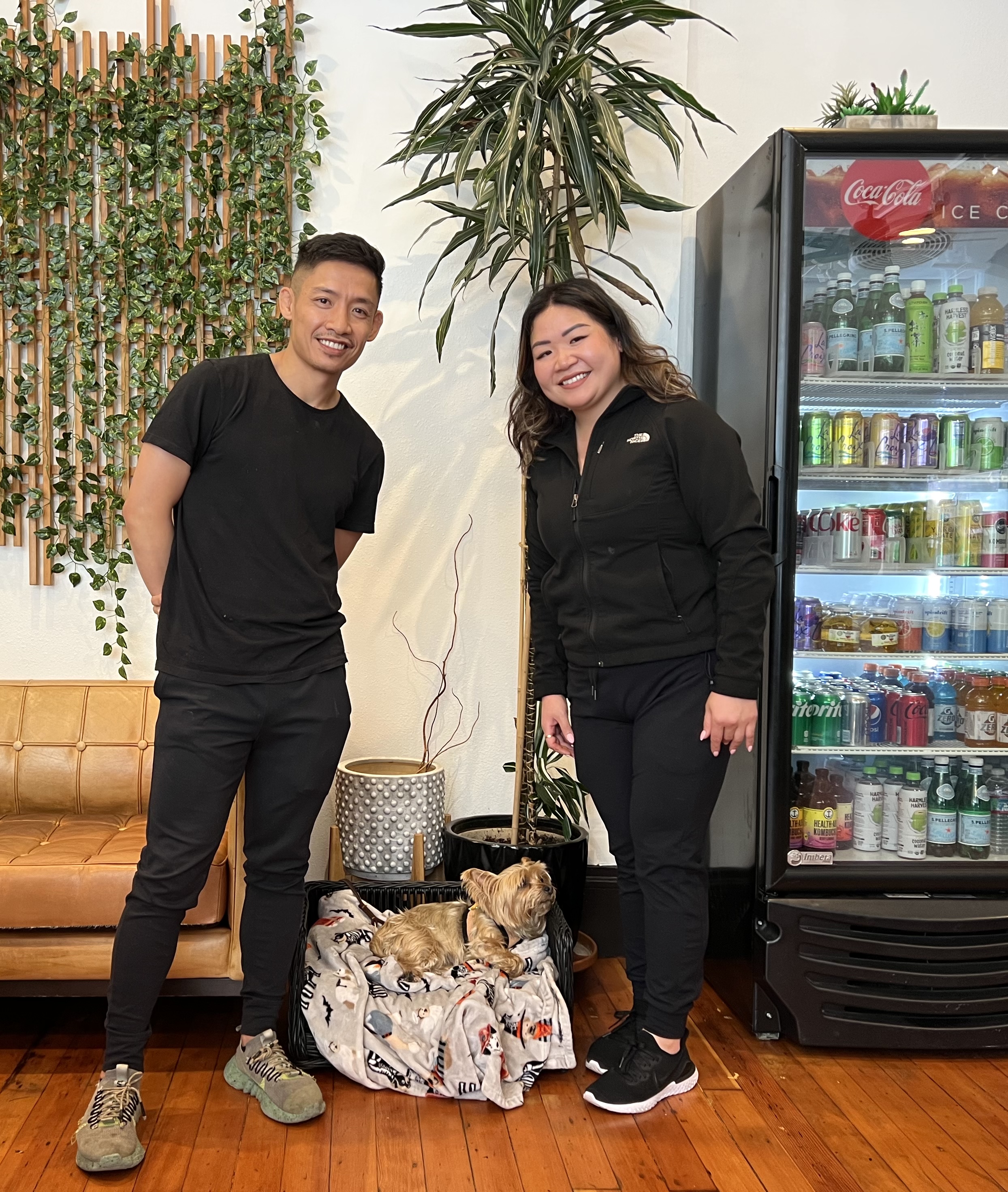 Fiddle Fig co-owners, Ray and Susanna Ng, with café mascot Bentley. | Photo credit: Dorothy O'Donnell
Ray Ng co-owns Fiddle Fig with his sister Susanna and brother Jae. The siblings— who grew up in North Beach—were restaurant-industry newbies when they decided to open their own place. Yet with teamwork and a lot of trial and error, they've managed to cook up a recipe for success.
"It's the first time our family's ever done anything like this together — opening a café, a business. So we're learning as we go. I didn't even know how to make coffee when we started," jokes Ng. "We're always on the floor, so we get to see firsthand what's working and not working. We wanted to create a nice, friendly vibe for people to work in or just stop by and chat and have a meal."
The café's name was inspired by the Ngs' love of plants — a pair of large fiddle-leaf figs grace the entrance. They also sell the smaller plants displayed throughout the restaurant, along with a selection of locally-made goods, such as pottery from Catalpa Ceramics and kids' journals by My Rainbow Journal.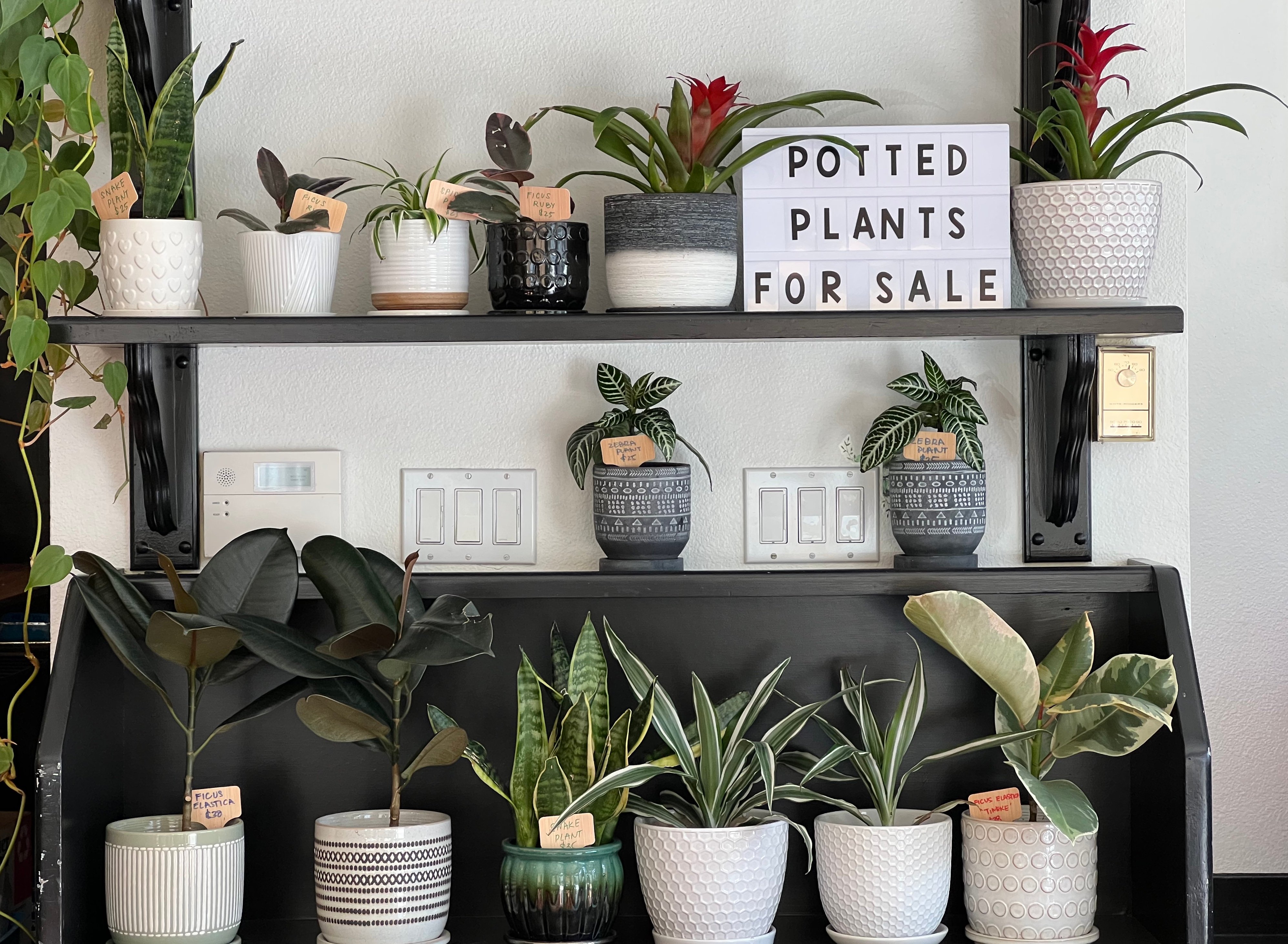 Pretty plants and a variety of locally-made products are available to purchase at Fiddle Fig. | Photo credit: Dorothy O'Donnell
In addition to his siblings, Ng's wife April, a full-time nurse, pitches in at the cafe when she's not on duty. (She's responsible for the artistic chalk renderings on the menu board, among other things.) And when he's not snoozing on his bed, Bentley, Susanna's adorable silky terrier, often works the floor, making friends and scoring pats on the head while scrounging for stray morsels.
With limited kitchen space, the family spent a lot of time figuring out the café's food menu. They scoured YouTube for recipes, then put their own spin on items that made the cut, and continued to refine them for maximum tastiness. The hearty roasted veggie sandwich, for instance, is spiced up with their special sundried tomato paste. Sandwich options for meat lovers include a Reuben and the Cubano, layers of ham, salami, and cheddar cheese. Craving something a little lighter? Try the roasted vegetable salad, a vibrant rainbow of healthy goodness. For a morning meal, you can't go wrong with popular staples like the breakfast sandwich or avocado toast. And if you're in the mood for something sweet, check out the fresh pastries and baked goods.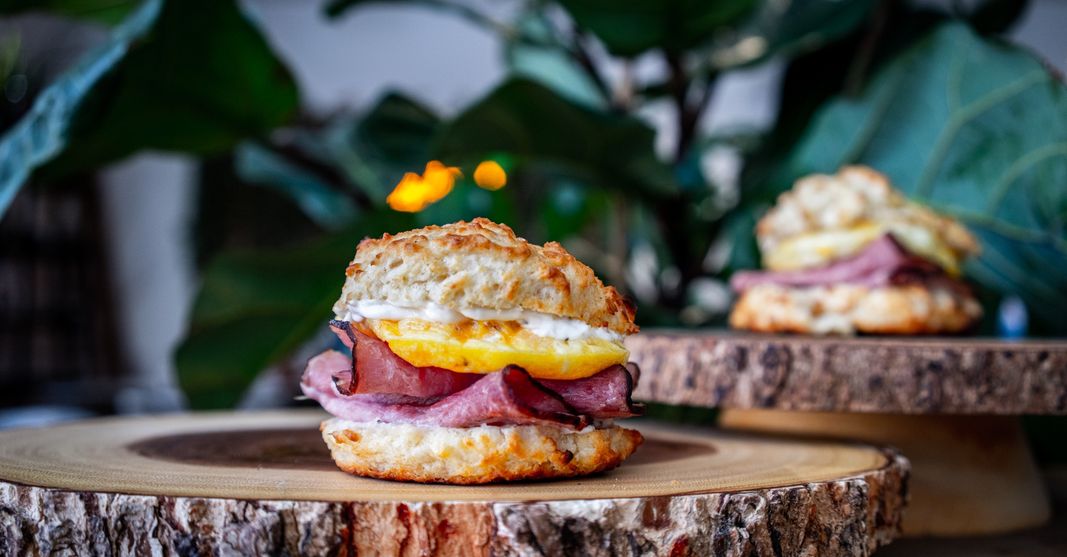 Fiddle Fig Morning bites include a craveable breakfast sandwich. | Photo courtesy of Fiddle Fig Café
Speaking of sweet things, Fiddle Fig's coconut-based shakes are a refreshing treat or alternative to coffee and tea. Soon, you may also be able to enjoy an alcoholic beverage with your meal.
"We're hoping to get our beer and wine license," Ng tells Hoodline. "And we may also start extending our weekend hours."
Ng admits that he's got a lot on his plate these days as he and his siblings work to build on Fiddle Fig's success. And for him, at least, things won't be slowing down anytime soon. Come July, he and April will welcome their first child.
"It's been kind of a crazy time for us, but it's a lot of fun too," he says. "We're looking forward to having a little kid running around the café."

Fiddle Fig Cafe is located at 790 Lombard Street, Fiddle Fig Café is open from 8 a.m. to 4 p.m., Monday through Friday; 8:30 to 4:30 p.m. on weekends.