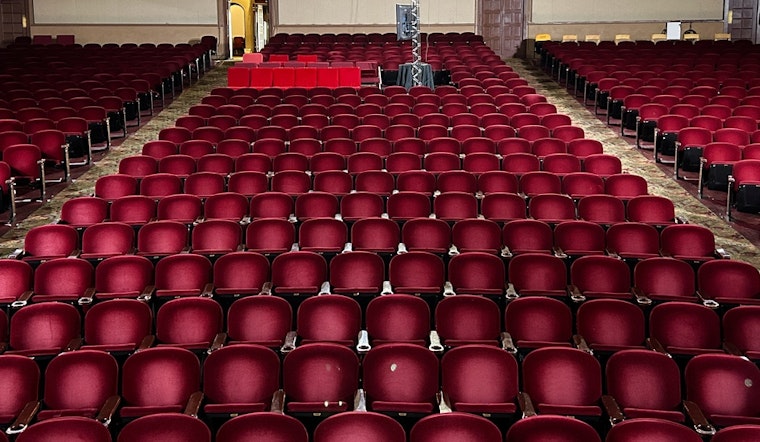 Published on June 16, 2023
In a joint hearing on Thursday that lasted over seven hours, the San Francisco Planning and Historic Preservation Commissions (HPC) approved Another Planet Entertainment's (APE) proposed changes to the 101-year-old Castro Theatre.
After three and a half hours of public comment, HPC voted 5-0 in support of APE's certificate of appropriateness and a planning code change to allow bars on the second floor.
The Planning Commission then voted 4-2 in support of APE's conditional use permit and on the planning code change. Commissioners Moore and Imperial dissented.
The vote comes two weeks after the Board of Supervisors voted in support of the Castro Theatre Landmark Update without controversial 'fixed seating' language.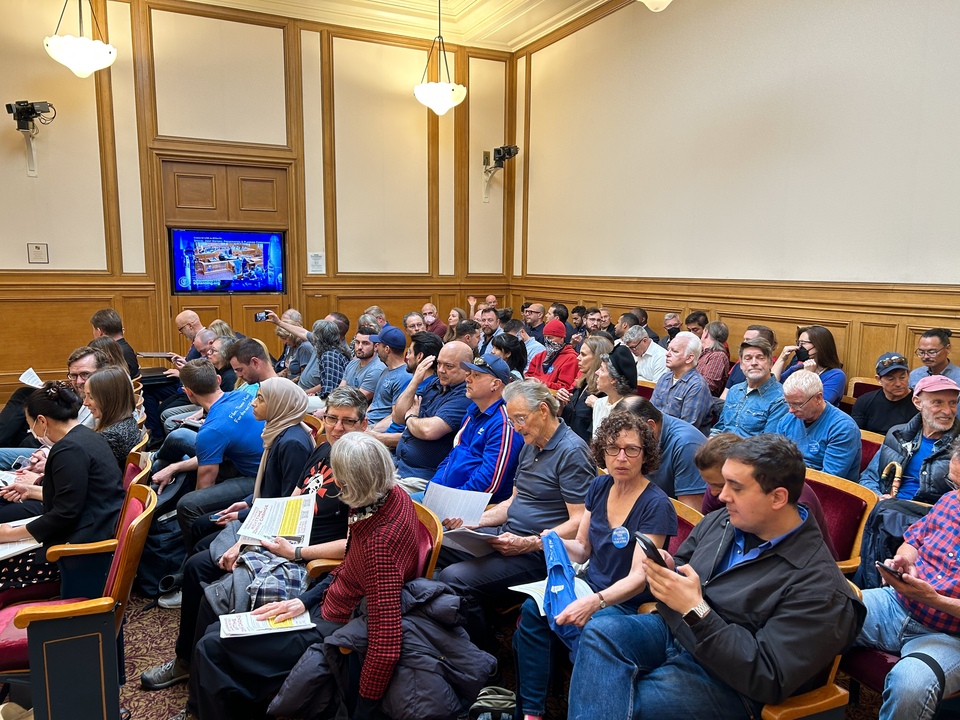 Members of the public in attendance at the meeting. | Photo: Steven Bracco/Hoodline
APE secured another victory after taking over the programming of the 101-year-old Castro Theatre nearly a year and a half ago.
APE has proposed much-needed renovations of the neglected Castro Theatre, along with removing the orchestra-level seating and replacing them with four-tiered sections of platforms with removable seats.
"We are honored and humbled by today's vote by the San Francisco Historic Preservation Commission and the S.F. Planning Commission in support of our plans to restore, revitalize and reinvigorate the Castro Theatre and ensure its irreplaceable heart continues to beat at the center of LGBTQ, film and expanded cultural programming," said APE spokesperson David Perry.
"To those who supported our plans and to those who pressed us to improve those plans we say thank you," added Perry. "To those who share our passion for preserving this icon but who did not support our vision, we look forward to working with you and welcoming you to a Castro Theatre worthy of all our efforts. Let's get to work."
"I and everyone at Another Planet love the Castro Theatre and the Castro neighborhood," said APE CEO and co-founder Gregg Perloff. "Our commitment to and celebration of the LGBTQ communities is long-term and unshakable, especially in a time when these communities are under attack. This project is a labor of love for us, and we will make everyone proud to be part of it. Thank you for giving us this stewardship."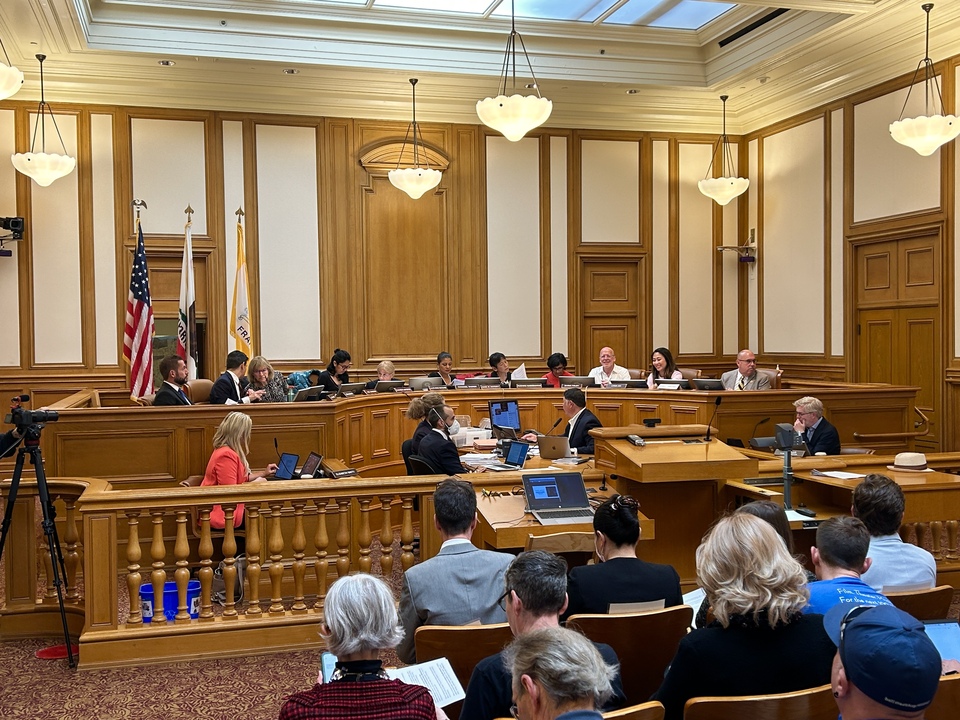 San Francisco's Planning and Historic Preservation Commissions. | Photo: Steven Bracco/Hoodline
The hearing began with a presentation by APE, Evergreene Architectural Arts, and Page & Turnbull. The Castro Theatre Conservancy and Castro LGBTQ Cultural District were also given time to present its opposition to the project. [Full disclosure: Steven Bracco, Hoodline's Castro reporter, is a board member of the CQCD and member of the Castro Theatre Coalition.]
During the hearing, the Castro Theatre Conservancy and CQCD asked for a list of conditions however, most of them were not approved. APE vice president of business affairs Dan Serot shared that many of the proposals were not feasible.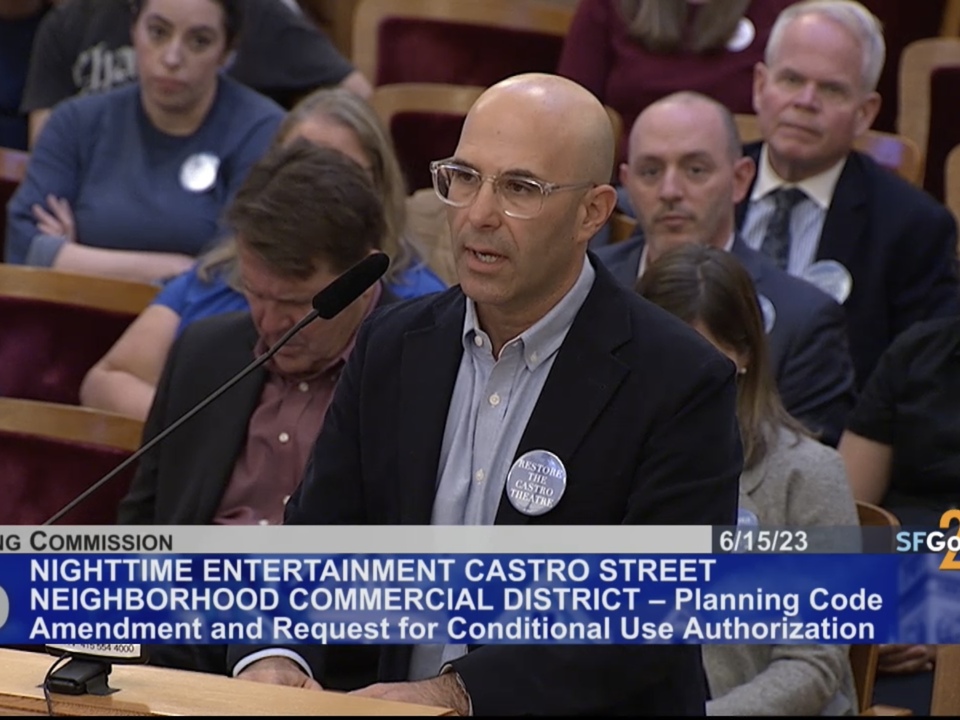 APE's vice president of business affairs Dan Serot addressing the commissions. | Image: SFGovTV
Conditions included increasing the number of days the theatre will be active to 250, a minimum of 50 days devoted to LGBTQ+ programming, limits on private parties, and an oversight board. Instead, APE intends to host 175 events per year, with no less than 25% of its programming being LGBTQ+ focused, and the commissions approved an agreement that APE would meet once a year with the cultural district.
"I am quite disappointed in the unresponsiveness of the applicant," said Commissioner Moore. "They dismissed every point, there was no 'can do.'"
She continued saying she was upset by "the monetization of all cultural assets as soon as someone can make a buck off it."
In response to the vote, CQCD executive co-chair Jen Reck stated, "We're upset. We're disappointed."
"We've been looking to the city for leadership to repair community relationships that have been frayed by APE's takeover of the Castro Theatre," added Reck. "With a few notable exceptions, that leadership has been lacking."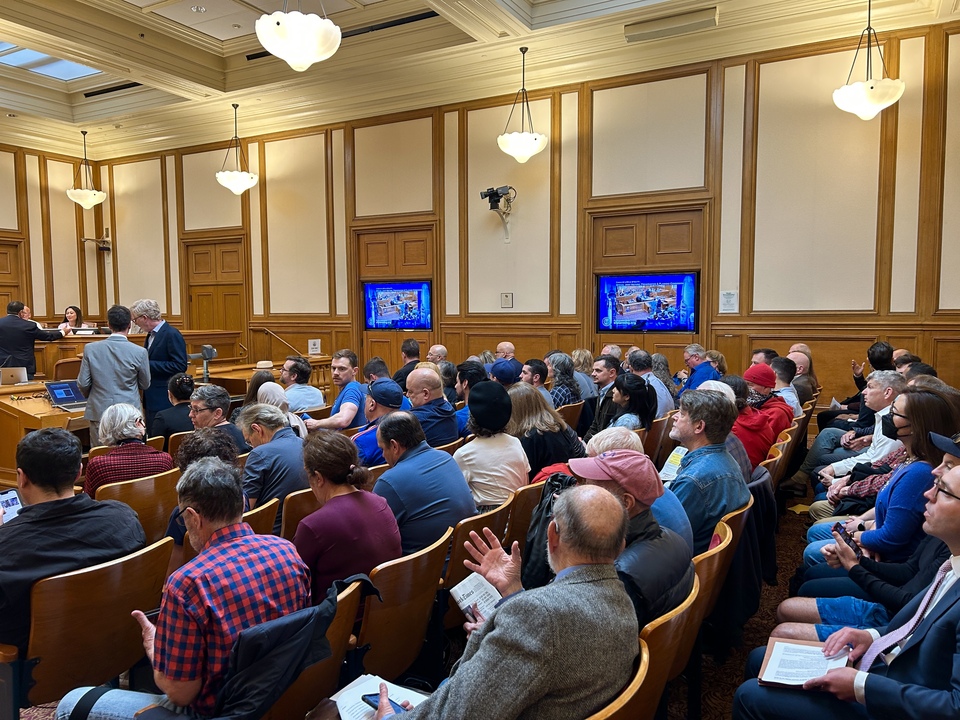 Crowded hearing room at the commission meeting. | Photo: Steven Bracco/Hoodline
CTC executive director Peter Pastreich stated, "Another Planet Entertainment's plan will alter the physical and spiritual heart of the Castro Theatre, rendering it suitable mainly for rock and pop shows and private parties."
"The Conservancy developed a plan that would restore the historic and physical features of the theater and also restore it to its place as the center of LGBTQ and cinema culture in San Francisco and in the world. However, the Nassers own the theater, and we understand that they don't wish to sell it and that APE has a lease to operate the theater for the foreseeable future."
Thursdays hearing included many speakers in support of APE's plans from community groups including the Castro Merchants, Castro/Upper Market Community Benefit District, and the Neighbors for a Restored Castro Theatre.
"We've fought hard to preserve the history of the Castro Theatre while also protecting its future," said NRCT co-chair Joe Sangirardi. "As residents of the Castro, yesterday we won ourselves a bright future for the neighborhood. The commissions voted to allow APE to restore the historically significant aspects of the theater while also allowing the flexibility needed for the theater's viable for generations to come."
"We were proud to see community come out 2:1 in support of the future of the theatre and our neighborhood and we're excited to welcome APE as valued members of our Castro community," added Sangirardi.
At this time it is unclear when construction will begin and how long the theatre will be closed. APE spokesperson David Perry did not respond to Hoodline request for comment about when construction will begin.
Looking at the Castro Theatre's calendar, events are scheduled through January 2024.