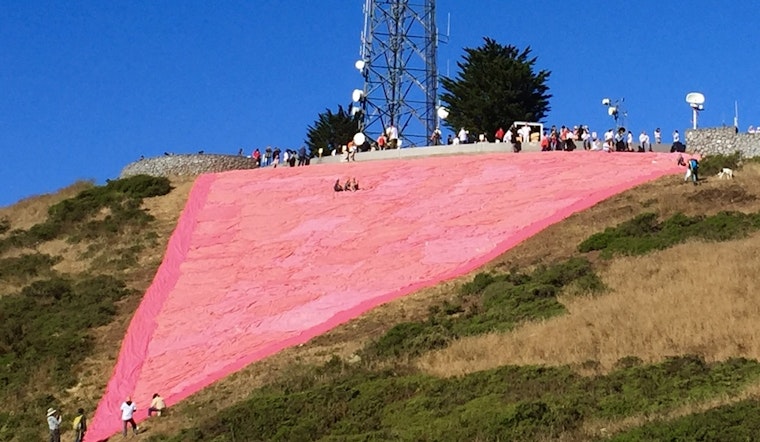 Published on June 05, 2023
With Pride Month officially kicking off last week, the Pink Triangle art installation on Twin Peaks is set to return in the coming weeks.
While the Pink Triangle was illuminated for the past three years, co-founder Patrick Carney tells Hoodline that the art installation will return to a canvas-only display, mostly visible only during daylight hours.
"The LED lighting was terrific the past three years," said Carney. "It will be a canvas display again as it was for its first quarter-century."
For the 28th annual Pink Triangle, Carney has put out a call for hundreds of volunteers. Volunteers are needed on June 10, 16, 17, and July 1.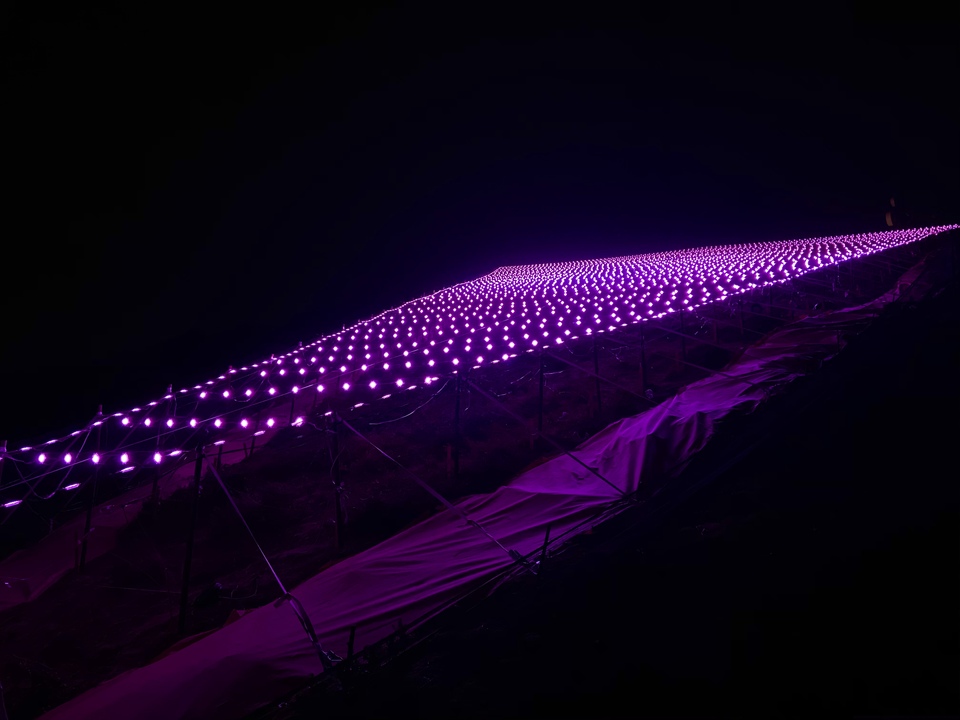 The Pink Triangle was lit up for Pride Month for the past three years (2020). | Photo: Steven Bracco/Hoodline
As you may recall, the Pink Triangle was both lit up and festooned with streamers last year, and was lit throughout Pride Month in 2021, and for three weeks in 2020. This was with the help of the nonprofit Illuminate the Arts.
"Illuminate graciously offered to help during the pandemic year of 2020 when we weren't able to gather hundreds of volunteers due to social distancing, and then that system was used for an additional two years - a beautiful bonus for sure," added Carney. "For all that I am forever grateful."
Every Pride weekend since 1996, the Pink Triangle has adorned the eastern side of Twin Peaks, measuring 200 feet across and visible from over 20 miles away.
"This project has always been a giant, in-your-face educational tool," explained Carney. "It is up on Twin Peaks as a reminder and a warning. Part of appreciating and celebrating any Pride is understanding where we have been — and the Pink Triangle illustrates how bad things can get."
As you may be aware, the symbol was used to label homosexual prisoners under Nazi Germany, like yellow stars were used to label Jews, before being reclaimed as a symbol of LGBTQ+ pride.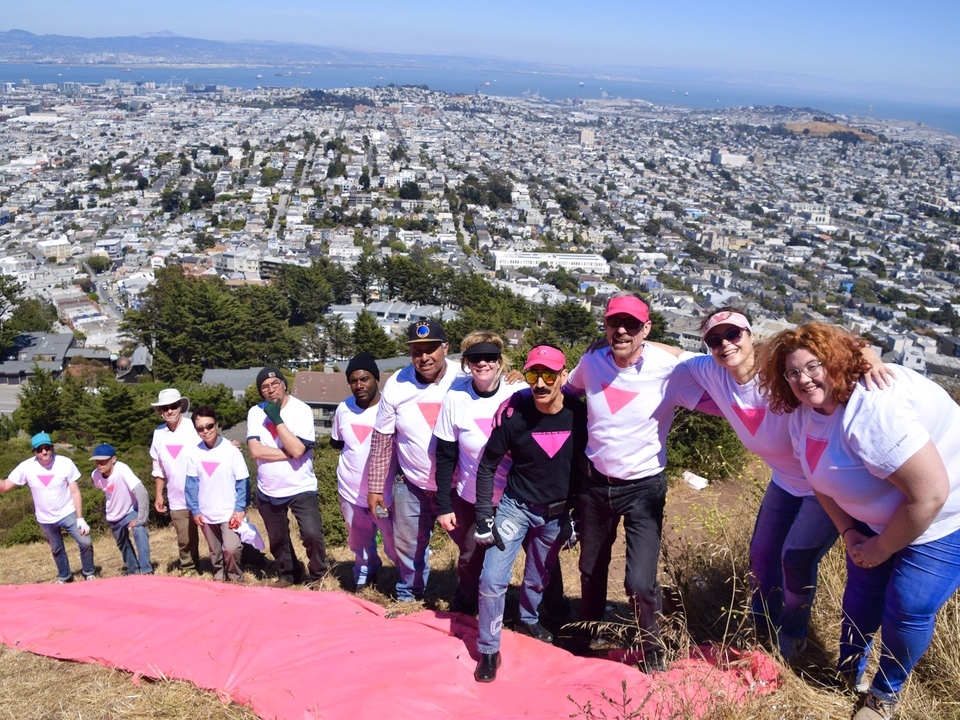 Patrick Carney and his husband Hossein (center) with volunteers. | Photo: Courtesy of Patrick Carney
"Getting that message out is the goal of the project," said Carney. "The Pink Triangle will be back in its original form, with its original message and original mission."
"The Pink Triangle fits in well with the theme of PRIDE 2023: 'Looking Back and Moving Forward,'" added Carney. "The Pink Triangle has always been doing that because part of appreciating and celebrating any Pride is understanding where we have been, and the Pink Triangle illustrates how bad things can get - as pointed out during the history portion of the program - then the ceremony also discusses our community's advances."
The Pink Triangle consisted of 175 bright pink tarps and two pieces of 200-foot-by-four-foot pink sailcloth. Carney tells Hoodline that they've purchased new canvas and sailcloth border for this year's installation.
The annual installation was founded by Carney and collaborators Thomas Tremblay and Michael Brown. The latter two signed on for only five years of the project. Since 1998, Carney's main assistants have been his husband, Hossein Carney, and sister, Colleen Hodgkins.
"Their help has been instrumental in keeping the project going for over another two decades," Carney told Hoodline previously. "Colleen drives up from LA every year for four days, usually brings a carload or two of volunteers with her, and has paid for plenty of aspects of the project too."
As Carney explained the 26-year history of the project in a 2015 Hoodline interview for the 20th anniversary of the Pink Triangle, "My friends and I were sitting in a restaurant on Market Street, wondering how we could spread the weekend's festivities to other parts of the city. We noticed a huge blank canvas right outside the window: Twin Peaks. Just a few weeks later, the Pink Triangle of Twin Peaks was born."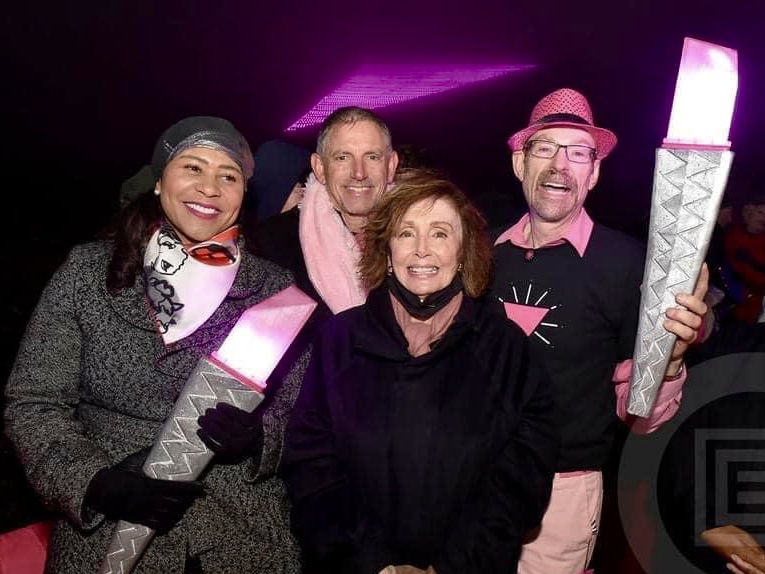 Mayor London Breed (left), House Speaker Nancy Pelosi (center), Illuminate's Ben Davis (center-back), and Patrick Carney (right) at the 2021 lighting. | Photo: Gareth Gooch/Facebook
A commemoration ceremony will be held on Saturday, June 17 at 11 a.m. at the Twin Peaks lookout. Mayor London Breed and other dignitaries will be in attendance along with Pride Parade Grand Marshals and the official band of San Francisco, the SF Lesbian/Gay Freedom Band.
This year's Pink Triangle will be on display for two weeks. Traditionally the Pink Triangle was installed on the Saturday of Pride, commonly referred to as Pink Saturday, and then taken down at the conclusion of Pride Weekend on Sunday evening.
Carney is also seeking donations from anyone who will consider supporting the project.
"The Pink Triangle is a reminder of the struggles we have faced," said Carney. "Those struggles continue as it seems some are determined to reverse the gains the LGBTQ+ community has made over the decades."