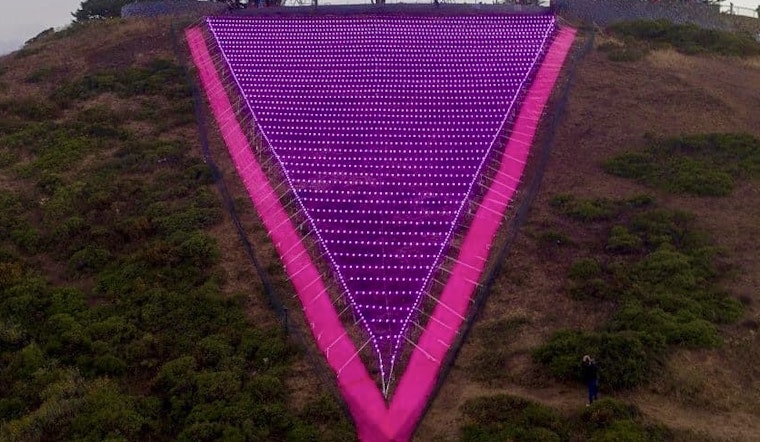 Published on May 17, 2022
For the third year in a row, the Pink Triangle atop Twin Peaks will once again be lit up like a giant gay beacon throughout Pride Month. But this time, it will be more vibrant in the daytime as well.
With Pride Month just two weeks away, San Francisco's official Pride Parade is set to return for the first time in three years after a pandemic-induced hiatus.
Patrick Carney, co-founder of the Pink Triangle, made the announcement earlier this month. Carney said that Illuminate — the organization behind the Bay Lights, the Conservatory of Flowers' projection mapping display, the "Hope Will Never Be Silent" neon installation honoring Harvey Milk on the SoulCycle building, and other projects — will again install 2,700 LED nodes of pink lights on the triangle.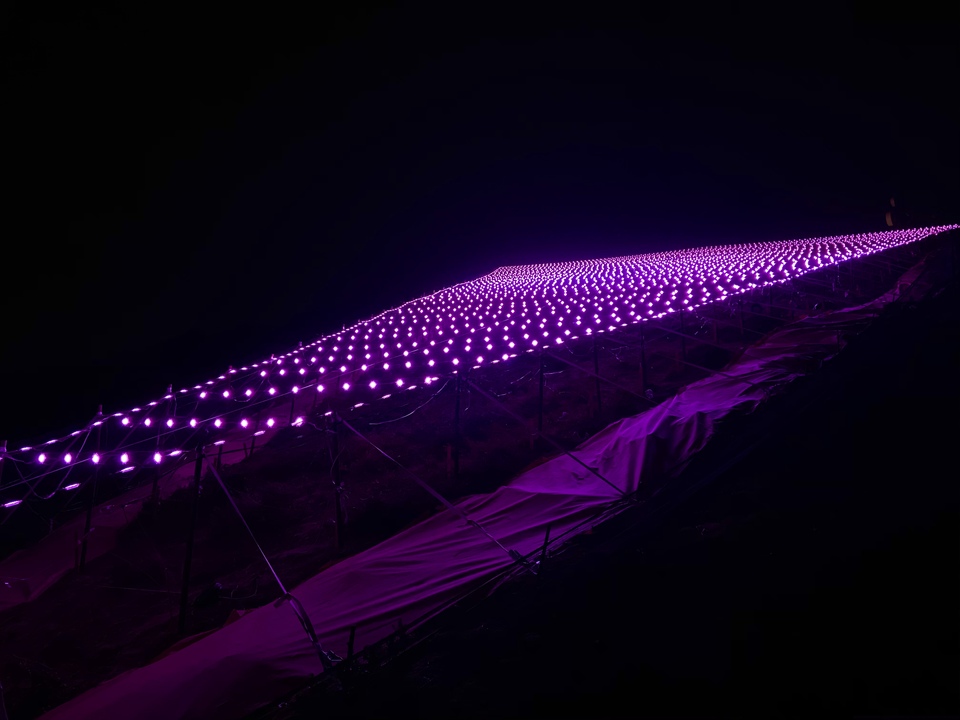 The Pink Triangle has been lit up for Pride Month the past two years (2020). | Photo: Steven Bracco/Hoodline
As you may recall, the Pink Triangle was illuminated throughout Pride Month last year and for three weeks in 2020.
"The goal this year is to have both a daytime and a nighttime presence for the entire month of June," said Carney. To achieve that goal, Carney said that over 6,300 feet of bright, shiny pink streamers will be hung in rows below each of the 43 rows of LED light strands.
"It should be dragalicious," added Carney. "[A]s the shiny pink fringe blows in the wind the reflective surface will lightly reflect and sparkle over San Francisco."
Carney shared that Burning Man camp Velvet Cabal will be assisting with installing the poles, cables, and LED lights. This will also be the first year since the pandemic that volunteers are being recruited to help install the Pink Triangle.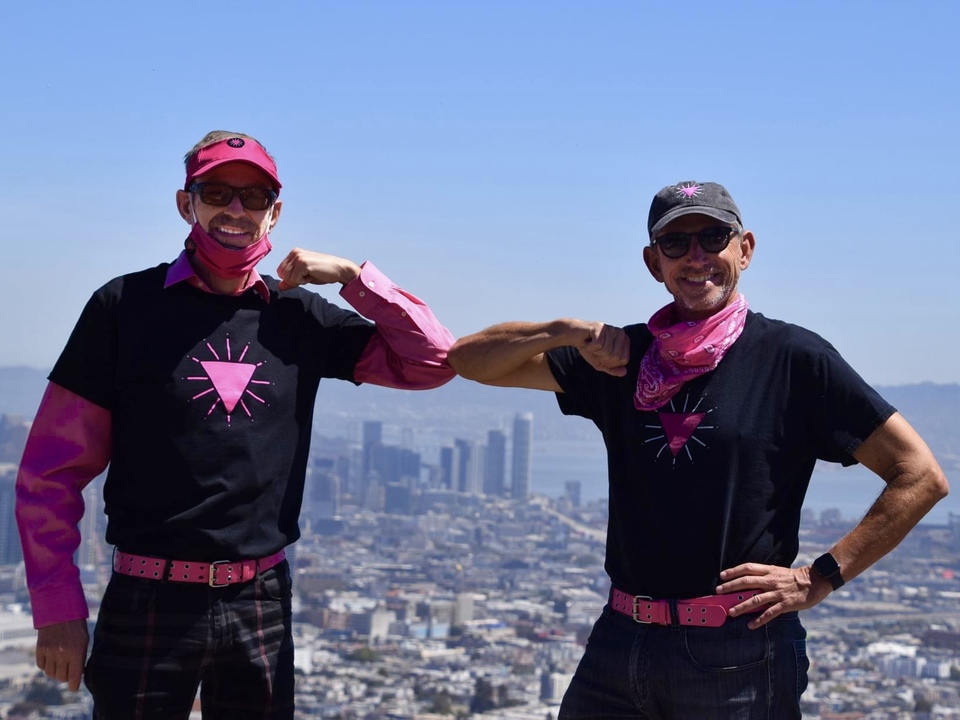 Patrick Carney (left) and Illuminate founder Ben Davis (right). | Photo: Patrick Carney/Facebook
Traditionally, the Pink Triangle consisted of 175 bright pink tarps and two pieces of 200-foot-by-four-foot pink sailcloth. During a typical year, 300 volunteers help install the bright pink tarps.
For the past two years, the pink tarps have been replaced by the LED lights, while the sailcloth border has remained.
Every Pride weekend since 1996, the Pink Triangle has adorned the eastern side of Twin Peaks, measuring 200 feet across and visible from over 20 miles away.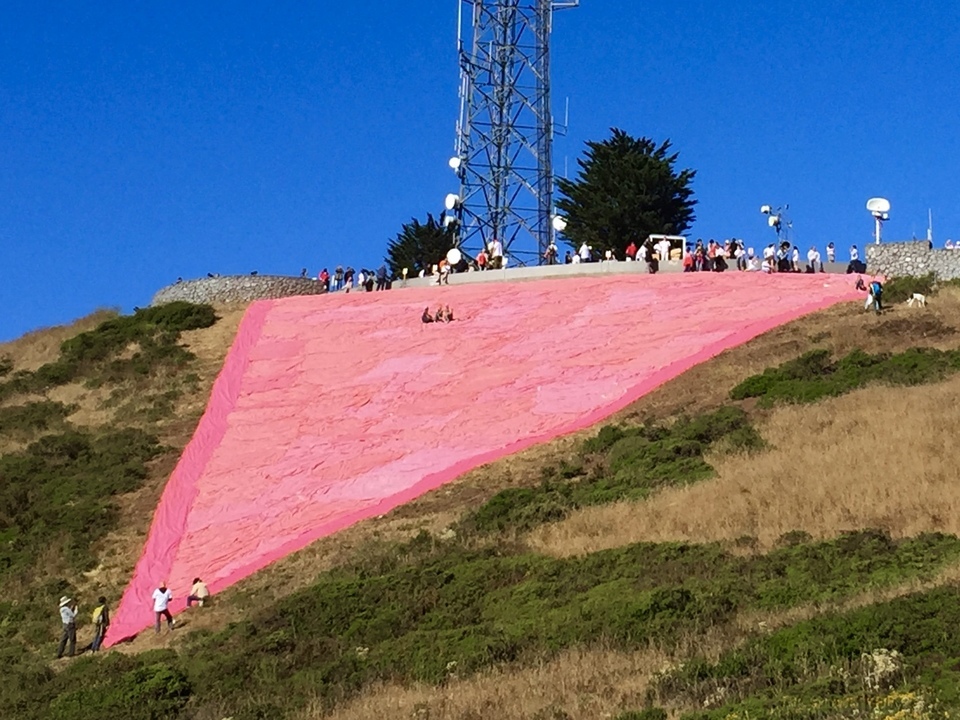 Twin Peaks' Pink Triangle (2016). | Photo: Steven Bracco/Hoodline
"This project has always been a giant, in-your-face educational tool," said Carney. "It is up on Twin Peaks as a reminder and a warning. Part of appreciating and celebrating any Pride is understanding where we have been — and the Pink Triangle illustrates how bad things can get."
As you may be aware, the symbol was used to label homosexual prisoners under Nazi Germany, like yellow stars were used to label Jews, before being reclaimed as a symbol of LGBTQ+ pride.
"Can that kind of hatred and persecution happen again?" asked Carney. "Let's hope not. But based upon recent events, who knows. The huge Pink Triangle of Twin Peaks is a highly visible yet mute reminder of inhumanity."
The annual installation was founded by Carney and collaborators Thomas Tremblay and Michael Brown. The latter two signed on for only five years of the project. Since 1998, Carney's main assistants have been his husband, Hossein Carney, and sister, Colleen Hodgkins.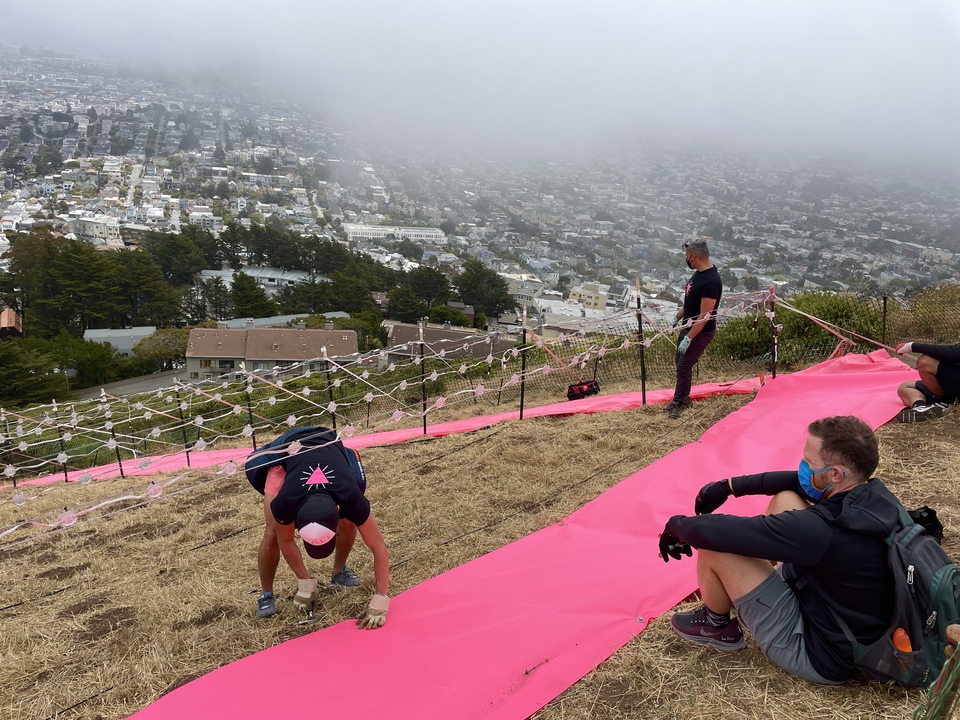 Volunteers assisting in installing the Pink Triangle last year. | Photo: Steven Bracco/Hoodline
"Their help has been instrumental in keeping the project going for over another two decades," Carney told Hoodline previously. "Colleen drives up from LA every year for four days, usually brings a carload or two of volunteers with her, and has paid for plenty of aspects of the project too."
Carney explained the 26-year history of the project in a 2015 Hoodline interview for the 20th anniversary of the Pink Triangle:
"My friends and I were sitting in a restaurant on Market Street, wondering how we could spread the weekend's festivities to other parts of the city," he said. "We noticed a huge blank canvas right outside the window: Twin Peaks. Just a few weeks later the Pink Triangle of Twin Peaks was born."
Carney said this is the tenth time the Pink Triangle has included a lighting element. In 2017, Obscura Digital planned to project brightly-hued rainbows onto the triangle. However, due to thick fog, the equipment was turned around, and instead the rainbows were projected over the Castro.

Mayor London Breed (left), House Speaker Nancy Pelosi (center), Illuminate's Ben Davis (center-back), and Patrick Carney (right) at the 2021 lighting. | Photo: Gareth Gooch/Facebook
A commemoration and lighting ceremony will be held on Wednesday, June 1 at 8 p.m. to kick off Pride Month. Similar to last year, the event will be preceded by the Pink Torch Procession starting at Oakland City hall with Mayor Libby Schaaf. The torch will be escorted from Oakland to San Francisco by Dykes on Bikes where San Francisco Mayor London Breed will be on hand for the lighting.
"Remembering the hatred which lead to the creation of the pink triangle over 80 years ago is usually a somber kick-off to Pride Weekend, now to Pride Month," said Carney. "But we progress during the ceremony by showing how far we have come and that this symbol of hate and persecution has been usurped and is now a symbol of survival, defiance, courage, strength, diversity, and liberation and it represents all those who endure discrimination."