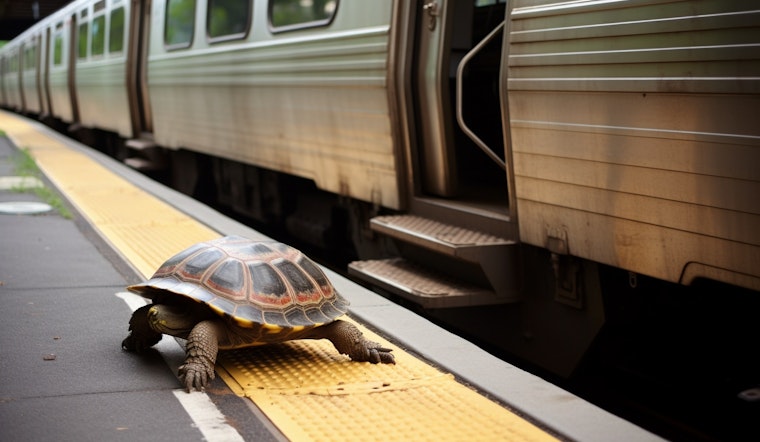 Published on June 03, 2023
BART trains at Union City Station came to an unexpected halt on Tuesday, as a tiny and unsuspecting trespasser caused quite a stir among commuters and officials alike. It wasn't your run-of-the-mill culprit - in fact, it was none other than a turtle that sparked the commotion, leading to the delay of trains while a rescue mission took place to ensure the safety of the unhurried reptile, which surely could not have anticipated the ruckus it would cause on this fateful day, a rescue mission that caught the attention of local news outlets such as SFGate and KTVU.
It's not every day that a turtle manages to stop commuter traffic, let alone a BART station, and the bizarre occurrence had travelers scratching their heads, wondering how the slow-moving creature found its way onto the busy tracks. As the turtle's precarious situation became the center of attention, BART employees, in partnership with local animal rescue, set into motion a plan to safely remove the unexpected guest from the tracks and have it returned to a more appropriate location, as reported on KRON4, which had also covered the occurrence earlier this week.
Nature finds a way! Last Saturday, a train operator spotted a turtle on the track at Union City Station and alerted staff. Station agent on duty recovered the turtle from the track and housed it in the station agent booth until the Ohlone Human Society rescued the turtle. pic.twitter.com/qfd75YqsMH

— BART (@SFBART) May 30, 2023
The unexpected delay caused ripples of concern among travelers who might have been worried about missing their connections or were pressed for time, but many were understanding of the need to prioritize safety and animal welfare. BART employees acted fast, coordinating efforts with local animal rescue teams to ensure the swift removal of the turtle from the tracks, which resulted in only a minor delay but eventually successful extraction of the small creature.