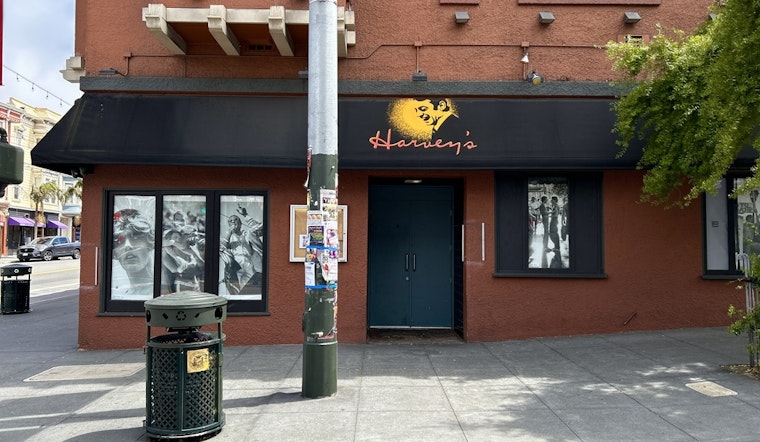 Published on August 15, 2023
Owners of the new Castro bar and nightclub that will be opening in the former Harvey's at 500 Castro Street have revealed a name this week, Brut. But quickly the team announced that a new name would be chosen due to some brand infringement on another LGBTQ business.
Co-owner Joshua J Cook shared the news with Hoodline in an interview today.
Hoodline broke the news in July about the club opening in the now-closed Harvey's space. At the time co-owners Beaux general manager and co-owner Joshua J. Cook, bar manager Alexis Lucero, and assistant manager Matthew Mello were not ready to reveal the name of the new club. They're joined by two financial investors: realtor Marco Carvajal and Beaux bartender Garrett Beighton.
"Ultimately the name and concept were created and conceptualized over 10 years ago at the same as creating the name and concept of Beaux," said Cook. "For me, they were always intended to be brother bars."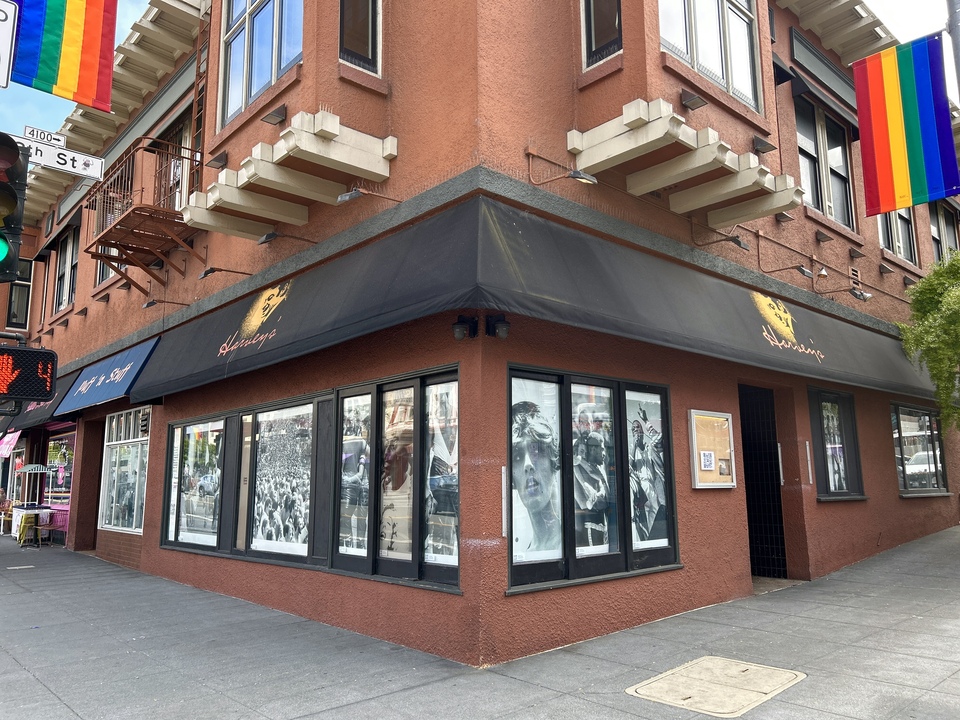 Brut will be opening at 500-504 Castro St. | Photo: Steven Bracco/Hoodline
"It comes from me growing up in Napa and being surrounded by the wine and champagne industry," Cook explained.
Cook tells Hoodline that he's always loved the play on words. While Beaux is French for 'boyfriends or lovers', brut is a word that's both connected to masculinity, as in "brute," and it's a term used in France both to mean "raw," and for the driest varieties of Champagne.
"We love the wordplay of BRUT," said Cook. "Giving a nod to the timelessness of sparkling wine as well as the flirtatious spirit of a sensual experience. It's meant to be tongue-n- cheek, entertaining and amusing."
Cook tells Hoodline that Brut is not to be confused with Brian Kent Productions' Brüt SF Folsom and Dore Alley parties by the same name.
As previously reported, Brut will be expanding the bar into the former Puff 'n Stuff space at 504 Castro St in order to accommodate more patrons.
Harvey's long bar will be converted into a central square bar with room for a minimum of four bartenders. Additionally, they'll be knocking down walls, opening the floor, extending the ceilings, adding more bathrooms, and building a catwalk mezzanine in the 504 Castro St. space.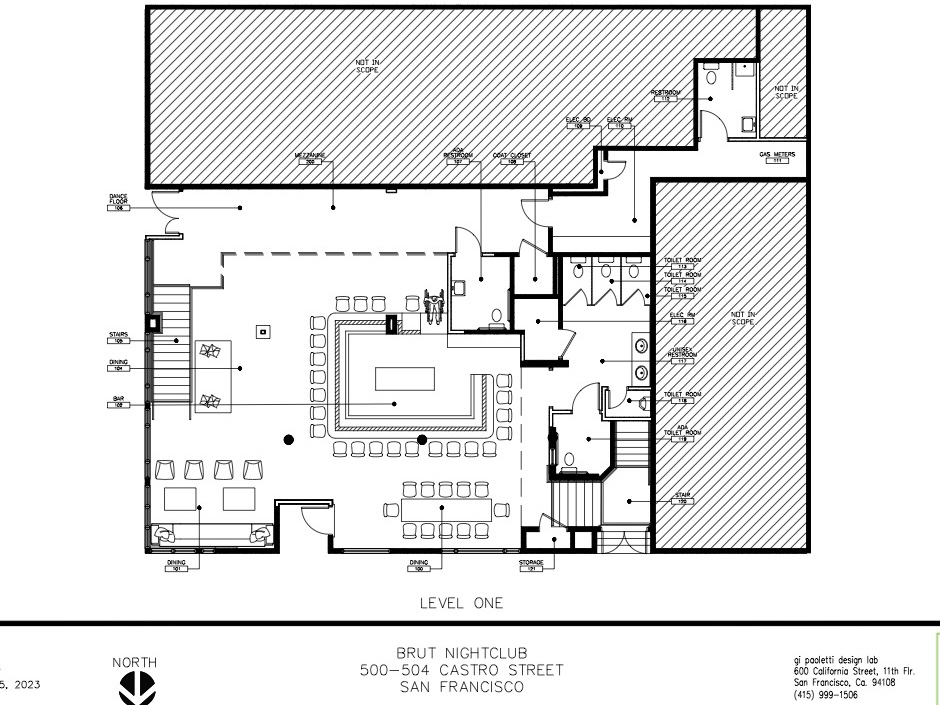 Proposed ground floor plan for Brut. | Image: Gi Paoltetti Design Lab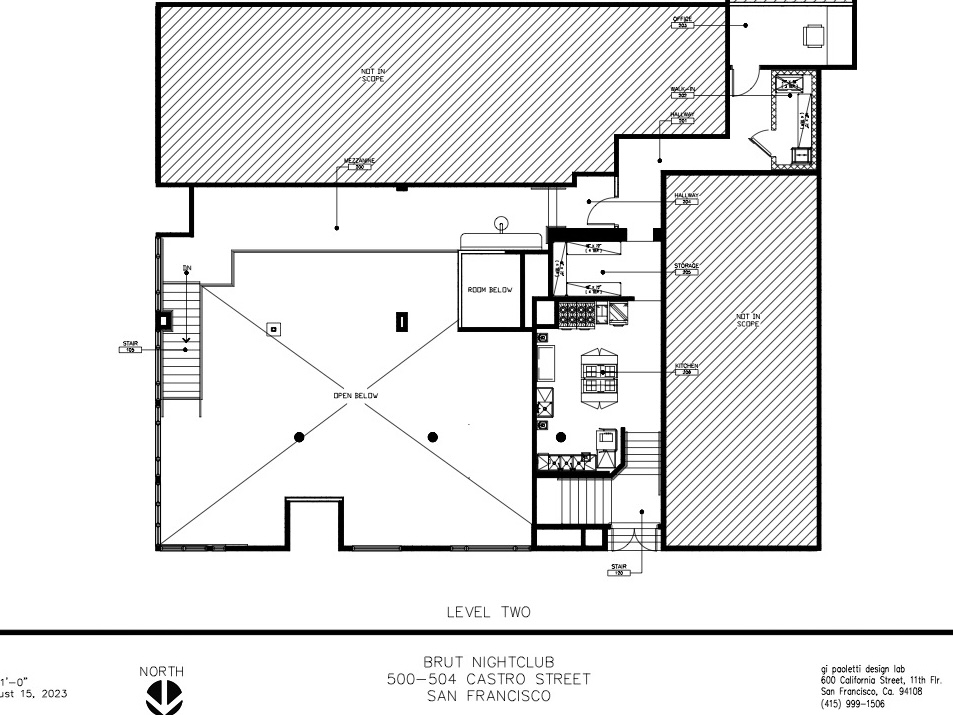 Proposed second-floor plan for Brut. | Image: Gi Paoltetti Design Lab
San Francisco-based architectural design company Gi Paoltetti Design Lab has been brought on to remodel the space. Brut's capacity is expected to be over 200 patrons.
Public records indicate Brut is seeking a conditional use permit to merge the two storefronts, change the use from a restaurant to nighttime entertainment, and operate daily until 2 a.m.
Cooks says that Brut will open "as soon as we can. It's all contingent on permitting."
"We have been assured by Planning and Building Inspection that they do not expect any hangups or hiccups," added Cook. Should everything go according to plan, Cook is hopeful for Brut to open by "late summer or early fall" of 2024.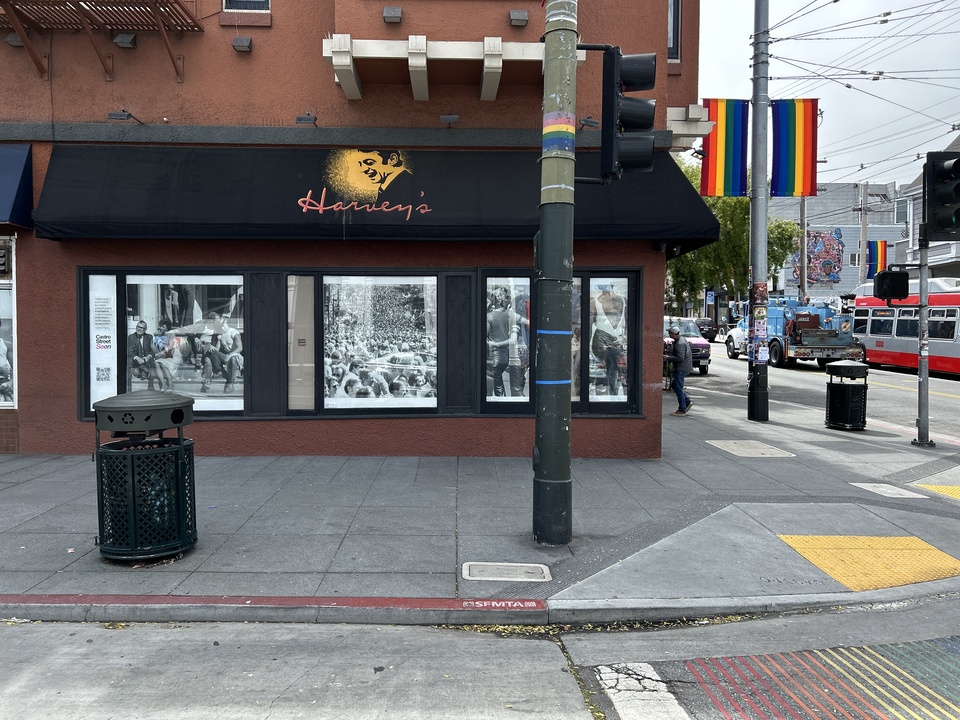 Photo: Steven Bracco/Hoodline
Brut will be open seven days a week until 2 a.m. Cook said that the new bar does not plan to have DJs and dancing seven days a week. On Mondays and Tuesdays, Cook said Brut will have community events like cabaret shows, open mic, karaoke, trivia, or bingo.
The full-service bar will serve lunch during the day and become an entertainment space open until 2 a.m. nightly.
As Cook previously told Hoodline, Brut will not be a restaurant. "It's more a bar that has great food," he said.
Cook said they are currently working on transferring the liquor license from Harvey's.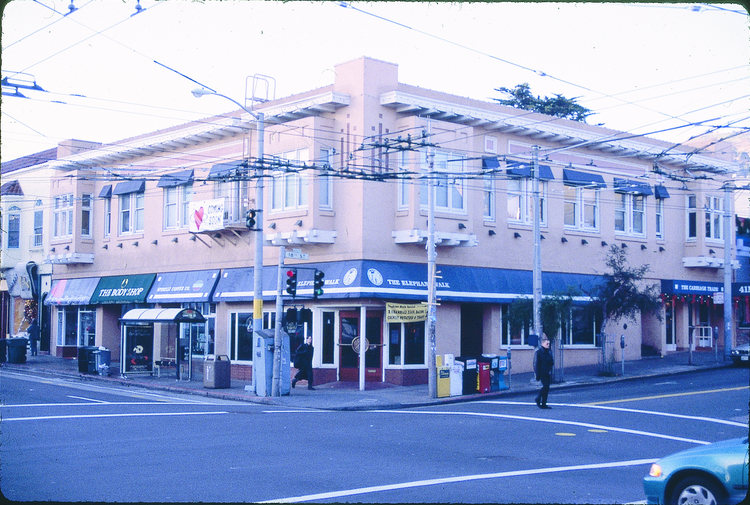 The Elephant Walk operated from 1974-1996. | Photo: Max Kirkeberg/SFSU
The restaurant and bar space was previously home to The Elephant Walk in the '70s and '80s. According to SF Gay History, the Elephant Walk was nearly destroyed by a fire in 1988. When Elephant Walk's lease expired in 1995, building owner Paul Langley declined to renew it and instead opened Harvey's in 1996.
Langley named the restaurant in honor of the late district supervisor and human rights leader Harvey Milk. Langley also owns SoMa LGBTQ+ leather bar Powerhouse.
Update 8/18:
Co-owner Joshua J. Cook posted on social media Friday that the name of the new nightclub will no longer be 'Brut' due to confusion with Brian Kent Productions' party by the same name.
"Our use of the name Brut locally was not intended to create confusion over any other nightlife business using the same name," wrote Cook. "Therefore we will be moving in a different direction in naming and branding of our new venture."
"It is our goal to not only be original in our efforts to create a new space in the Castro but also encourage and lift up other LGBTQ businesses," added Cook.
A new name for the nightclub has not been announced at this time. "Stay tuned for the new name in the future," said Cook. "Thank you for all the support thus far."
In response to the announcement Brian Kent told Hoodline, "We have owned a federal trademark registration for BRÜT for more than seven years."
"The public has come to associate that mark with the high-quality services we provide," added Kent. "Our IP is valuable to us, and we are evaluating our options for protecting our mark and eliminating any likelihood of confusion."
Castro residents will recall this is not the first time in recent memory that a nightclub or restaurant has changed its name after an announcement.
Castro arcade bar and restaurant The Detour was originally set to be called 'District 8' but the owners decided to change the name after an established business expressed concerns about conflicts with the name.