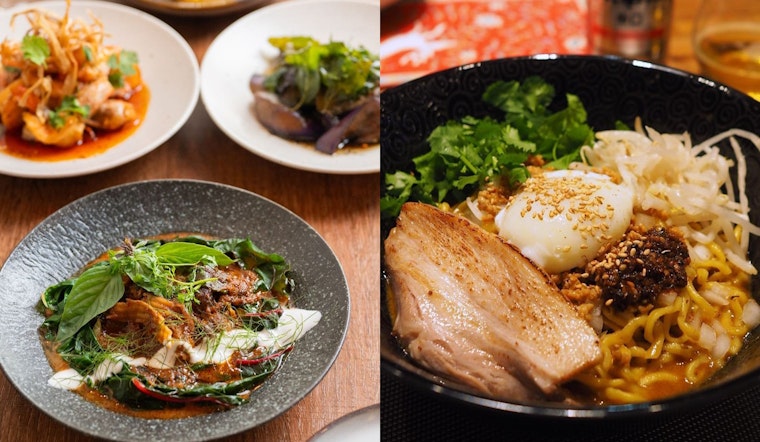 Published on September 23, 2023
The eagerly awaited New York Times Restaurant List for 2023 was recently unveiled, and this year's selection included two noteworthy culinary delights from San Francisco, The Richmond's Prik Hom and Noodle in a Haystack. This highly regarded list celebrates 50 restaurants across the United States that the Times editors find most exciting. Located on the bustling Geary Boulevard, these two cozy yet extraordinary eateries managed to grab the spotlight.
Prik Hom, an upscale Thai restaurant that opened in February 2023 according to SF Gate, is the brainchild of brother and sister duo, Jim and Tanya Suwanpanya. Jim, a Michelin-starred chef, has skillfully crafted a menu that delights taste buds with joyful Thai dishes. Patrons can experience culinary delights such as local scallops served with chili jam and coconut cream, or the slow unraveling heat of grilled beef-wrap curry. The Times had special commendations for Prik Hom's dessert course – a scoop of young coconut ice cream, perfumed by one of two dozen traditional candles the chef brought back from Thailand.
Just a stone's throw away is Noodle in a Haystack. Our sister publication, SFist, notes that ramen-tasting menu restaurant that opened in April 2022 is the result of Clint and Yoko Tan's hard work and dedication, evolving from a marvellous pop-up into a critically acclaimed eatery. Their seasonally rotating menu boasts delicacies like summer tomato salad, deviled ramen egg, and yuzu shio ramen made using 15-hour simmered chicken broth. Soleil Ho, a former San Francisco Chronicle food critic, once stated that Noodle in a Haystack serves "likely the best ramen you've ever had." Adding another feather to its cap, the restaurant has also been recognized as one of Bon Appétit's 24 Best New Restaurants of 2023.
San Francisco's two slots on this prestigious list for 2023 weren't the first time the city stole the national spotlight in the culinary world. The previous year, San Francisco's Abacá and San Ho Won found their way onto the New York Times list along with Healdsburg's Little Saint. In 2021, the list featured San Francisco's Anchovy Bar, Mister Jiu's, and Nari, further cementing the city's diverse range of culinary mastery.