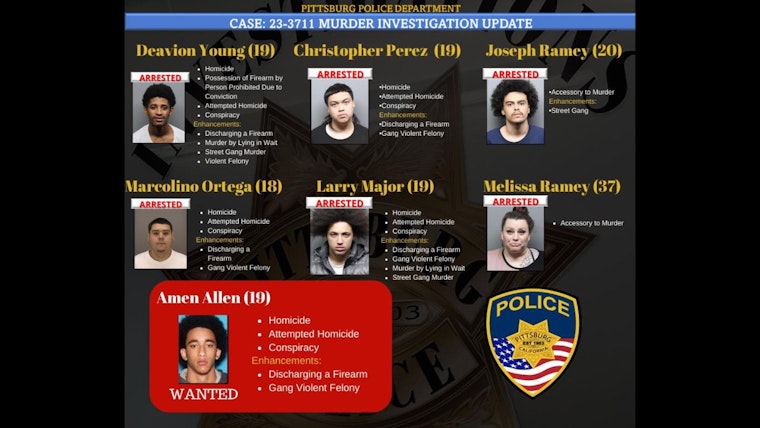 Published on September 22, 2023
On July 14, Pittsburg was torn apart by the senseless violence that resulted in the murder of 24-year-old Antioch resident Trevon Richardson and the injury of another man. The investigation revealed a tangled web of violence and criminal affiliations that revolved around the notoriously violent Midtown street gang, as reported by the Pittsburg Police Department.
In a display of commendable collaboration, multiple law enforcement agencies banded together, culminating in a large-scale operation that took place on September 11. After serving numerous search and arrest warrants across several cities, thirteen arrests were made in connection with Richardson's murder and other crimes attributed to the gang. The coalition of forces included the Pittsburg Police Department, Brentwood Police Department, Central County Tactical Team, Richmond Police Department, San Pablo Police Department, Contra Costa County Sheriff's Office, Alcohol Tobacco and Firearms, Drug Enforcement Agency, Federal Bureau of Investigations – Safe Streets, and the US Marshals Office.
As a result of these arrests, seven adults and two juveniles were subsequently charged with the murder of Richardson and are now awaiting court proceedings. However, one significant figure in this tragic tale remains at large. Nineteen-year-old Pittsburg resident Amen Allen is still wanted in connection with the homicide, and he is considered armed and dangerous. The authorities fervently encourage anyone with information about Allen's whereabouts to contact Detective Gutierrez at 925-252-4095 or the Pittsburg Police Department's Tip Line at 925-252-4040.