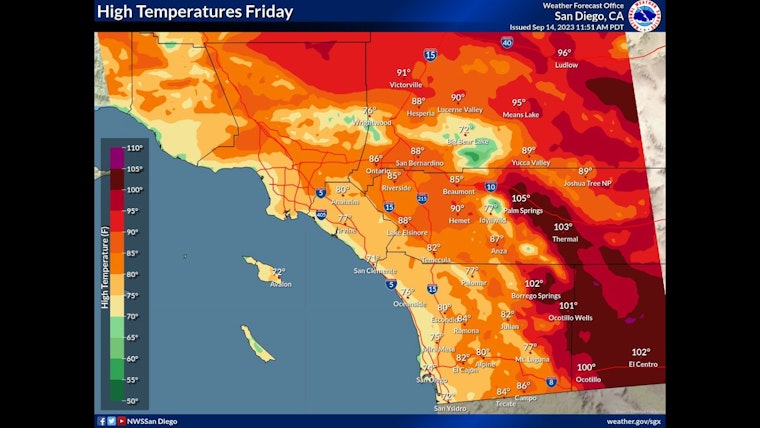 Published on September 15, 2023
As we find ourselves midway through September, San Diego County's residents can anticipate a warm weekend, with temperatures set to rise slowly through Saturday. However, this warmth may be fleeting as cooler conditions are expected to return in the following week. While many may be hoping for an extended period of heat, the reality may prove to be short-lived, as the National Weather Service (NWS) predicts that high temperatures will gradually fall to 10 to 15 degrees below average by the end of next week, with conditions returning to a deeper marine layer, according to Times of San Diego.
According to a recent post by the National Weather Service San Diego, temperatures will continue to gradually warm into Saturday, with most places remaining below average for this time of year. Despite the expected heat in the deserts reaching their seasonal average or a couple degrees warmer, cooler conditions are set to promptly return at the beginning of next week.
Temperatures will continue to warm into Saturday. Most places will remain below average for this time of year with the deserts reaching their seasonal average or a couple degrees warmer. Cooler conditions are expected to return for the beginning of next week. #CAwx pic.twitter.com/DeUZqJxdTx

— NWS San Diego (@NWSSanDiego) September 14, 2023
Across the county, the coastal region was expected to be partly cloudy on Friday, with temperatures ranging between 71 and 76 degrees[5]. Inland valleys were also predicted to be partly cloudy, with highs from 75 to 78. The mountain areas should be largely sunny, with temperatures ranging from 80 to 90 degrees. The deserts, however, should expect mostly sunny skies and high temperatures between 100 and 103 degrees.
Various weather patterns are at play in the region, contributing to the temporary nature of the warmth. A weak low-pressure system may move slowly toward the California coast through the weekend, leading to cooling that is predicted to begin spreading inland from the coast on Saturday, eventually reaching inland areas on Sunday.
As the early to middle part of next week approaches, the system off the coast may move inland. A second, stronger low-pressure system from the north may move into the Pacific Northwest on Wednesday, then move slowly toward the south and remain in place across the western states through Friday. This development has the potential to quickly return more fall-like temperatures to the region, with highs for inland areas on Thursday and Friday dropping to 10 to 15 degrees below average.
Although the anticipation of warmth may be welcomed by many, it's important to be prepared for the potential cooling effects that could soon follow. In addition to the expected temperature fluctuations, the chance for measurable precipitation in the mountains is set to increase to 10% on Thursday.