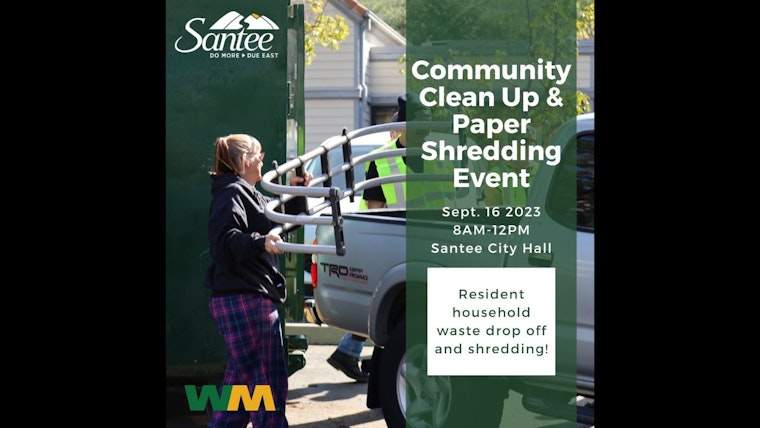 Published on September 15, 2023
As the City of Santee gears up for its annual Community Clean Up & Shred Event tomorrow, residents are presented with the opportunity to declutter their homes and contribute to a cleaner, greener community. Scheduled to take place on September 16 from 8 AM-12 PM, this stellar initiative invites locals to gather their unwanted household waste and sensitive papers for secure shredding at the Santee City Hall.
Household waste items eligible for disposal include anything from mattresses, appliances, and furniture to tree limbs, as the event seeks to address the environmental burden of excessive waste, according to the City of Santee. To partake in this environmentally sound effort, Santee residents must be prepared to provide proof of residency with documents like a driver's license or a gas, electric, water, or Waste Management bill.
While the event is focused on providing a safe and convenient means for community members to dispose of their household waste, it is worth noting that there are a few restrictions. As stated in an announcement on the City of Santee's official Twitter account, participants are allowed to bring up to four items of household waste and five banker boxes of paper for shredding. However, hazardous materials, construction materials, and the use of commercial vehicles to drop off waste are strictly prohibited.
Wondering what to do with your bulky items? Our Clean Up & Shredding Event is tomorrow, Sept. 16 from 8AM-12PM at Santee City Hall. 🛋️

Santee residents may bring household waste and papers for shredding.

Learn more here: https://t.co/PEVQCcHwsz #DoMoreDueEast #CleanUp pic.twitter.com/IxZfMiP5Ig

— City of Santee (@CityofSantee) September 15, 2023
For additional information and answers to specific questions related to waste drop-offs, contact Waste Management at (619) 596-5100 or visit home.wm.com/santee.