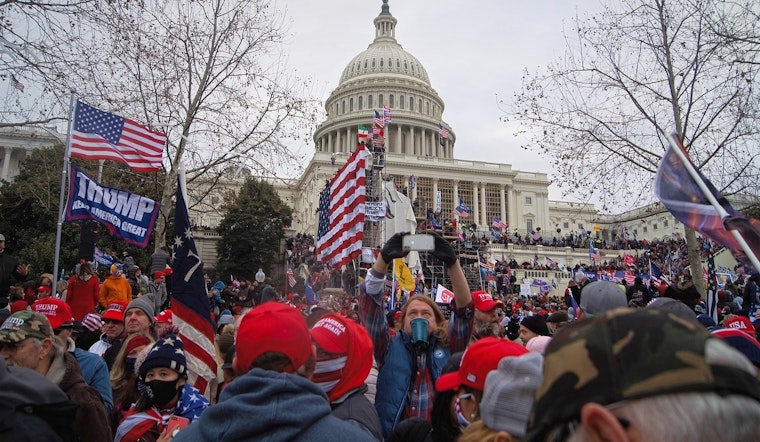 Published on October 04, 2023
The aftermath of the U.S. Capitol breach on January 6, 2021, continues to ripple across Illinois, with 41 residents facing charges related to the attack as reported by the Chicago Sun-Times. This incident, which caused approximately $2.8 million in damages, has sparked what is likely the largest criminal investigation in U.S. history.
Those charged from Illinois include a former CEO, a Chicago police officer, and a Proud Boy's member. Nationwide, over a thousand people have been arrested in connection to the Capitol breach which disturbed the confirmation of the 2020 presidential elections' results by a joint session of Congress.
Some defendants have already been sentenced, such as Springfield resident Thomas B. Adams Jr. Adams, who carried a "Trump" flag on the Senate floor, was found guilty of obstruction of an official proceeding, aiding and abetting, and disorderly conduct in a restricted building. He received a 14-month prison sentence.
On September 6, 2023, Chicago resident Daniel Leyden and La Grange resident Joseph Leyden, who are brothers, were both sentenced to prison after to their actions on January 6th plead guilty. According to the U.S. Attorney's Office for the District of Columbia, Daniel received a 38-month prison sentence and a year of supervised release, while Joseph was sentenced to six months in prison and a year of supervised release.
During the riot, Daniel's actions caused a U.S. Capitol Police officer to fall and injure a knee. Other officers were attacked by rioters using a metal barricade, which resulted in a concussion for one officer. Joseph pushed an officer from the Metropolitan Police Department. There have been charges against 398 individuals so far for assaulting or impeding law enforcement officers during the breach.
On the other hand, Matthew Bokoski of Chicago received a lighter sentence, namely three years of probation. He pleaded guilty to demonstrating in the Capitol while wearing a "Trump 2020" flag as a cape and spending four to five minutes in the Capitol's building along with his father.
A case of that is still pending is that of Joseph Bierbrodt of Sheridan, a retired Illinois Army National Guard member. He faces multiple charges, such as entering and remaining in a restricted building, disorderly conduct, and assaulting a federal officer.
The legal process continues for those involved in the Capitol breach with more than 1,146 individuals arrested nationwide.