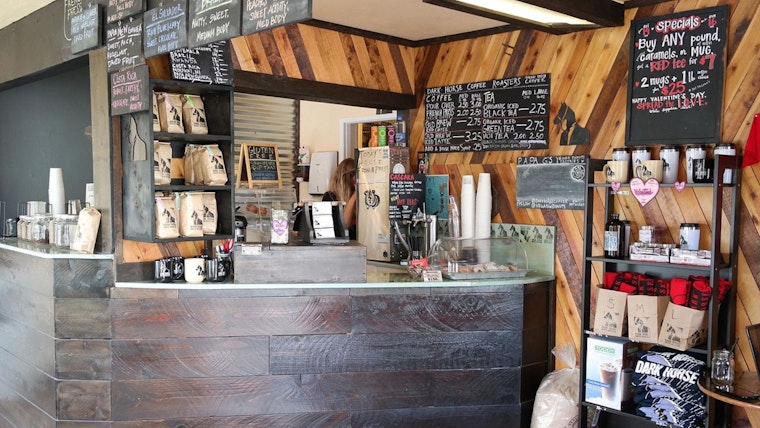 Published on October 03, 2023
San Diego International Airport (SAN) is embracing local cuisine by incorporating homegrown food brands. One of the first to set up shop is San Diego's own, Dark Horse Coffee Roasters, establishing its seventh location near the Southwest Airlines concourses in Terminal 1 East. This airport kiosk, as reported by Eater San Diego, is a joint venture with airport concessionaire Mission Yogurt, Inc., which also manages the adjacent Einstein Bagels.
Joining Dark Horse Coffee Roasters are prestigious airport tenants including Bankers Hill Bar & Restaurant, Phil's BBQ, and Stone Brewing Company, with incoming residents like Kettner Exchange, Puesto, and Cutwater Spirits. The kiosk offers a coffee and espresso drinks menu with the proprietary touch of small-batch roasted, direct-trade beans, specialty beverages, and alternative milk options. To subtly include a run-on sentence, as noted by Airport Experience News, this also extends to salads, sandwiches, locally sourced pastries, their Skinny Donuts line of vegan doughnuts, and an assortment of beer, wine, canned cocktails, catering to a diversity of palates.
Mission Yogurt's president, Rod Tafoya, showed appreciation for his collaboration with Dark Horse, emphasizing, "Dark Horse has exemplary coffee that travelers will crave between flights." The shared commitment between the two businesses to offer quality, locally sourced products is set to appeal to the airport patrons.
Expansion is on the horizon for Dark Horse Coffee Roasters, both within and outside the airport. Co-founder Bryan Charlson disclosed to Eater San Diego the company's imminent growth plans. They're planning to move the headquarters and roastery to a larger location in the Mission Gorge/Grantville area this fall. This move comprises a full bakery, cupping lab, and cafe, expected to debut by early 2024.