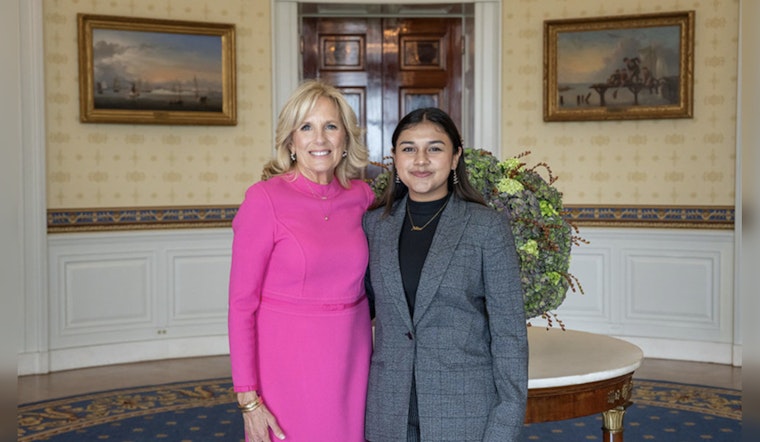 Published on November 20, 2023
The White House recently honored Gitanjali Rao, a first-year MIT student, at the inaugural Girls Leading Change celebration. This event, hosted by First Lady Jill Biden on October 11, recognized fifteen young women for their accomplishments in fields such as leadership, entrepreneurship, and activism. Rao, who was formerly a Time's "Kid of the Year," was celebrated for her efforts in fostering scientific curiosity and creativity amongst young individuals, according to an MIT news article.
The honorees, selected by the White House Gender Policy Council, were recognized for the progressive work in their fields, having opportunity to interact and exchange thoughts. Praising the First Lady for her inspiring change in an interview with MIT News, Rao stated, "Dr. Biden is very down-to-earth and very connected to the community. The event was her idea because she wants to see social change happen," as released by MIT News.
Rao, who is considering majoring in biological engineering and minoring in entrepreneurship and innovation at MIT, has aspirations to develop community solutions for major challenges and eventually establish her own biotech company. Her innovative ventures have already established her name, which include "Tethys," a technology that informs users about lead levels in drinking water, and other notable projects like "Kindly," and "Epione," as reported by MIT News.
In addition to her inventions, Rao has written two books with the intention to inspire STEM engagement among students. The first book, "A Young Inventor's Guide to STEM: 5 Steps to Problem Solving for Students, Educators, and Parents," is available in five languages. Her second book, titled "A Young Innovators Guide to Planning For Success," is scheduled for release in June 2024.
Before joining MIT, Rao gained experience working on research projects at the Koch Institute for Integrative Cancer Research to the Broad Institute of MIT and Harvard. She stated she enjoyed working there, surrounded by "smart, dedicated people with a singular aim to solve some of the biggest problems around us." She was deeply impressed with the culture of innovation and cooperation at these venues, as shared in her interview with MIT News.
Making history by appearing on the cover of Time as its first "Kid of the Year" in respect to her achievements at the age of 15, Rao is preparing to begin an Undergraduate Research Opportunities Program project with Professor Manolis Kellis at the Broad Institute. Influenced by her meeting with Robert Langer, an MIT Institute Professor, Rao is also keen on interning at a biotech firm in the upcoming summer, as mentioned by MIT News.
Although Rao's journey thus far has been filled with a series of recognitions, including a recent honor from The White House, her driving force remains her passion for creating innovative solutions to complex issues and encouraging youth engagement in STEM education. Her refining skills and knowledge at MIT adds an exemplar to her experience at the Girls Leading Change celebration, further underscoring the positive impact that young women can make across various sectors and the value of promoting collaboration and encouragement amongst their contemporaries, as per MIT News.