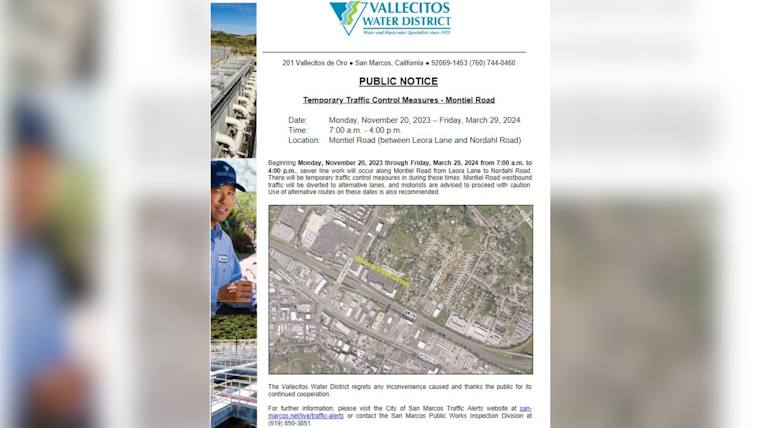 Published on November 18, 2023
Effective Monday, November 20, commuters utilizing Montiel Road in San Marcos should expect traffic disruptions due to sewer line work performed by the Vallecitos Water District. The construction, set to last until March 29, 2024, will require motorists to navigate around the construction work or seek alternative routes. A TRAFFIC ALERT heralding these changes was issued by the Vallecitos Water District yesterday, urging caution during the construction period.
The planned infrastructure overhaul can impact local communities and businesses. Given the expected interruptions, there is a need to consider the collective well-being of these local entities.
The issued alert specifies that construction will occur from 7:00 a.m. to 4:00 p.m., between Leora Lane and Nordahl Road, rerouting westbound traffic on Montiel Road. Similar disruptions are not unprecedented, as infrastructure projects in other parts of the city have caused similar revisions in routine commutes. As such, Montiel Road serves as a current example of developmental growing pains for city infrastructure.
Concerned residents can find more information on the City of San Marcos Traffic Alerts website or by contacting the San Marcos Public Works Inspection Division at (760) 744-1050. The city is committed to providing detailed and updated traffic information, aiding community members as they adapt and prepare for the construction period.