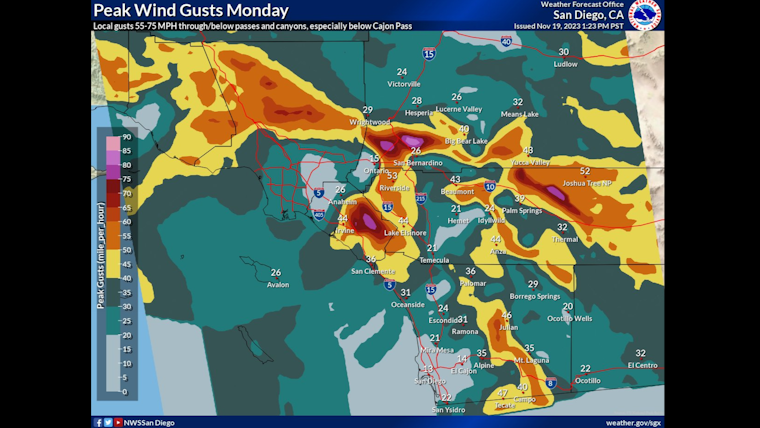 Published on November 20, 2023
The National Weather Service (NWS) has issued a wind advisory for parts of San Diego County due to the return of Santa Ana winds. Beginning Sunday night, the advisory is expected to last through Tuesday afternoon. The most severe gusts are anticipated in the San Diego County mountain areas and inland foothill communities, including Escondido, El Cajon, San Marcos, La Mesa, Santee, and Poway.
The winds are expected to reach their peak on Monday and then wane slightly on Tuesday. Lower areas could see wind speeds up to 25 mph with gusts reaching 50 mph, Fox 5 San Diego reports. In contrast, mountain communities might experience winds around 25–35 mph, with gusts up to 55 mph. An NWS San Diego Twitter post indicates some areas might see even stronger gusts, particularly near Julian and Pine Valley in the Santa Ana mountains, where gusts could reach 70 mph.
Moderate to strong Santa Ana winds will develop tonight and bring wind gusts 30-55 MPH in many areas (locally 55-75 MPH, strongest below Cajon Pass) Monday and gusts 25-45 MPH in many areas (locally 45-60 MPH) Tuesday. Winds will mostly end by Wednesday. #CAwx pic.twitter.com/CYxEczQLdl

— NWS San Diego (@NWSSanDiego) November 19, 2023
NWS encourages residents to secure outside objects potentially affected by the winds and to exercise driving caution, according to Fox 5 San Diego. While these wind conditions do present risks, they also bring milder early-week temperatures to some areas of the county before a cooler, possibly rainy Thanksgiving holiday sets in.
Additionally, the NWS has predicted inland valley areas will see high temperatures in the upper 70s, while coastal communities can expect highs in the upper 60s to low 70s, reports Fox 5 San Diego. Meanwhile, mountain areas are anticipated to experience cooler weather, with highs ranging from the low 50s to the low 60s. The weather is anticipated to become increasingly cooler, with opportunities for light rain or drizzle as Thanksgiving approaches.
In understanding the implications of the Santa Ana winds, community members should prepare accordingly for their safety, secure belongings, and plan for any travel or outdoor activities that may be disrupted. The wind advisory is set to remain in place until Tuesday at 2 p.m., and the winds are expected to subside mostly by Wednesday according to the NWS San Diego.