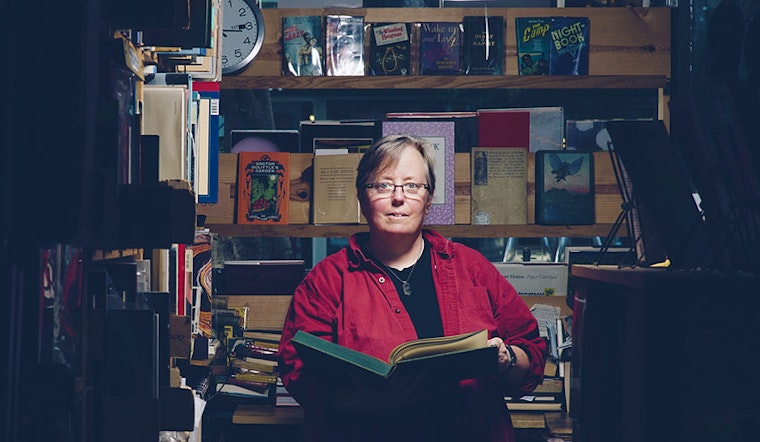 Published on September 19, 2013
We can't count the number of times we've walked through the cozy doors of
Bibliohead Bookstore
at 334 Gough Street and felt that overwhelming sense of happy that can be hard to find on the tenth foggy summer day in a row. The little bookstore that could has just celebrated its ninth anniversary. We recently had the opportunity to chat with owner / über Giants fan / friend to all neighborhood dogs, Melissa Richmond.
Hayeswire: Why did you set up shop in Hayes Valley?
Melissa Richmond: Hayes Valley was one of the first neighborhoods that I ever came to in San Francisco. This was a long time ago, in the late '70s, and so, I always kind of had my eye on this neighborhood.
H: How did you get into the book business?
MR: I got into the book business in 1985 after graduating from college and I just sort of needed something to do and it was a job that I could walk into the store before Christmas and walk out with a job and I fell in love with it. It was a big commercial, independent new bookstore in Boston and I learned a lot about different facets of the new book business. And then I moved out to California -- I think it was the end of '87 -- and I got a bookstore job in Sonoma County, in Santa Rosa. It was my first used bookstore. And that was an amazing job, it was a small used bookstore, maybe around the same size as this, maybe a little bit bigger, and it was like having an apprenticeship.
H: What do you love about the neighborhood?
MR: I like that that as a business owner that there's an influx of all these groups of people that make it kind of a grand opportunity to have something special like a bookstore that frankly, in this day and age, is a little tricky to count on flourishing or even hanging on, so that affords me those opportunities. Just as a person or customer of other businesses, I like that there's traditionally been a creative aspiration for individuals in the neighborhood to open stores -- sometimes quirky, sometimes fun, and people make a go of it.
H: What are some things that maybe people don't know are here?
MR: The thing I love about the book business -- the
used
book business -- you never know what's going to be in the next box of books. You don't know if it's going to be a Hemingway first edition or a really old kid's book you've never heard of, some cock-eyed, oddball, fun-vintagey-weird thing that you just never knew anybody wanted, or never knew existed, or you knew existed but you'd never gotten to lay your own eyes on it.
H: So you never really know what's coming in the shop -- there's a sense of chance?
MR: Sure. We got a really cool collection of William Burroughs material. We've sold some of the really super collectible ones but there's a lot of still-affordable materials and some really cool oddball things you won't find elsewhere. We have an interesting selection of Beat materials, modern first editions, really cool old books, and then just normal good books that either people know they want to read, or things that they don't yet know that they want to read, but they find it here.
H: Of course we have to ask, what are you reading now?
MR: I just read "[The] Art of Fielding" by [Chad] Harbach and it was fantastic. I love baseball, so that doesn't hurt. [Baseball is] the cheapest form of therapy, really. It is a baseball novel but it's not just a baseball novel. It's in some ways a coming-of-age-novel, it's something kind of universal and just really well crafted, and you really care about the characters in the book. And it's a pretty fat book, but I think I read it in two and a half days.
H: Is there anything about you or the shop that we haven't covered?
MR: I guess one of the things -- in this day and age where people are kind of anticipating the death of the bookstore -- I feel like I want to promote something tactile and beautiful on a number of different levels. Tactile could be a beautiful old binding of a book, it could be something somebody spent a lot of time making beautiful etchings in, it could be a really well-crafted book, like the Harbach "[The] Art of Fielding." And I kind of want to be cognizant of the fact that sometimes things are disappearing into the virtual realm and what gives me hope that I can survive in that is that people respond frequently with just a sigh of relief when they walk in. They have a nostalgic feeling, they remember their favorite first bookstore when they were a kid, they remember just wandering, picking up things, looking at stuff. And something clicks in them that is about creativity, about serendipity, you never know what's going to be on the bookshelf, you never know what we're going to have in the window and there's kind of a safety in that, a protective feeling. Because culture is changing so much, so quickly, and especially for people over thirty that still remember what life was like pre-Internet and pre-MP3 player and all of that, and you know, they need that reminder that there's really cool stuff in the world and it makes you think of other things. It calls memories differently than just clicking on a link on the computer. I'm not anti-computer. I'm not anti-Internet. I use the Internet all the time. But I rely on that feeling of relief and excitement, that there's still some interesting little gem of a place for people to go to be reminded of certain parts of reality, or their psyche, or their interests, or their creative nature. And that helps me stay afloat.